Fox News Poll: Voters split 45-46 percent on confirming Kavanaugh to Supreme Court
Voters are increasingly divided over the nomination of Brett Kavanaugh to the Supreme Court since President Trump announced him as his choice to replace retiring Justice Anthony Kennedy.
Forty-five percent would confirm Kavanaugh, while 46 percent oppose him, according to the latest Fox News poll.
Last month, voters supported him by a 38-32 percent margin. Many voters at that time, 30 percent, had no opinion on Kavanaugh's nomination. That makes sense, given interviews for the July poll were conducted July 10-11, which was soon after the president's July 9 prime-time announcement of his selection.
READ THE COMPLETE POLL RESULTS.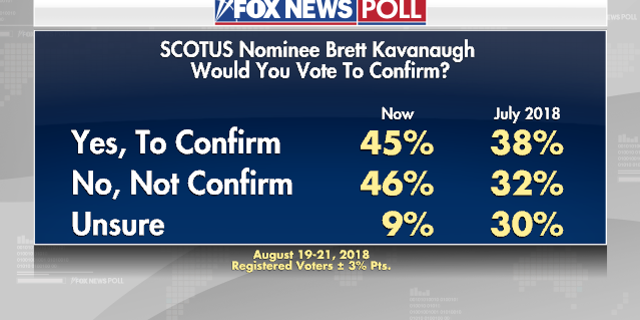 Since July, support for Kavanaugh is up 15 points among Republicans (was 70, now 85 percent), while opposition among Democrats is up 20 points (was 58, now 78 percent).
There's a gender gap too, as men (53 percent) are 15 points more likely than women (38 percent) to support his confirmation.
Many other nominees received similar mixed support. For example, voters backed the confirmation of President Trump's first nominee Neil Gorsuch by a 45-39 percent margin (March 2017), and former President Obama's second nominee Elena Kagan by 38-36 percent (June 2010). In addition, trend going back to 2005 shows that only two nominees garnered majority support: John Roberts received 51 percent support in July 2005 and Sonya Sotomayor got 53 percent in July 2009.
The new survey, released Thursday, also finds voters split over whether Senate Democrats should do "everything they can" to block any of President Trump's Supreme Court nominees: 45 percent say yes, while 42 percent disagree. Among Democrats, 75 percent think their party's leaders should do everything they can to oppose Trump nominees.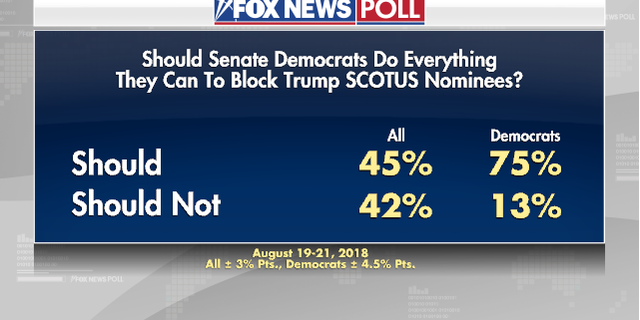 On Wednesday, Senate Minority Leader Chuck Schumer requested a delay in the Senate Judiciary Committee hearings on Kavanaugh's nomination, stating: "Kavanaugh's refusal to say that a president must comply with a duly issued subpoena, and Michael Cohen's implication of the president in a federal crime, makes the danger of Brett Kavanaugh's nomination to the Supreme Court abundantly clear. It's a game changer. Should be."
Trump's former personal attorney Michael Cohen pleaded guilty Tuesday to campaign-finance violations and other charges.
When the president revealed his selection of Kavanaugh in July, Senate Democrats called for delaying the vote on his nomination until after November's midterm elections. According to polling conducted at that time, voters disagree with that, saying the Senate should vote before the midterms by a 50-42 percent margin.
The Senate is scheduled to begin Kavanaugh's confirmation hearings September 4.
Pollpourri
More voters view Senate Minority Leader Chuck Schumer negatively than positively by 14 points (28 favorable vs. 42 unfavorable). Other leaders fare even worse. House Minority Leader Nancy Pelosi is viewed more negatively by 25 points (29-54 percent), House Speaker Paul Ryan is underwater by 20 points (31-51 percent), and Senate Majority Leader Mitch McConnell has a net negative of minus 30 (22-52 percent).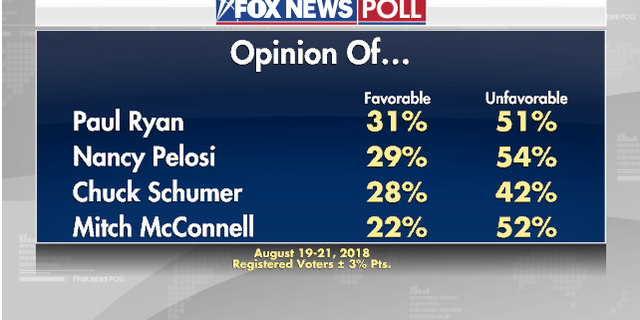 For comparison, voters rate Trump negatively by 16 points (41 favorable vs. 57 unfavorable).
Nearly half of voters, 46 percent, have a "strongly" unfavorable opinion of Trump. The next highest on that measure? Pelosi, at 35 percent "strongly" unfavorable.
Among the party faithful, Trump does best. Among Republicans, 83 percent have a favorable view, while Ryan comes in at 57 percent and McConnell 36 percent. Among Democrats, 46 percent have a favorable opinion of Pelosi and 39 percent of Schumer.
Voters view the Democratic Party more positively than the Republican Party.
Opinion of the GOP is upside down by 17 points (39 favorable vs. 56 unfavorable), while the Democratic Party is rated positively by 4 points (50 favorable vs. 46 unfavorable).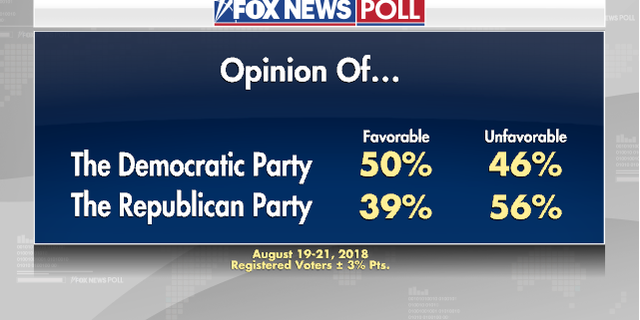 The Fox News poll is based on landline and cellphone interviews with 1,009 randomly chosen registered voters nationwide and was conducted under the joint direction of Anderson Robbins Research (D) and Shaw & Company Research (R) from August 19-21, 2018. The poll has a margin of sampling error of plus or minus three percentage points for all registered voters.