Fox News Poll: Voters feel US is less safe, Islamic extremists making gains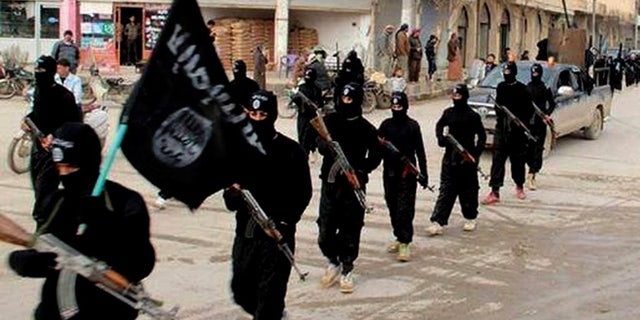 For the first time, a majority of voters thinks the U.S. is less safe today than before 9/11. That's just one finding in the latest Fox News national poll on terrorism that may concern President Obama.
Majorities of voters also think:
- Islamic extremists are making gains rather than losing ground.
- The White House is trying to downplay the threat from Islamic extremists, rather than stop it.
- The U.S. should increase airstrikes, use drone strikes and send a limited number of ground troops to Iraq and Syria to fight Islamic militants.
Here are the numbers behind those bullet points:
By a 54-36 percent margin, voters say the Obama administration is more interested in "downplaying" the threat from ISIS than "stopping" it. Even a quarter of Democrats feels the White House is trying to make the ISIS threat seem less than it is (25 percent).
CLICK HERE TO READ THE POLL RESULTS
About two-thirds of voters feel like Islamic extremists are making gains in the war (64 percent). That's more than twice the number who say they are losing ground (26 percent).
That explains, at least in part, why for the first time a majority -- 53 percent -- says the United States is less safe today than it was before 9/11. That's up from 45 percent in September. The shift comes mainly from Democrats, as 36 percent now say the country is less safe -- up from 21 percent who said so in September.
The new poll also finds a record low 38 percent of voters say the nation is safer today.
So by a 15-point margin, voters think the country is less safe today. That's a pretty big shift from just a year ago, when voters said the U.S. was safer by a 10-point margin (49-39 percent in March 2014). For comparison, voters said the country was safer by a 35-point margin in March 2004 (the first time this exact question was asked on a Fox News poll).
That may be why there is increased support for the military action that's already underway: a large 83-percent majority approves of U.S. airstrikes against ISIS, up from 74 percent in October.
And there's widespread agreement, as most Republicans (89 percent), independents (81 percent), Democrats (79 percent), men (86 percent) and women (81 percent) back the action being taken.
Furthermore, most voters favor increasing U.S. airstrikes (76 percent) and using drone strikes (73 percent).
Just over half -- 52 percent -- favors sending a "limited number" of U.S. ground troops to Iraq and Syria to fight Islamic extremists. That declines to 42 percent when the question asks about sending a "significant number" of troops.
Voters are almost evenly divided on providing weapons to countries fighting Islamic militants: 46 percent are in favor, while 44 percent oppose that.
Majorities of Democrats favor increasing airstrikes (69 percent) and using drones (66 percent), while they oppose providing weapons to others (54 percent), and sending a limited (56 percent) and a significant number of troops (67 percent).
While there's a wide range in the level of support, majorities of Republicans favor each of the actions. For example, 86 percent favor increasing airstrikes, 57 percent favor sending a significant number of troops and 54 percent favor providing weapons to Jordan and Iraq.
Wide majorities of military veterans favor increasing airstrikes (83 percent) and using drones (86 percent). Veterans split on sending significant numbers of ground troops to fight ISIS: 46 percent are in favor vs. 47 percent opposed.
The Fox News poll is conducted by telephone with live interviewers under the joint direction of Anderson Robbins Research (D) and Shaw & Company Research (R). The 1,011 registered voters were reached via landline and cell phone numbers randomly selected for inclusion in this nationwide survey from March 1-3, 2015. The full poll has a margin of sampling error of plus or minus three percentage points.