Fox News Poll: Views of Obama's honesty hit new low, fewer say he's patriotic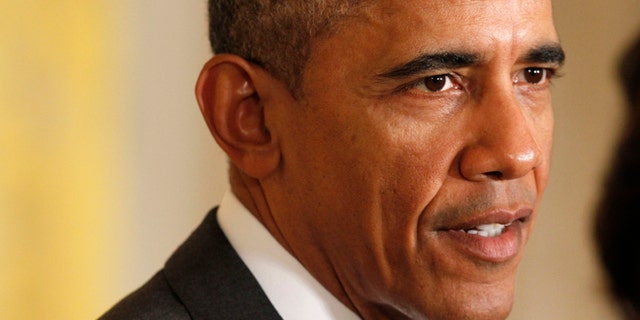 NEWYou can now listen to Fox News articles!
Most voters believe the United States is the best country in the world. Far fewer of them believe Barack Obama agrees, according to a Fox News poll released Thursday.
The new poll also finds the numbers saying Obama is patriotic, honest or a strong leader have all declined in the past few years.
More Americans feel they love the United States than think Obama does: 83 percent think the U.S. is the greatest country in the world. Just 64 percent believe Obama feels the same way.
CLICK HERE TO READ THE POLL RESULTS
The difference in the two perceptions is mainly partisan: 90 percent of Republicans think the U.S. is the best, while only 42 percent believe the president agrees. Among Democrats, 82 percent feel this is the greatest nation, and even more -- 88 percent -- believe Obama feels that.
Those who are most likely to feel the U.S. is the best nation in the world include voters over age 65 (93 percent) as well as Republicans (90 percent). Those least likely to feel that way include voters who identify with the Tea Party movement (79 percent), self-identified independents (73 percent) and voters under age 35 (71 percent).
Overall, 54 percent of voters say Obama is patriotic, yet that's down from 60 percent who felt that way in 2011. Again, party identification matters: the number of Republicans today who think the president is patriotic is down six percentage points from 2011, among independents it's down four points and for Democrats it's down one.
Former New York City Mayor Rudy Giuliani caused an uproar in February by questioning whether Barack Obama loves America. The poll shows 42 percent of voters nationally think there are "legitimate reasons to doubt" whether Obama loves America. That includes 66 percent of Republicans, 42 percent of independents and 17 percent of Democrats.
Fewer voters than ever before see Obama as honest: a record-low 43 percent. And for the first time since 2007, a majority, 54 percent, disagrees that the president is "honest."
Three-quarters of Democrats currently think Obama is honest (75 percent), while just 39 percent of independents and 15 percent of Republicans say the same.
For comparison, in 2011 some 57 percent of voters described Obama as honest. That included 86 percent of Democrats, 53 percent of independents and 26 percent of Republicans.
The poll also finds 43 percent of voters think Obama is a "strong leader." That's down from a high of 60 percent who said he was a "strong and decisive" leader in 2009.
Of the four traits tested, Obama does best on "caring," as 60 percent of voters feel that describes him. Although there's been a decline here too: 68 percent said Obama was "caring" in 2011.
The Fox News poll is conducted by telephone with live interviewers under the joint direction of Anderson Robbins Research (D) and Shaw & Company Research (R). The 1,011 registered voters were reached via landline and cell phone numbers randomly selected for inclusion in this nationwide survey from March 1-3, 2015. The full poll has a margin of sampling error of plus or minus three percentage points.