Fox News Poll: Views Are Mixed on Confirming Kagan to Supreme Court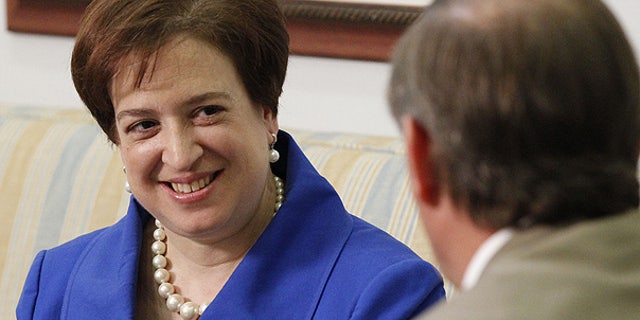 NEWYou can now listen to Fox News articles!
Democratic support for President Obama's most recent Supreme Court nominee Elena Kagan is matched by Republican opposition to her confirmation, according to a Fox News poll released Thursday.
In addition, a majority of voters say they would rather that any justices considering retirement wait to do so until the president's successor takes office.
The poll shows 64 percent of Democrats say they would vote to confirm Kagan, while 61 percent of Republicans say they would vote no.
Overall, 38 percent of American voters would vote to confirm Kagan to the high court, while 36 percent would vote against her. Twenty-six percent of those surveyed said they are unsure.
Among independents, 38 percent would vote for Kagan and 35 percent against. The remaining 27 percent are undecided.
Women (41 percent) are more likely than men (34 percent) to say they would support Kagan's confirmation. If she is confirmed, there would be three women sitting on the court for the first time. Kagan would join Justice Sonya Sotomayor, President Obama's first nominee, and Justice Ruth Bader Ginsberg, who was nominated by former President Bill Clinton.
Obama chose Kagan to replace Justice John Paul Stevens, who announced his retirement on April 9. Her Senate confirmation hearings started Monday and are expected to continue through the end of the week.
The national telephone poll was conducted for Fox News by Opinion Dynamics Corp. among 900 registered voters from June 29 to June 30 (during the same week as the confirmation hearings). For the total sample, the poll has a margin of sampling error of plus or minus 3 percentage points.
Without the aid of her title or additional explanation, many Americans are unfamiliar with Elena Kagan by name. More voters have a favorable opinion of her (24 percent) than have an unfavorable view (17 percent). Another 19 percent are unable to rate Kagan, and 40 percent say they have never heard of her.
Most Americans Think Two Is Enough for Obama
Obama has been in office about a year and a half and has already had the opportunity to fill two of the nine seats on the U.S. Supreme Court because of retirements. Four sitting justices are currently over 70 years old.
Thirty-four percent of American voters would like to see more justices retire while Obama is in office to give him the opportunity to nominate more judges. But a 54 percent majority would rather any justices considering retirement wait to do so until his successor takes office. Even 20 percent of Democrats say they would rather future retirements wait for Obama's successor, and 58 percent of independents and 87 percent of Republicans agree.
Click here to see the raw data