Fox News Poll: The American dream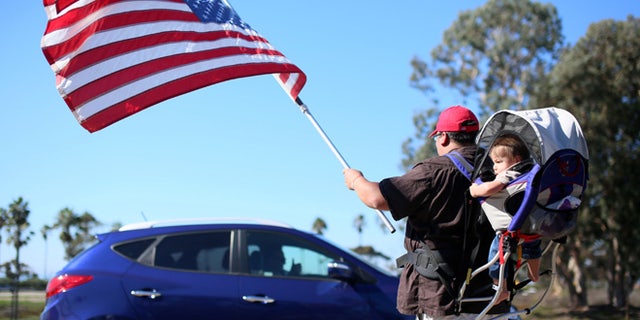 A large majority of American voters believes they have achieved the American Dream -- or it's within sight for their family.
The latest Fox News Poll also asks, what defines the American Dream today? At the top, according to the national survey released Wednesday, is "retiring comfortably." Some 88 percent feel that is extremely or very important to realizing the dream.
Next, 76 percent say "having a successful career" is important. That's followed by "raising a family" (74 percent) and "making a valuable contribution" to their community (74 percent).
"Owning a home" is seen as a big part of achieving the dream for nearly 7 in 10 (69 percent). About 6 in 10 say "graduating college" (61 percent) and "being better off" than their parents (57 percent).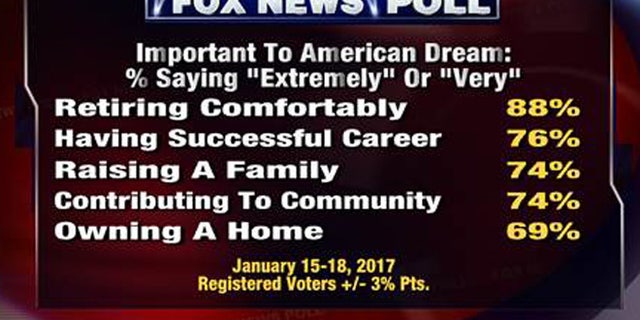 CLICK HERE TO READ THE FULL POLL RESULTS.
"Retiring comfortably" is the number one component of the Dream as defined by Baby Boomers (89 percent important), Generation Xers (88 percent), and Millennials (87 percent). "Raising a family" is next for Boomers (80 percent) and Gen Xers (75 percent), yet for Millennials it is "having a successful career" (81 percent).
All in all, most believe their family has either achieved the American Dream (40 percent) or they're on their way toward doing so (43 percent). Fifteen percent feel it's "out of reach."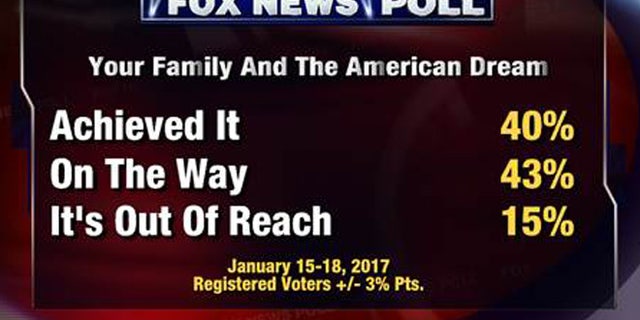 "These responses are consistent with those we've seen in the past," says Republican Pollster Daron Shaw, who conducts the Fox News Poll along with Democrat Chris Anderson. "Even during relatively dark times -- and even as the country has polarized politically -- we tend to believe things will improve and our children will be better off than we are."
Those in households earning $100,000 or more annually are 25 points more likely than those earning less than that to believe they've realized the Dream (56 percent vs. 31 percent).
By a 17-point margin, college graduates are more likely than those without a degree to think their family has made it (50 percent vs. 33 percent).
One in five without a college degree (20 percent) says the American Dream is "out of reach" for their family.
African-Americans are the most pessimistic about their family's chances, as more than one in four (26 percent) feel it is "out of reach."
The Fox News poll is based on landline and cellphone interviews with 1,006 randomly chosen registered voters nationwide and was conducted under the joint direction of Anderson Robbins Research (D) and Shaw & Company Research (R) from January 15-18, 2017. The poll has a margin of sampling error of plus or minus three percentage points for all registered voters.