Fox News poll: Obama ticket has edge after conventions wrap up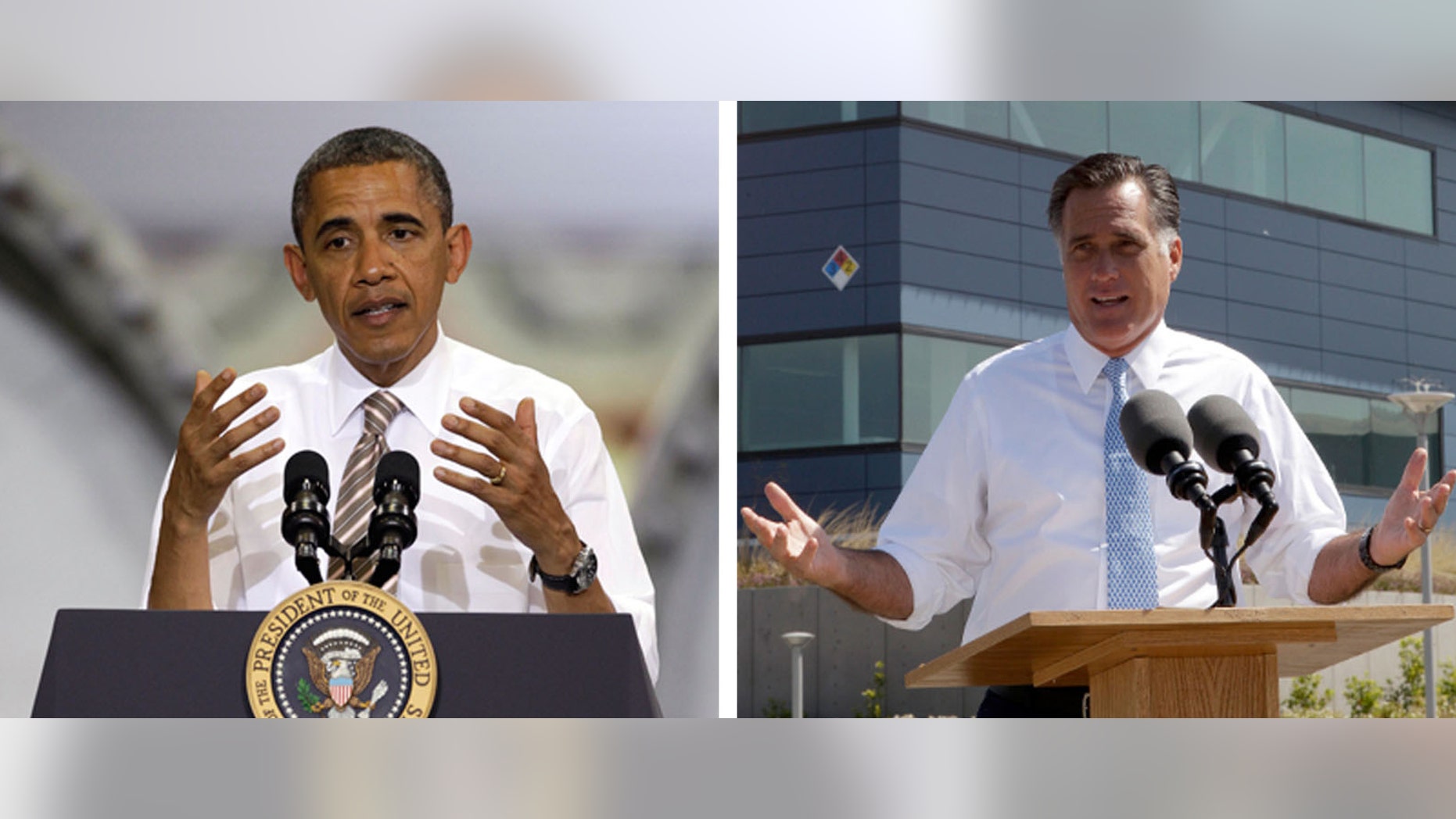 An increase in support from women as well as independents gives Barack Obama a post-convention advantage over challenger Mitt Romney.  The president receives a five percentage-point bounce among women and a 12-point bounce among independents, in a Fox News poll released Wednesday.
Overall, the Obama-Biden ticket tops the Romney-Ryan ticket by 48 to 43 percent among likely voters.  The president's advantage is within the poll's margin of sampling error.
That's a four-point "convention bounce" for Obama among likely voters. Before the conventions, Romney edged Obama by one point (45-44 percent, August 19-21, 2012).
Meanwhile, Romney supporters were 10 points more likely than Obama supporters to say it is "extremely" important their candidate wins (64 percent to 54 percent) before the conventions.  That enthusiasm edge has evaporated.  Now, 63 percent of Romney supporters and 62 percent of Obama supporters believe it is extremely important their candidate wins.
Obama leads Romney among all women by 14 points and unmarried women by 38 points.  The president also tops the Republican among those with annual income below $50,000 (+18 points), young voters under age 30 (+25 points) and black voters (+89 points).
Romney bests Obama among men (+6 points), white voters (+12 points), voters who regularly attend religious services (+11 points), Southerners (+18 points) and working-class white voters (+22 points).
The conventions helped a number of undecided independents pick a candidate.  Before the Republican convention in Tampa, independents backed Romney by a 10-point margin (42-32 percent) and 26 percent were undecided.  Today independents go for Obama by 5 points (44-39 percent) and 17 percent are undecided.
Obama's personal favorable rating also improves -- up two points to 53 percent since the conventions.  Romney's favorable rating holds steady at 49 percent.
The poll finds the president has a significant advantage on most issues and candidate traits.  Voters trust Obama more than Romney on foreign policy (+15 points), education (+14 points), Medicare (+11 points), health care (+9 points) and terrorism (+8 points).
Romney bests Obama outright on just one issue: cutting government spending (+13 points).
The candidates are rated about evenly when voters are asked who they trust more to handle immigration (Obama +4 points), taxes (Obama +3 points), making the country a better place to live (Obama +2 points) and helping small businesses (Romney +2 points).
On the two critical issues for this election -- "taking the country in the right direction" and "improving the economy" -- the candidates are tied.
Slightly more voters think Obama (45 percent) has a "clear plan" for improving the economy than say the same of Romney (42 percent).  Still, more voters say the candidates don't have a plan: 51 percent say Obama doesn't have a plan and 49 percent say Romney doesn't.
On personal qualities, voters think Obama is better described than Romney as being honest (+11 points), being a steady leader (+10 points) and having the right experience (+7 points).
Romney tops Obama on "understanding capitalism" (+25 points), a point the Republican convention emphasized by continuing attacks on Obama's "you didn't build that" statement.
The candidates are essentially tied on the attributes of keeping promises (Obama +4 points) and having strong moral values (Obama + 2 points).
Nearly half of voters say economic issues such as jobs and growth will be most important in deciding their vote for president (47 percent).  Fiscal issues such as taxes, the deficit and government spending come in a distant second (22 percent), followed by social issues (10 percent) and national security issues (4 percent).
Voters who say the economy is the top priority back Obama over Romney by 49-43 percent, while fiscal-issue voters back Romney by 47-42 percent.
Finally, how would voters feel about another term for President Obama?  Half of likely voters (50 percent) say they feel the country's "improving" every day and they would "look forward" to another four years.  That's more than the 43 percent who say the country's going "down the drain" and they "dread" what would happen in a second term.
The Fox News poll is based on live telephone interviews on landlines and cell phones from September 9 to September 11 among 1,056 randomly-chosen likely voters nationwide.  Likely voters are registered voters who are considered most likely to vote in the November presidential election.  The poll is conducted under the joint direction of Anderson Robbins Research (D) and Shaw & Company Research (R).  For the total sample, it has a margin of sampling error of plus or minus three percentage points.