Fox News Poll: Obama ends year with majority disapproving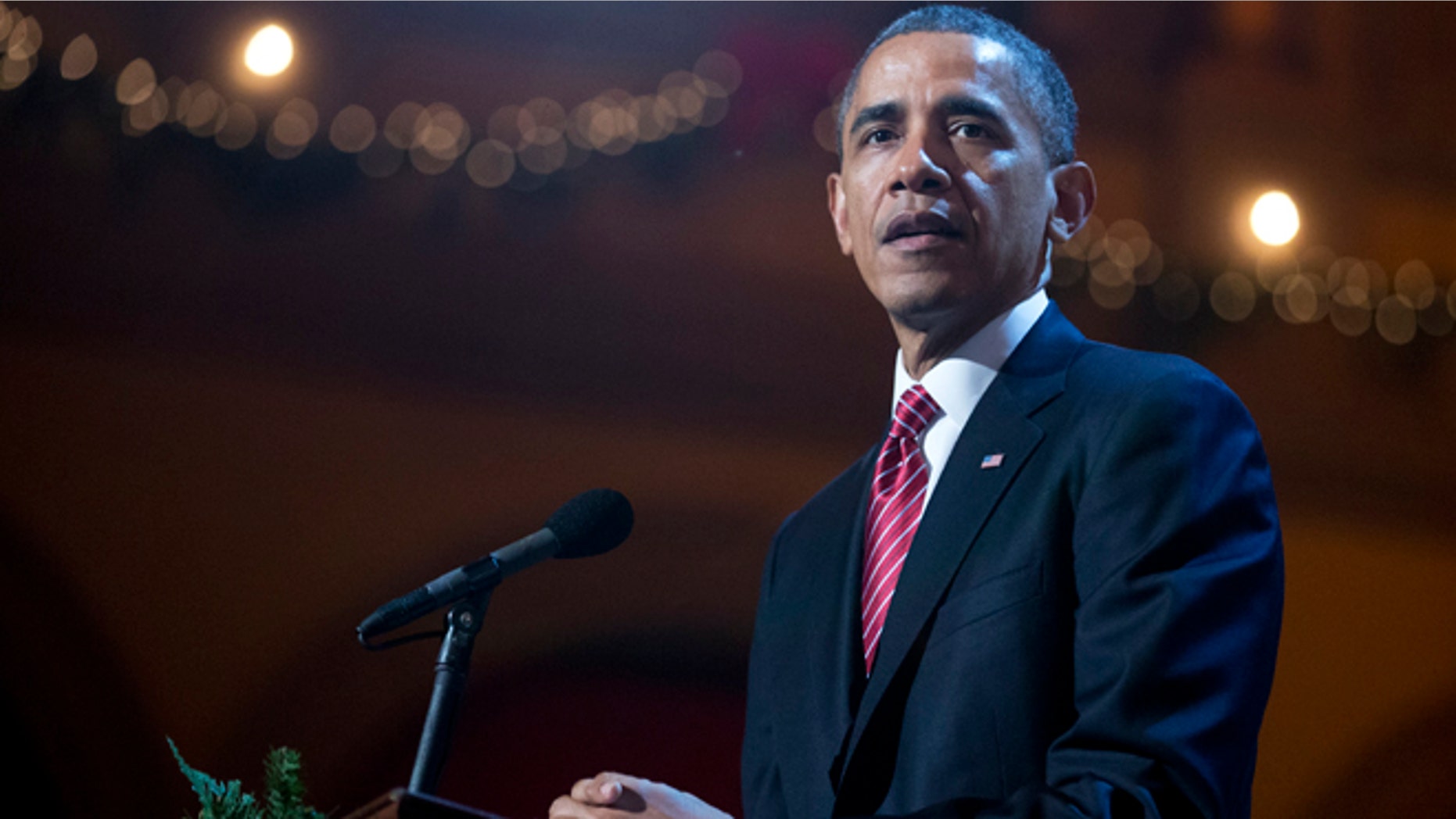 President Obama ends the year in negative territory on his overall job performance, as well as on measures of honesty and leadership, according to a Fox News national poll released Wednesday. But the vast majority of his supporters don't regret voting for him.
At the end of his fifth year in office, 41 percent of voters approve of the job Obama is doing as president, while 53 percent disapprove. That's only slightly better than last month when he registered the worst job rating of his presidency: 40 percent approval and 55 percent disapproval (November 2013).
Click here for the poll results.
The largest drop in approval of Obama over the last year is among voters under age 30, a group that provided crucial support in both of his presidential election victories. Fifty-four percent of those voters approved of Obama's job performance a year ago, yet just 37 percent approve today -- a 17 percentage-point drop.
Likewise, approval of Obama is down 15 points among independents (31 percent approve) and six points among Democrats (79 percent approve) since December 2012.
Is the president's performance enough to make his supporters regret their vote? For the most part no: 10 percent of Obama voters regret their 2012 vote. In contrast, six percent of Republican Mitt Romney's backers regret their vote.
Majorities of voters disapprove of how President Obama is handling some of the top issues facing the country. On the economy, 55 percent of voters disapprove. On his signature legislative achievement of health care, 59 percent disapprove. And despite the reduction in the federal budget deficit during his term, 65 percent of voters disapprove of Obama on that issue.
The disastrous health care roll-out and broken promises about keeping health care plans and doctors have damaged Obama's credibility. A record-low 45 percent of voters think he's honest and trustworthy, while 49 percent disagree. His honesty rating was 48 percent six months ago (June 2013) and 51 percent in 2012.
Obama's record-high honesty rating was 73 percent in 2009.
A slim 51-percent majority says Obama is not a strong and decisive leader, and 50 percent now consider him a "typical politician" -- an increase of 11 points since 2009. Previously a 54-percent majority thought of him as a "new kind of politician."
About one in five Democrats says Obama is not honest and trustworthy (18 percent) and not a strong leader (20 percent).
The poll also finds that 28 percent of voters think history will rate Obama as "one of the country's worst presidents." That's up from 23 percent who felt that way last year, and 16 percent in 2009.
Poll Pourri
Recently Obama said he planned to focus the rest of his presidency on the issue of income inequality in the United States.
At the moment, 60 percent of voters say the administration is doing a "bad job" closing the gap between the rich and the poor. That includes 39 percent of Democrats.
And despite unemployment falling to a five-year low, 55 percent of voters disapprove of how Obama's doing on job creation.
In spite of all this, the American Dream lives on: A 62-percent majority thinks it is still possible, if you work hard, to achieve the American Dream. Yet faith is declining, as 72 percent felt this way in 1997.
The Fox News poll is based on landline and cell phone interviews with 1,027 randomly chosen registered voters nationwide and was conducted under the joint direction of Anderson Robbins Research (D) and Shaw & Company Research (R) from December 14-16, 2013. The full poll has a margin of sampling error of plus or minus three percentage points.