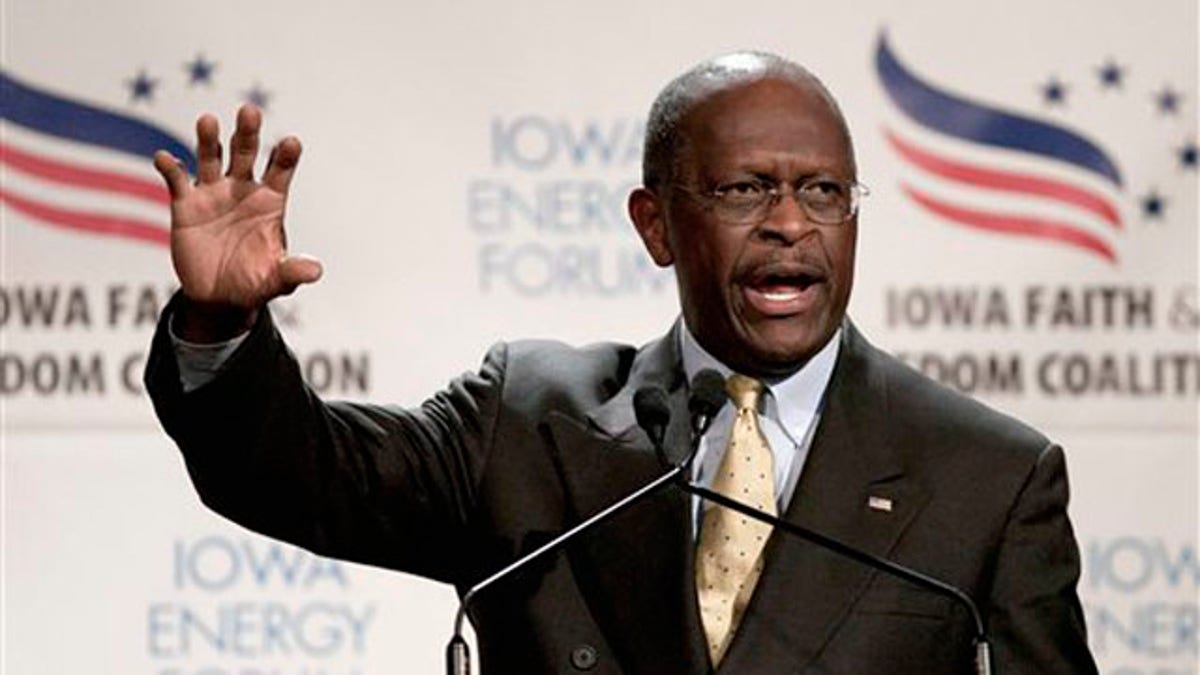 Herman Cain takes the lead in the Republican presidential nomination contest as GOP voters continue to deny Mitt Romney clear front-runner status.
A Fox News poll released Wednesday shows support for Cain has quadrupled among GOP primary voters since late August. At that time, he stood at 6 percent. After three September debates, he jumped to 17 percent. And now Cain leads the pack at 24 percent.
While it's the first time Romney has trailed Cain, it's the second time he's been ousted from the lead since July. Romney receives 20 percent -- a new low for him but still within the margin of error of 5.5 percent among Republican primary voters. Romney was at 23 percent last month and a high of 26 percent in early August.
Newt Gingrich now comes in third with 12 percent -- edging out Rick Perry. The former speaker -- like Cain -- has seen his support quadruple since late August.
Perry's support has dropped to 10 percent, down from 19 percent in September. After his mid-August announcement, Perry captured 29 percent of the vote and took the front-runner role from Romney.
At 9 percent, Ron Paul stays in the top five.
Click here to see the full results of the poll.
Cain is particularly popular among Republican primary voters who identify as being a part of the Tea Party: he captures 32 percent to Romney's 8 percent among this group. Cain also has a wide 15 percentage-point advantage over both Romney and Gingrich among white evangelicals.
Cain has been helped by media coverage of his "9-9-9" tax plan and his upbeat, direct speaking style. His support has increased despite somewhat confusing comments on abortion and his suggestion he might negotiate with terrorist kidnappers. Yet those issues are not especially relevant for GOP primary voters, as nearly 8 in 10 say economic issues such as taxes and government spending will be most important in deciding their vote. That's about 10 times as many as say social issues or national security.
On Tuesday Gov. Perry announced a competing tax plan, which would let taxpayers choose between a flat-rate and the current income tax system.
The poll revealed mixed views on the general question of tax structure. When asked which method they would generally prefer to collect federal taxes: 35 percent pick a flat-rate income tax with no deductions, while 26 percent would stick with the current graduated income tax with deductions. Another 13 percent prefer a graduated income tax with no deductions and 12 percent a national sales tax.
Republicans (47 percent) are nearly twice as likely as Democrats (25 percent) to prefer a flat-rate income tax with no deductions, while twice as many Democrats as Republicans would stick with the current tax plan (35 percent vs. 18 percent).
More voters overall would be enthusiastic or pleased if Cain (23 percent) or Romney (21 percent) were to become president than Perry (17 percent). Still, none of the three bests President Barack Obama on this measure: 37 percent of voters would be enthusiastic or pleased if he were re-elected.
The bad news for the president is that more voters would be displeased or scared if he were re-elected (47 percent) than if Cain (32 percent), Romney (33 percent) or Perry (38 percent) wins.
Republicans and Tea Partiers are about twice as likely to be "enthusiastic" about a Cain win as a Romney or Perry victory.
Meanwhile, fewer than half of Republicans would be enthusiastic or pleased if Cain (43 percent), Romney (42 percent), or Perry (34 percent) were to become president. By comparison, more than 7 in 10 Democrats would feel that way if Obama were re-elected (72 percent enthusiastic or pleased).
Among independents, Obama (24 percent) and Cain (22 percent) receive larger positive reactions than Romney (18 percent) or Perry (13 percent).
Finally, Romney has the largest number of voters -- 38 percent -- saying their reaction would be "neutral" if he were to become president.
In terms of simple popularity, Obama has a higher favorable rating (48 percent) than Romney (40 percent), Cain (33 percent) or Perry (23 percent). While Michelle Obama's 62 percent favorable rating tops them all, that's down from 69 percent in January, and a high of 73 percent in April 2009.
Romney (60 percent favorable) and Cain (54 percent favorable) are much better-liked among the Republican Party faithful than Perry (40 percent favorable).
Voting for a Mormon
The Mormon issue was recently injected into the campaign by a Baptist minister who introduced Rick Perry at a rally. The minister later described Mormonism as a "cult." Two GOP presidential candidates, Mitt Romney and Jon Huntsman, are Mormon.
Of those concerned about voting for a Mormon for president, the poll found more voters would be troubled by Mormons' socially conservative views (21 percent) than their religious practices and beliefs (14 percent). A 62-percent majority says neither of these concerns them.
Twenty-one percent of GOP primary voters have concerns about electing a Mormon president. Of those, twice as many cite Mormon beliefs as cite the candidate's views. White evangelicals -- a significant voting bloc in several key GOP primaries and caucuses -- are about equally concerned about the candidate's views (16 percent) as their religious beliefs (17 percent).
Interest in the Election Highest among Tea Party
Republicans and Tea Partiers are much more tuned-in than Democrats to the upcoming election, which isn't surprising given all the action is on the GOP side right now. Still, the numbers are dramatic. Some 25 percent of Democrats say they are "extremely" interested in the 2012 election. Compare that to 42 percent who say the same among Republicans and 55 percent among those who consider themselves part of the Tea Party movement.
About one voter in five -- 19 percent -- say they personally or a close friend of theirs is more qualified to be president than anyone running right now. That jumps to 35 percent among Tea Partiers.
The Fox News poll is based on landline and cell phone interviews with 904 randomly chosen registered voters nationwide and was conducted under the joint direction of Anderson Robbins Research (D) and Shaw & Company Research (R) from October 23 to October 25. For the total sample, it has a margin of sampling error of plus or minus 3 percentage points.