Fox News Poll: 34% of voters favor GOP health care plan
Half of American voters agree with the Republican charge that ObamaCare will collapse if it's left as is.
At the same time, most give positive marks to their health insurance and over half oppose the GOP plan to replace the current health care law.
Those are some of the findings from the latest national Fox News Poll.
An overwhelming 93 percent majority of voters say they have health insurance, and more than three in four (77 percent) rate their insurance positively (35 percent excellent and 42 percent good). Those ratings are down a bit from pre-ObamaCare days when 84 percent rated their insurance positively in July 2009 (the last time the question was asked on a Fox poll).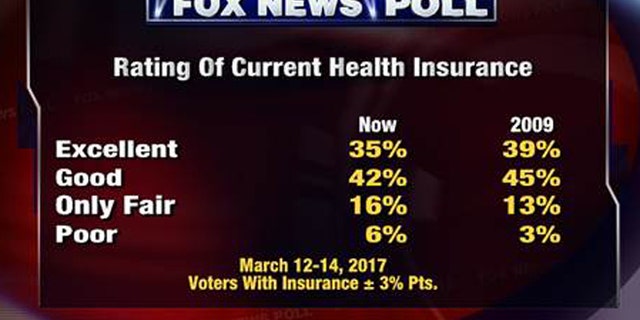 CLICK HERE TO READ THE FULL FOX NEWS POLL.
Fifty percent have a favorable opinion of the Affordable Care Act, also known as ObamaCare. That's unchanged from January, and up from 38 percent two years ago (March 2015). Forty-seven percent have a negative view of ObamaCare.
Voters ages 65 and over (53 percent), lower-income voters (52 percent), women (56 percent), non-whites (69 percent), and Democrats (86 percent) are among the groups most likely to have a positive view of ObamaCare.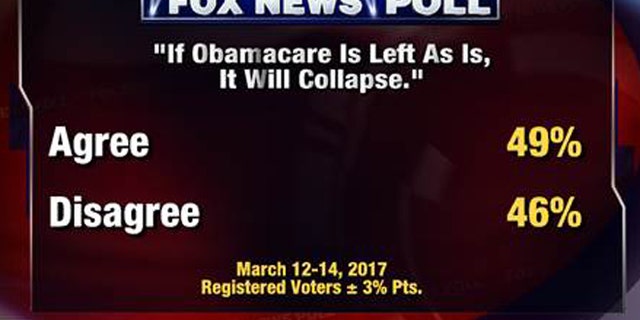 Republican lawmakers say one of the reasons they are taking action on the health care law is because ObamaCare will collapse if they do nothing. The poll, released Wednesday, finds voters split on that 49-46 percent. One in five Democrats agrees (20 percent).
Republicans unveiled their plan to overhaul ObamaCare March 6 and about seven voters in ten (72 percent) already say they are very or somewhat familiar with it. That includes roughly equal numbers of Democrats (74 percent) and Republicans (70 percent).
Over half of voters (54 percent) oppose the GOP plan -- but that doesn't tell the full story. Among those against it, two-thirds don't like it because it makes too many changes to ObamaCare, but one in five complains it doesn't change the law enough.
Overall, 34 percent favor the current Republican plan to repeal and replace ObamaCare. And while a majority of Republicans favors it (69 percent), a sizable minority is either against it (15 percent) or unsure (16 percent).
Nearly 9 in 10 Democrats oppose the GOP health care plan (86 percent).
"It's not surprising voters are skeptical about the plan to repeal and replace ObamaCare," says Republican Pollster Daron Shaw, who conducts the Fox News Poll with Democrat Chris Anderson. "They are generally happy with their health insurance and are spooked by the possibility for another drastic change. Remember that voters were similarly opposed to ObamaCare when Democrats in Congress passed it back in 2010."
President Trump gets negative marks on how he's handling health care: 35 percent of voters approve and 55 percent disapprove. These are some of his lowest issue ratings, as he only performs worse on handling America's relationship with Russia (33-55 percent).
In talking about his plans to replace ObamaCare in a pre-election interview with 60 Minutes, Trump said, "I am going to take care of everybody. I don't care if it costs me votes or not. Everybody's going to be taken care of much better than they're taken care of now."
A Fox News Poll in January found that by a 56-41 percent margin, voters believe it is the responsibility of the federal government to make sure all Americans have health care. Ninety percent of Democrats said it's the government's job. Twenty percent of Republicans agreed.
Pollpourri
More voters have a favorable opinion of Planned Parenthood (57 percent favorable), than of Vice President Mike Pence (47 percent), President Donald Trump (44 percent), House Speaker Paul Ryan (37 percent), House Minority Leader Nancy Pelosi (33 percent), Senate Minority Leader Chuck Schumer (26 percent), and Senate Majority Leader Mitch McConnell (20 percent).
Bernie Sanders tops them all: 61 percent favorable vs. 32 percent unfavorable.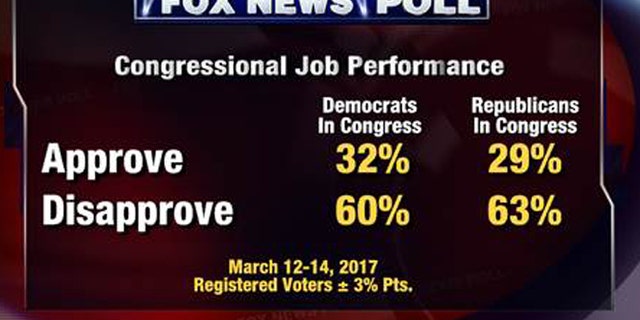 Thirty-two percent of voters approve of the job Congressional Democrats are doing, up two points since the end of 2014. Twenty-nine percent approve of Congressional Republicans, up one point. Majorities still disapprove of lawmakers on both sides of the aisle (60 percent and 63 percent respectively).
The Fox News poll is based on landline and cellphone interviews with 1,008 randomly chosen registered voters nationwide and was conducted under the joint direction of Anderson Robbins Research (D) and Shaw & Company Research (R) from March 12-14, 2017. The poll has a margin of sampling error of plus or minus three percentage points for all registered voters.