Fox News Latino poll: Trump has deepened wedge between GOP and Latinos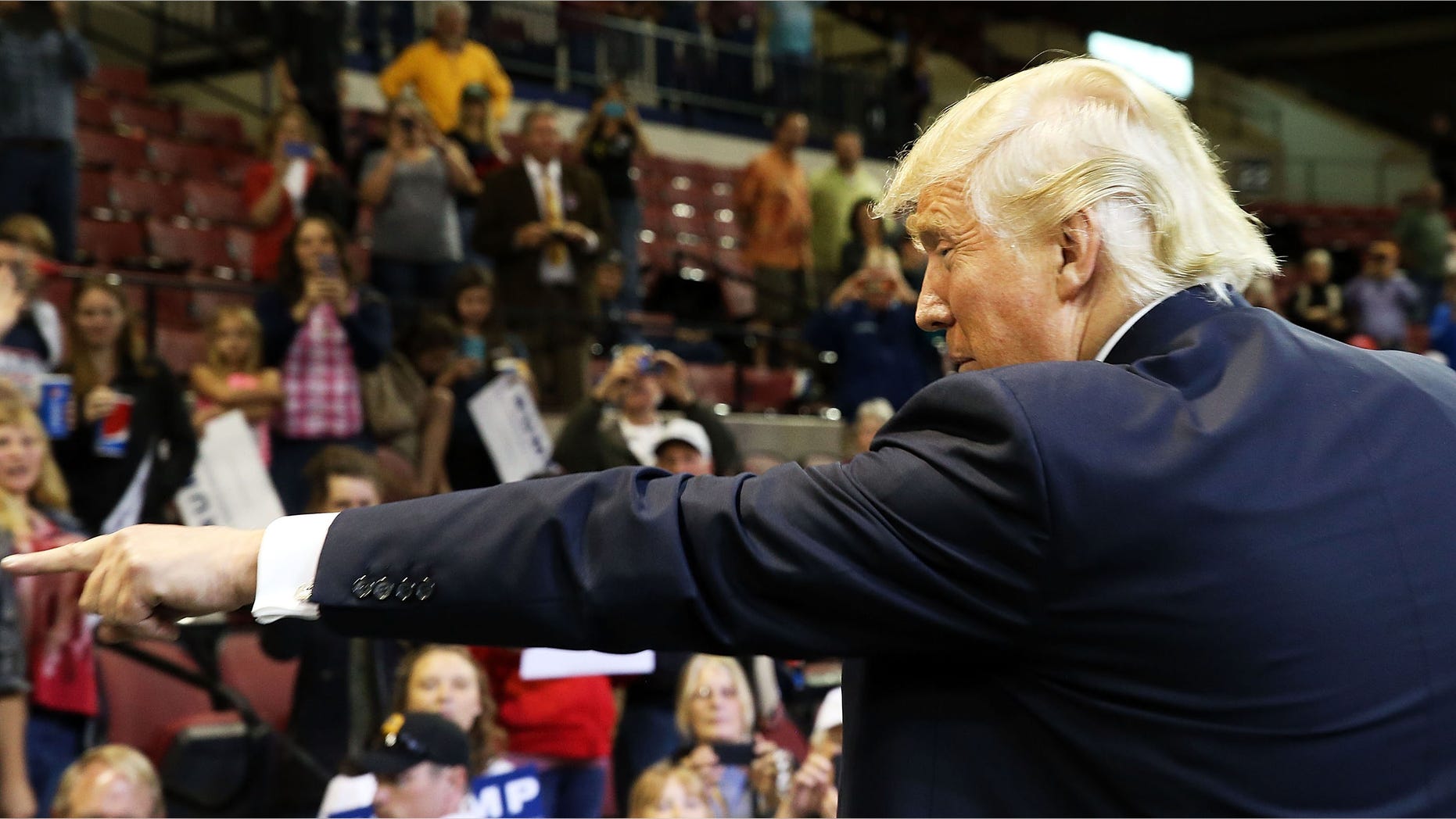 The handwriting on the wall for Republican Party leaders following Mitt Romney's 2012 loss was clear: find a way to reconnect with Latino voters, or forget about their support in the 2016 presidential race.
A so-called "autopsy" of the Romney run — in which Latinos gave 71 percent of their votes to incumbent President Barack Obama, but only 27 percent to his Republican challenger — revealed to Republicans that it needed to do a better job bringing diversity to the party and conveying to Latinos that the GOP stood for shared family values, a desire for self-sufficiency and governmental fiscal responsibility.
And, with field of potential nominees that included two Latinos, an African-American, a Punjabi-American governor, a border-state governor, a woman and a former Florida governor who spoke fluent Spanish and is married to a Mexican-American… it appeared that Republicans were moving in the right direction.
Then, along came Donald Trump.
Trump's opening hard-line rhetoric on immigration and Mexico — build The Wall and round up and deport all undocumented immigrants  — had a seismic effect on the Republican presidential race, and appears to have widened the schism between the GOP and Latino voters.
Indeed, a new Fox News Latino poll shows that Latino party identification since 2012 is leaning even further toward the Democrats, with 60 percent choosing it as the party they identify with, compared with 21 percent identifying as Republican — a 6-point increase for Democrats since 2012.
"With his emphasis on 'building a wall' on our southern border to keep out 'rapists and criminals,' Trump has apparently magnified the natural issue advantage the Democrats enjoy among Hispanic voters," said a summary that accompanied the poll, written by report co-author and  Republican pollster Daron Shaw, who conducted the Fox News Latino poll along with Democratic pollster Chris Anderson.
As for their view of the parties, 60 percent of Latinos reported having a favorable view of the Democratic Party, compared to only 25 percent for Republicans. The poll sampled 803 Latino registered voters, and has a margin of sampling error of plus or minus 3.5 percent.
READ FULL RESULTS OF FOX NEWS LATINO POLL
Veteran Republican pollster Whit Ayers said that while Latinos have traditionally preferred the Democratic Party, the Fox News Latino poll highlights a worrisome downward trend for Republicans.
"Party identification [for Latinos] is fully consistent with what we have seen since the demise of the George W. Bush immigration reform proposal in 2007, when Hispanic voter identification went from 49 percent Democrat to 65 percent Democrat," said Ayers, who wrote a book titled: "2016 and Beyond: How Republicans Can Elect a President in the New America," which says the GOP must get more minorities on its side if it is to remain viable and win back the Oval Office.
"After the 2007 demise of the immigration proposal, Republican Party ID [among Latinos] went from 28 percent, to 26 percent, then 25 percent to 22 percent and in 2014 went to 27 percent. This would mean that Republican ID is at its lowest point" going back more than a decade, Ayers said.
Trump, meanwhile, argues that he harbors no ill feelings toward Hispanics, and claims members of the community like him. He rejects poll conclusions, and says he has hired hundreds, if not more, Latinos throughout his life.
Republican National Committee officials say Trump's remarks on immigration are not anti-Latino, but instead are anti-illegal immigration.
"Donald J. Trump favors immigration and he consistently emphasizes that it must be legal immigration," RNC Hispanic Media director Helen Aguirre Ferré said in an email.
That said, the Hispanic affinity with the Democratic Party is not caused by Trump alone, the poll summary noted.
"Even if the current election contest is an isolated affair, Latino opinion and voting preferences continue to be largely shaped by the tendency of Hispanics to identify as Democrats," the report said. "While Republicans from [former president] Ronald Reagan to [New Mexico Gov.] Susana Martinez have talked about how Latinos are 'Republicans who just don't know it yet,' GOP candidates and issue arguments tend to be viewed as non-credible and fall on deaf ears."
Many see another GOP autopsy after the election, particularly if Trump loses.
"As things are now, we're likely looking at another round of GOP soul-searching after the election around how to nominate candidates and speak about issues that matter to Latinos in a way that brings more Latinos into the tent," said Andrew Schwartz, a director at Anderson Robbins Research (D) who was one of pollsters for the Fox News Latino poll.
But the Democrats should not rest on their laurels, experts say.
"For Clinton, the job is to push Latino voter turnout as high as possible," Schwartz said. "She knows that she has the bulk of Latino support; the key is to make sure that it's there on Election Day, not just in the polls."