Former Hawaii Sen. Daniel Akaka dies at age 93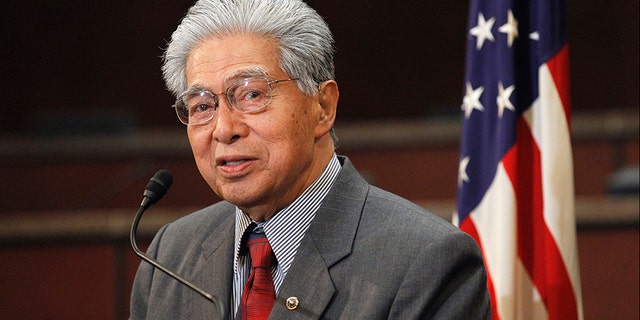 NEWYou can now listen to Fox News articles!
Former Sen. Daniel Akaka has died at the age of 93, Fox News has confirmed.
Akaka spent 36 years in Washington as a member of the House and the Senate, retiring in January, 2013.
The first ethnic Hawaiian to serve in the Senate, Akaka became an advocate for federal recognition of his home state's native population. He was also the only Chinese American member of the Senate during his tenure – out of only six Asian-Americans to serve in the history of the body.
Akaka had the distinction of having his name called first at the beginning of every roll call vote and quorum call for years, as the clerk would start by yelling "Mr. Akaka!"
Akaka wielded the gavel of the Senate Indian Affairs Committee near the end of his career to advance legislation for ethnic Hawaiians' rights, such as the ability to form their own sovereignties like native Alaskans and American Indians.
In 1993, President Bill Clinton signed an Akaka-sponsored resolution that officially apologized for the U.S.-led rebellion a century earlier to overthrow Queen Liliuokalani, the former Hawaiian Islands monarch.
Akaka was first elected to the House of Representatives in 1976 and served for 13 years. In 1990, Hawaiian Democratic Gov. John Waihee appointed Akaka to fill the Senate seat previously held by the recently deceased Democratic Sen. Spark Matsunaga. Akaka later won the fall election that year after facing off Republican Rep. Patricia Saiki for the seat.
After 21 years in the Senate, Akaka announced in March 2011 that he would not seek reelection in 2012. Many political handicappers had speculated the 86-year-old senator would retire amid reports of low fundraising.
Upon graduation from high school, Akaka served in the Army Corps of Engineers and the U.S. Army during World War II. After the war, he rose through the ranks of the Hawaii Department of Education, first as a high school teacher and principal and later as a chief program planner.
In addition to his work on behalf of native Hawaiians, Akaka chaired the Senate Veterans' Affairs Committee from 2007 to 2010. In 2009, Akaka and his Hawaii Senate colleague, the late Democratic Sen. Daniel Inouye, successfully pressed for legislation of payments to Filipino World War II veterans.
Akaka and his wife, Millie, had five children.