FNL poll: Having Hispanic running mate won't help much with Latino voters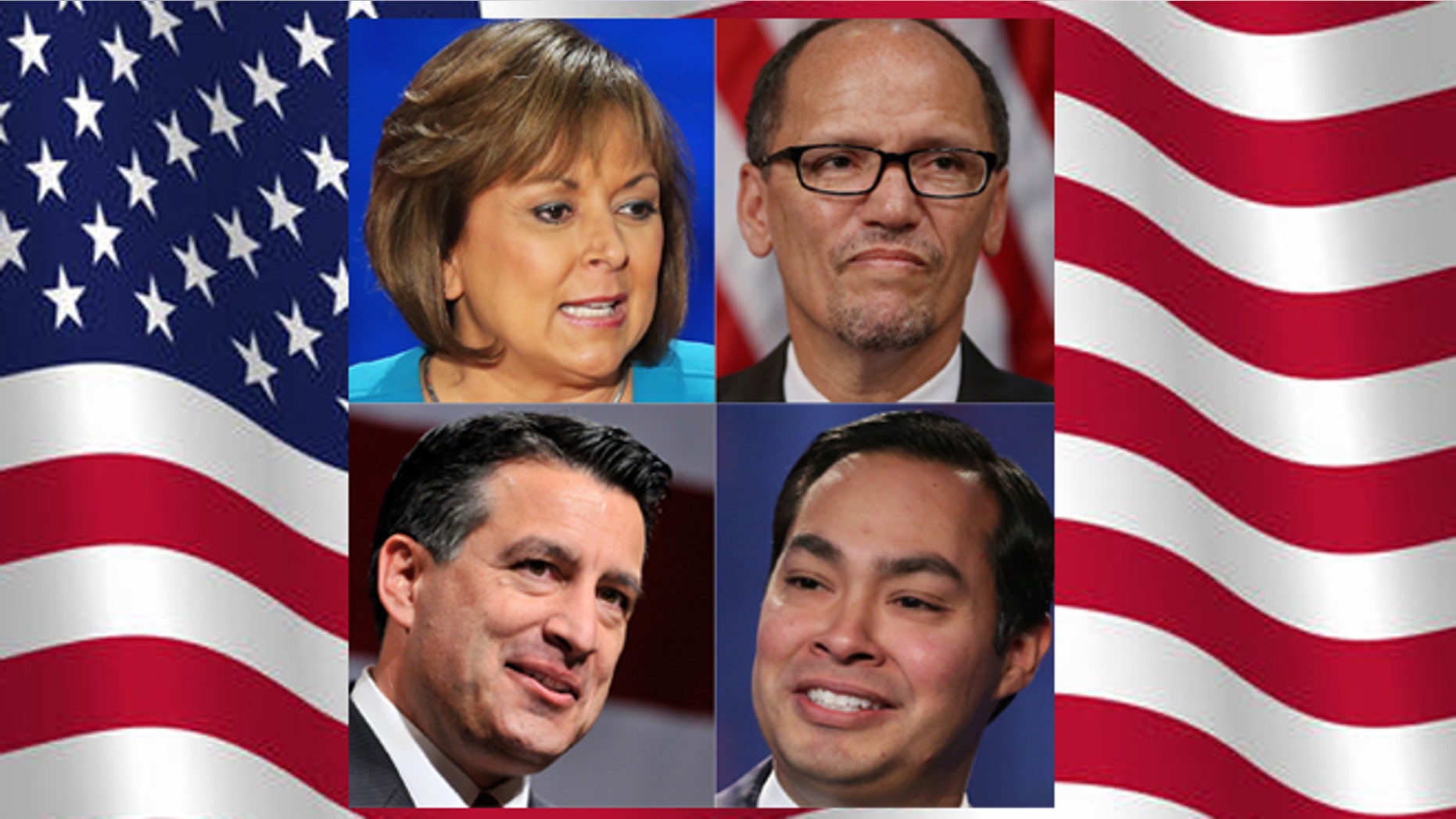 As the vice presidential rumor mill heats up, politicians and pundits have thrown out names like Housing and Urban Development Secretary Julián Castro and Labor Secretary Thomas Perez as possible Democratic running mates.
On the Republican side, New Mexico Gov. Susana Martinez and her Nevada counterpart, Brian Sandoval, have both been bandied as potential additions to a ticket topped by presumptive GOP nominee Donald Trump.
The thinking is that a Latino running mate could help sway Hispanic voters – a record 27 million of whom are eligible to vote in 2016.
A new poll released Friday by Fox News Latino, however, puts that thinking into question. Results of the poll have a margin of sampling error of plus or minus 3.5 percentage points.
CLICK HERE TO READ THE POLL RESULTS 
According to the poll, which sampled 886 Latino registered voters, if former Secretary of State Hillary Clinton wins the Democratic nomination, it makes no difference to 80 percent of Latinos if she does or does not select a Hispanic running mate. On the Republican side, that number is even higher – 86 percent of Latinos saying it makes no difference to them whether or not Trump picks a Hispanic vice presidential candidate.
But observers say not to put too much stock on the poll.
"A generic Hispanic proposed in a poll really shouldn't make any difference," Larry Sabato, the director of the University of Virginia's Center for Politics, told Fox News Latino in an e-mail statement. "Hispanics and others would only react to the individual chosen, and his or her life story."
Evelyn Perez-Verdia, an analyst with Political Pasión, agreed.
"What matters is how a candidate connects with the community," she said. "Just being Hispanic is not enough."
Others argue that the poll results might be different if either Clinton or Trump had already selected a Latino running mate, thereby guaranteeing the real possibility of a Latino on the ticket.
During the 2008 campaign, there was a vast difference in poll numbers for Barack Obama among African-Americans before and after he won the Iowa caucus. Once it appeared like he had a legitimate shot at winning the Democratic nomination, his poll numbers among black Americans skyrocketed.
"As soon as he started winning, you saw a huge sea change," Joe Trippi, a longtime Democratic strategist who managed Howard Dean's 2004 presidential campaign, told FNL.
Trippi said the same thing could happen within the Latino community if a candidate chooses a Hispanic running mate.
"When they see that person's hand in the air with the nominee, and they realize it's real – these numbers could really change," he said. "I would not underestimate that impact."
Should Clinton win the Democratic nomination, the impact of a Latino running mate has the possibility of being more beneficial to the former First Lady.
Among Latino voters, the poll shows, Clinton already enjoys a sizeable lead over Trump in a head-to-head matchup, 62 to 23 percent.
While the vast majority of Latinos said it makes no difference whether or not the vice presidential candidate is Hispanic, 16 percent of those polled say that they are more likely to vote for Clinton is she picks a Latino candidate, compared to only 7 percent when asked the same question about Trump.
The Fox News poll, which was conducted under the joint direction of Anderson Robbins Research (D) and Shaw & Company Research (R), relied on live telephone interviewers carried out between May 14 and 17, 2016, among a random sample of 886 Latino registered voters as an oversample to a national survey of 1,021 registered voters.
This Latino sample is made up of 76 interviews conducted as part of the base national sample and 810 additional interviews from a Latino voter list developed from previously conducted national random digit dial surveys.