Florida recount: Fury at Broward, Palm Beach, for making rest of state look like 'laughing stock'
Fort Lauderdale, Fla. – As Broward and Palm Beach counties drag the rest of Florida down with them, drowning in a sea of lawsuits and ballot problems, the rest of the state is furious and fed up that their self-inflicted image as an electoral basket case has once again been enforced.
"The large number of problems with mail-in ballots, voters who voted not being counted and voters who didn't vote being counted, ballots with wrong or missing information, refusing to disclose how many ballots were left uncounted after the deadline, possible felons and dead people voting, and the never-ending 'discovery' of more ballots after supposedly the election results have been tabulated and reported prove that either the SOE (Broward County Supervisor of Elections Office) is the most incompetent public agency in America or the most corrupt," prominent Florida attorney Cathy Lerman told Fox News. 'I believe it is the latter."
She's not alone.
For the sixth day in a row, protesters have been camped outside of the Broward County recount center in Lauderhill, Fla. They've shouted into bullhorns, marched around and carried homemade signs that read "stop the steal" and "I trust (Michael) Avenatti more than Brenda (Snipes)!" Snipes is the embattled Broward County election supervisor who has been under intense scrutiny for her handling of Broward's election.
FLORIDA VOTERS HAVE UNTIL SATURDAY TO FIX SIGNATURE ISSUE, FEDERAL JUDGE SAYS
"Broward's always a nightmare and they never learn," Florida resident Robyn White told Fox News on Tuesday.  "They are the country's punching bag and a laughing stock."
Broward County, which had a machine malfunction almost immediately after its recount began, has spent much of the week racing to catch up to other counties like Taylor and Miami-Dade which had prepped for the recount before it officially began and finished well ahead of its neighbors.
"All I can say is that our success comes from being prepared," Dana Southerland, Taylor County Supervisor of Elections, told Fox News. "We knew it was coming. Once we started, we stuck to the schedule. We worked slowly and meticulously and I did not bring in a lot of outside help. I thought, let it be manageable."
Although Taylor County has an admittedly much smaller number of ballots to recount - 7,999 - it nonetheless finished it by Tuesday at 6:45 p.m.
Miami-Dade, with more than 800,000 ballots to contend with, compared to Broward's 700,000, began prepping within 48 hours of polls closing.
"We are going into three possible statewide recounts," Christina White, the county's Supervisor of Elections, said during a Thursday afternoon meeting of the panel that oversees the county's elections. "What I would like is to have the canvassing board allow my department to take whatever preparations are necessary to staff and get ready for that recount."
When she was given the green light, White, a 16-year county employee, instructed her staff to start separating the first page of ballots Thursday evening. When the state officially declared a recount Saturday, the county was able to start processing the already-separated ballots within hours.
FLORIDA ASKS US TO INVESTIGATE 'IRREGULARITIES' AS STATE RACES TOWARD RECOUNT DEADLINE
"I think the contrast is pretty clear," said Alex Penelas, a Democrat and former mayor of Miami-Dade, told the Miami Herald. "There's a stark comparison. It's Miami-Dade versus Broward."
Another difference? There is no drama in Miami-Dade.
Since the recount was ordered, Broward and Palm Beach counties have been at the center of controversy, pulled into multiple lawsuits and accused by the President of the United States and other prominent Republican officials of trying to steal the race. Trump even tweeted about "the characters running Broward and Palm Beach voting."
Snipes snapped back: "I don't have a treasure trove for going out digging on the beach or somewhere to find any votes."
BALLOT BOX DISPUTES: DEMOCRATS USE LEGAL ACTION WHEN LOSING RACES, BUT WANT RESULTS UNTOUCHED WHEN THEY LEAD
Snipes has also received threats of violence and harm, and a source in her office told Fox News she requested that deputies give her rides home at the end of the night. There are also reports that she and Palm Beach County Elections Supervisor Susan Bucher have been "doxxed," which is to say that their home addresses and pictures of their home have been published on the Internet. Information about the doxxing and the group thought to be responsible were turned over to the FBI.
Bay County has also been dragged into the controversy. Elections Supervisor Mark Andersen in the heavily Republican county told the Miami Herald on Monday that he allowed about 150 people to cast ballots by email, which is illegal under state law. The county was devastated by a Category 4 hurricane in October, and Gov. Scott ordered some special provisions for early voting there.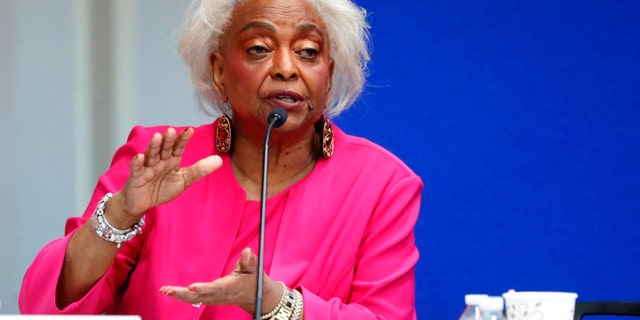 Another area of concern to some Floridians is the price tag attached to the recount.
While there have been no estimates yet on how much the 2018 recount will cost, past recounts have raked up a hefty bill.
In 2000, Citizens Against Government Waste released a report that estimated the costs associated with the state's recount efforts. CAGW estimated Palm Beach County blew through $25,000 a day and projected the 2000 recount cost in Broward, Miami-Dade and Palm Beach counties to be more than $2 million.
But despite all the digs and its almost-constant magnetic pull to controversy, Broward announced Thursday morning it had defied the odds and finished its recount well ahead of the 3 p.m. deadline mandated by the state. Next up – a likely hand recount.
Fox News' Ivonne Amor contributed to this report.