Florida Gov. Crist Announces Senate Run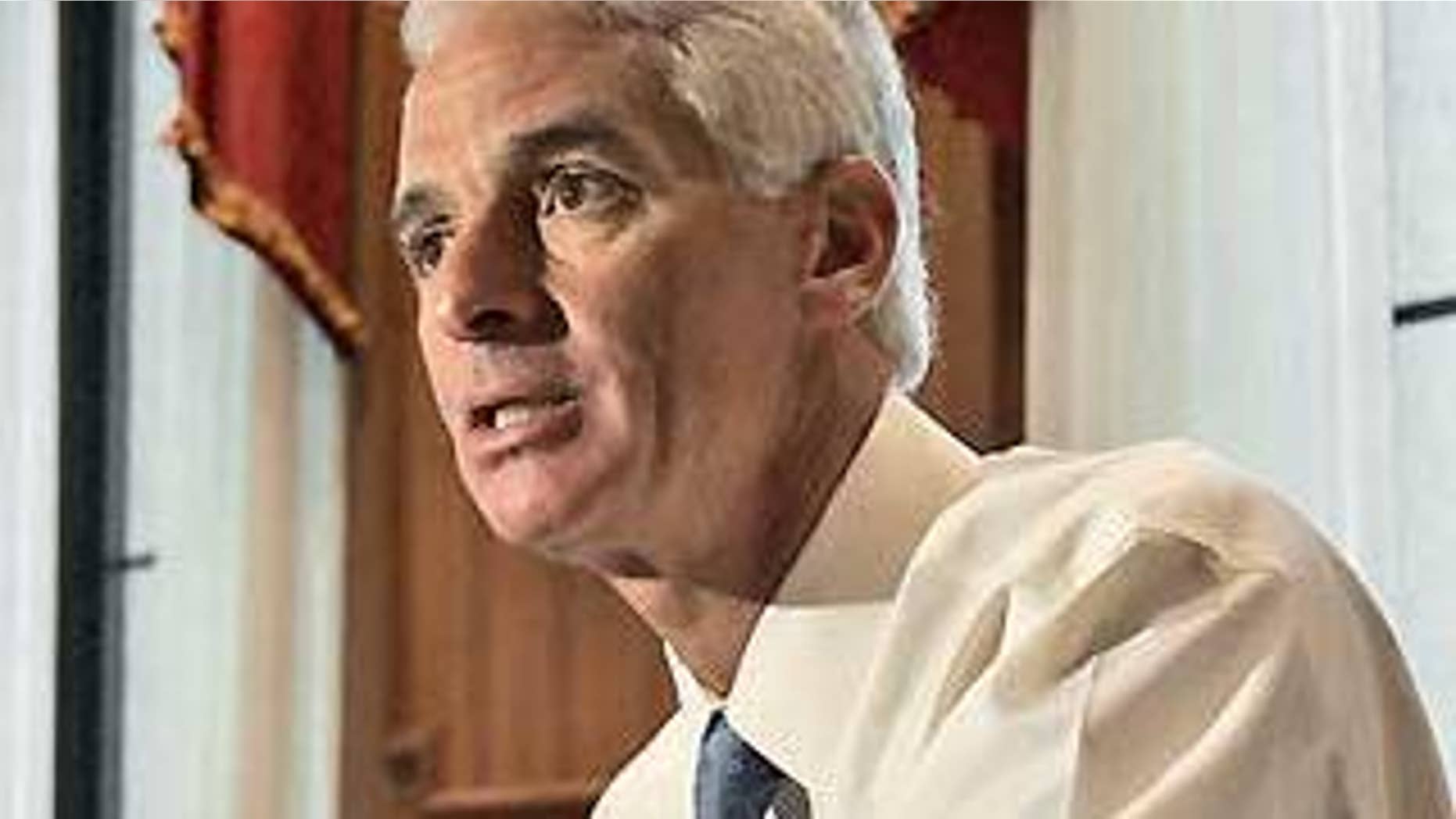 Florida Gov. Charlie Crist announced Tuesday that he will run for U.S. Senate, in a bid to keep a vital Republican seat from switching hands next year. The popular Republican governor could also be setting himself up for a presidential run in 2012.
In a written statement, Crist cited concerns over the economy, health care, the environment and national security in his decision to run for the seat being vacated by Sen. Mel Martinez, who has announced that he will not seek re-election.
"I'm excited about the opportunity and I look forward to serving," Crist told reporters in Tallahassee, saying he made the decision after consulting with his wife and parents. "I want to serve where I can serve the people of my state the very best, and I believe that to be in the United States Senate."
He suggested he wants to bring a bipartisan approach, saying that "regardless of party we have to work together to get things done, and that's what I'd like to take to Washington, D.C."
With Democrats one seat away from a 60-seat, filibuster-proof majority, every Senate seat is vital to the Republicans. The Florida race became one to watch after Martinez announced he would not run, joining several other Senate Republicans who are stepping aside at the end of the current term and making it all the more important for the GOP to find strong candidates to run in those states.
Crist, 52, is widely popular in Florida; he was believed to be on the short list to be John McCain's vice presidential running mate last year.
Sen. John Cornyn, head of the National Republican Senatorial Committee, swiftly endorsed Crist for the seat, even though the governor is expected to face a challenger in the GOP primary.
"With his record of reform in Florida, I know that Governor Crist will bring a fresh perspective to Washington in our efforts to fight for lower taxes, less government, and new job creation for all Americans," Cornyn said in a statement. "Charlie Crist is a tireless advocate on behalf of all Floridians."
Crist will face former state House Speaker Marco Rubio in the primary. Rubio is expected to try to win over the GOP's conservative base, some of whom may not be happy with Crist's more moderate approach. Cornyn praised Rubio but said Crist is the better candidate.
Rubio issued a response Tuesday saying the primary will "offer Republicans a front row seat to a debate about the future of the Republican Party" in the state and the nation.
"Let the debate begin," he said.
Democrats in the Senate race include U.S. Rep. Kendrick Meek and state Sen. Dan Gelber, both from Miami-Dade County.
Crist made his run official in a written statement Tuesday morning. In it, he stressed his commitment to the people of his state.
"As governor, each day I will continue to focus on fighting for all Floridians. And if I am given the honor of serving as their senator, I will take that fight for the people of this state I love so dearly to the halls of Congress," he said.
He said he did not announce his decision earlier because he was waiting "until after the important work of the Legislature was completed."
Crist's decision gives Democrats their best chance in more than a decade at winning back some power in Tallahassee. Republicans have controlled the governor's mansion and the Legislature since former Gov. Jeb Bush began the first of his two terms in 1998.
All three of Florida's Cabinet members are expected to get in the race to replace Crist. Chief Financial Officer Alex Sink, a Democrat, and Republican Attorney General Bill McCollum would forgo re-election to run for governor. Agriculture Commissioner Charles Bronson, who under Florida law can't seek a third term, has also said he will get in the race.
The Associated Press contributed to this report.