Fired Up! But Are Obama Supporters Ready To Go?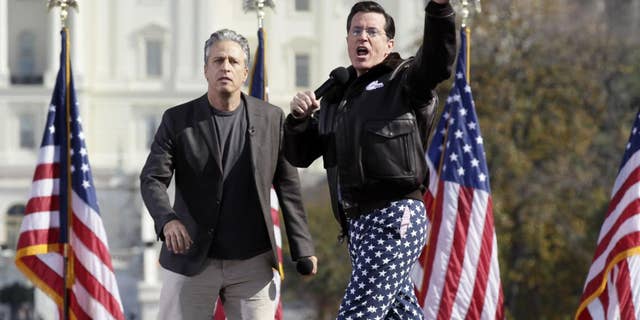 One would think those who took the time and effort to attend a rally in Washington, D.C. that was hosted by Comedy Central comedians John Stewart and Stephen Colbert would be fired up for Democrats and ready to go vote for them on Tuesday. But, a straw poll done at this weekend's "Rally to Restore Sanity and/or Fear" by a self-described progressive grass-roots organization indicates that may not necessarily be the case.
USAction did its own, independent straw poll at Saturday's event on the National Mall in Washington. It found most of those polled at the rally, 86 percent, are likely to vote Democrat - no surprise there. The potentially telling part is that most of those rally goers are not as excited to vote Tuesday as they were just two years ago.
And on top of that, it may show the Democratic strategy to drum up support to the "base" -- young and party-faithful voters--might not be working as much as they hoped. President Obama has been visiting college campuses and holding large rally-style events to try to energize this group they hope will be key to making gains in Tuesday's elections.
Obama's approvals among this group are drastically higher than the overall public. Ninety percent of those approve of the president- and more than half , 56 percent, approve of him strongly. But how does that support translate to an excitement about voting in the midterms?
Only 25 percent of those polled said they were more enthusiastic about voting this year compared to 2008. Most, 39 percent, said they are less enthusiastic than in 2008.
USAction president William McNary says, "Our survey was designed to find out what they care about."According to USAction most of those polled, 41 percent , the number one issue is jobs. The other issues lagged far behind--- education at 18 percent, energy and the environment at 17 percent, ending the wars in Iraq and Afghanistan at 13 percent, and improving health care 11 percent.Almost all, about 87 percent of those polled, believe the White House should focus on "investing in programs that put people back to work" rather than "on cutting spending."
Fox News contacted USAction to see how they did this poll. Spokesman David Elliot describes this group as decidedly non-partisan. But, Elliot says USAction definitely has a progressive agenda. He says they are a grass roots organization with affiliates in 24 states that isn't tied directly to the Democratic Party.This is how the poll, conducted by Lake Research Partners for USAction, worked: cards were handed out to rally attendees. The cards said text "fear" or "sanity" to a numbers. If people did that they had a chance to win an iPad.
Elliot claims 16 or 17 hundred people texted back. About 25 percent, 456 respondents, who texted back chose to take the 6 question poll-with no incentive of winning anything further.