Fiorina to Clinton: 'Flying is an activity, not an accomplishment'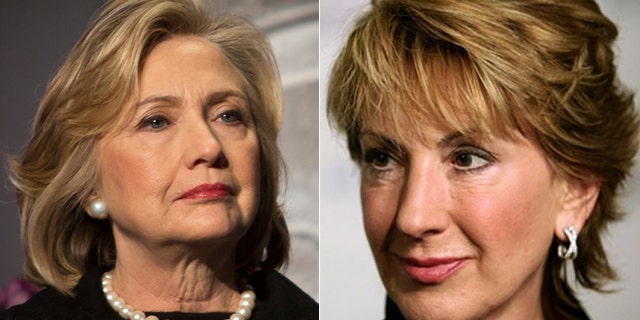 Carly Fiorina, the former Hewlett-Packard CEO who is flirting with a Republican presidential bid in 2016, took some tough shots Tuesday at the likely Democratic front-runner – effectively accusing Hillary Clinton of running for office on a record of air travel.
"Like Hillary Clinton, I too have traveled hundreds of thousands of miles around the globe," Fiorina said. "But unlike Hillary Clinton, I know that flying is an activity, not an accomplishment."
Fiorina spoke in Atlanta at a luncheon hosted by Georgia Secretary of State Brian Kemp. It marked at least the second time in as many months she has gone hard after Clinton; Fiorina previously criticized Clinton during an address last month at the Iowa Freedom Summit in Des Moines.
On Tuesday, Fiorina said that despite Clinton's extensive travel as secretary of state, "every place in the world is more dangerous today than it was six years ago."
She also went after Clinton over recent reports on how the Clinton Foundation had lifted its own ban on foreign donations, and potential conflicts of interest that could arise from that should Clinton run for the White House.
"Really? This is the best we can do is to have yet another decade of campaign finance scandals?" Fiorina said.
Fiorina, who ran unsuccessfully for Senate in California in 2010, is often overshadowed by other big-name GOP presidential hopefuls, like former Florida Gov. Jeb Bush. But she has been making the moves to prepare for a potential candidacy.
Later Tuesday, Fiorina supporters announced they were launching a SuperPac entitled Carly for America to "help lay the groundwork for a potential presidential candidacy."
Fiorina's searing criticism was delivered shortly before Clinton herself spoke at a Silicon Valley women's conference, her first U.S. speech of the year.
Tuesday's speech opens a stretch of public appearances in the next month ahead of an all-but-certain launch of her bid for the Democratic nomination.
The former secretary of state until now has steered clear of the spotlight -- her only two speeches in 2015 came in Canada last month -- choosing instead to huddle with advisers as a large field of Republican presidential hopefuls compete for attention.
Clinton was speaking Tuesday at the Watermark Silicon Valley Conference for Women in Santa Clara, Calif., an appearance before 5,000 attendees.
Clinton is scheduled to step up her public appearances in March, appearing at a gala for EMILY's List, which supports female Democratic candidates who support abortion rights, an awards ceremony in Washington for political journalists and a United Nations meeting on women's rights.
The Associated Press contributed to this report.