Fifteen states petition DC court to block new EPA power plant rules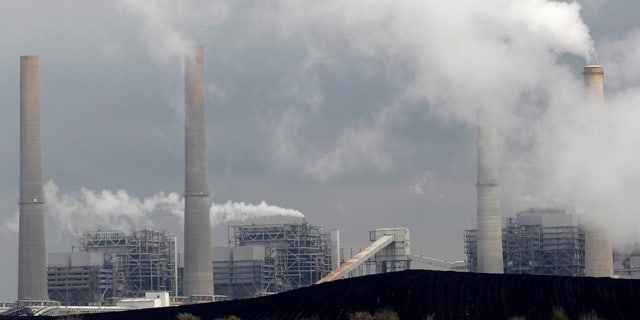 NEWYou can now listen to Fox News articles!
Attorneys general from 15 states filed a petition in federal court Thursday to block new EPA rules requiring massive cuts in emissions from power plants.
Reuters reported that the states have asked the U.S. Court of Appeals for the D.C. Circuit to issue a ruling on the matter before Sept. 8, one year before the states are required to submit compliance plans to the agency.
The new rules, announced by President Obama earlier this month, call for power plants to lower carbon emissions from 2005 levels by 32 percent by 2030.
"Climate change is not a problem for another generation," Obama said in a video posted to Facebook after the Aug. 3 announcement. "Not anymore."
On Thursday, West Virginia Attorney General Patrick Morrisey called the rule "the most far-reaching energy regulation in the nation's history, and the EPA simply does not have the legal authority to carry it out ... The Clean Air Act was never intended to be used to create this type of regulatory regime, and it flies in the face of the powers granted to states under the U.S. Constitution."
West Virginia, which relies heavily on coal to produce electricity, is one of the states that has become ground zero in a battle with the White House over what some have dubbed the "war on coal." Morrisey was joined in Thursday's petition by colleagues from Alabama, Arkansas, Florida, Indiana, Kansas, Kentucky, Louisiana, Michigan, Nebraska, Ohio, Oklahoma, South Dakota, Wisconsin and Wyoming
The EPA said in a statement Thursday that it was confident the rule would be upheld in court, saying that it had a "sound legal and technical foundation." Attorneys general for 15 other states, as well as New York City and the District of Columbia issued a statement saying it supported the EPA rules.