Feds under fire in Arizona for plan to round up wild horses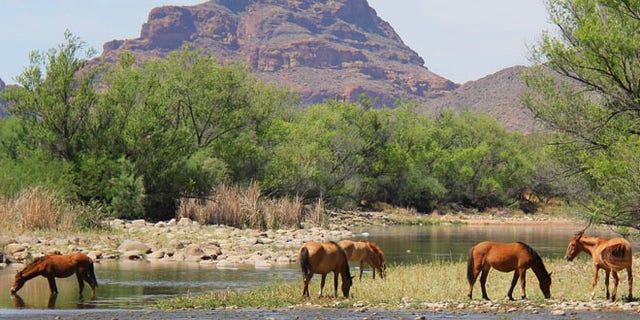 Conservationists in Arizona are ramping up efforts to stop the federal government from rounding up herds of wild horses in a local forest -- a move opponents say puts the animals' lives in jeopardy.
The Forest Service has placed a Friday deadline on wild horses roaming in Tonto National Forest for those who wish to make a claim on individual animals. The remaining horses will be sent to auction, and those unable to be auctioned off will be "sold at private sale or condemned and destroyed, or otherwise disposed of," according to the notice.
Carrie Templin, a public affairs officer with the Tonto National Forest told FoxNews.com that the Forest Service estimates there are as many as 100 horses running free. However, she said that while the deadline ends Friday, there is no date set yet to round up the animals.
The Forest Service says the animals are a danger to public safety, but The Salt River Wild Horse Management Group -- a non-profit organization dedicated to preserving and monitoring the horses -- contends there are other, less harmful ways to keep the wild horses from being a public safety risk. Conservationists fear that rounding up the animals could seriously injure them, while horses sent to auctions may be killed by so-called "kill buyers" who pick up the animals for the horse-meat trade.
"There is enormous public outrage,"Simone Netherlands, president of The Salt River Wild Horse Management Group, told FoxNews.com.
The non-profit says it is still seeking a negotiated solution, but is also planning large protests to stop the move this Friday. A Change.org petition against the round-up has garnered over 30,000 signatures.
"Our goal is to work with the Forest Service to make the area safer for local people," Netherlands said. The non-profit not only tracks the horses, but also assigns each one a name. "This herd can be managed at a sustainable number."
Netherlands says they have been in extensive discussions with the Forest Service, and have submitted a 50-page proposal that she says outlines ways the horses can be managed humanely -- including by using methods of birth control and keeping horses that need to be removed in a sanctuary.
While Netherlands says that there have been no injuries caused by the animals, the Forest Service insists there is a significant public safety concern that needs to be dealt with.
"We've had issues with horses being hit on the highway, and we have had horses coming into recreation areas," Templin told FoxNews.com.
"We would rather have them taken to a good safe place and not hit on the highway," Templin said.
Netherlands claims that the Forest Service's labeling of the horses as stray livestock is a way of allowing the government to avoid a 60-day public consultation period and that so far their proposal appears to have been ignored.
"They've pulled one over on us," Netherlands said.
However, Templin says that as the animals have not been designated for protection, the Forest Service can only treat them as stray livestock and has no legal authority to hand over management of the horses to someone else.
"All we can do is find the owners," Templin said.
Click for more from Fox10Phoenix.com.