Feds spend $3,071 for kids to raise red paddles to protest donuts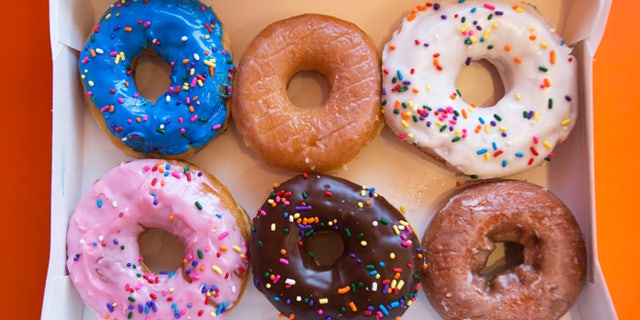 A group of children was gathered around the exhibit, paddles in hand eager to denounce another food deemed unhealthy by the National Institutes of Health.
The game is called "Go, Slow, and Whoa!" Think Red Light, Green Light, but for educating kids on the danger of white bread. Kids who attended the USA Science and Engineering Festival this weekend in Washington, D.C., could play the taxpayer-funded game and were given green, yellow, and red paddles.
Green is for go, used for foods the NIH thinks should be eaten all the time: low-fat, fewer calories, and no sugar. The Gos include canned tuna, broccoli, oats, and low-fat string cheese.
Yellow, or slow, is used for foods that should be eaten sometimes, like 100 percent fruit juice, or a whole egg cooked with no fat.
Red is for Whoa!, and is used for foods the NIH says should only be eaten on special occasions. Red foods include whole milk, cheddar cheese, French fries, onion rings, hot dogs, bacon, tater tots, Fruit Loops, pancakes, and Swiss cheese.
"A peanut butter and jelly sandwich on white bread is a WHOA food," the NIH explains. "But if you use whole-grain bread, sugar-free jelly, and low-fat peanut butter, it becomes a SLOW food."
The kids caught on quickly. A delicious-looking chocolate-glazed donut flashed across the television screen. They raised their red paddles in unison. Some of the parents clapped.