Facing backlash, California county rescinds homeless shelter plan
Facing a public backlash, officials in Southern California's Orange County rescinded their plan Tuesday for emergency homeless shelters in three cities.
The homeless shelters in Irvine, Huntington Beach and Laguna Niguel were to house up to 400 people, the Orange County Register reported. Laguna Niguel ranks seventh among the nation's wealthiest cities, according to a 2016 Register report.
"They're just dumping these poor people in our neighborhoods and communities where there are like six schools and, you know, little children walking to school," Irvine resident Radhika Athlaye told ABC7. "Just a general area where it's not right for either the homeless or the residents of Irvine."
The Orange County Board of Supervisors' unanimous vote undid its March 19 approval of the three-city homeless plan, which would have located 200 homeless people in Irvine, then 100 in Huntington Beach and 100 in Laguna Niguel, if needed.
The vote was met with swift and widespread pushback. Within a day, the Irvine and Laguna Niguel city councils voted to sue the county, and Irvine filed its lawsuit on Monday.
The proposals came after a federal judge forced Orange County to come up with a plan to house the homeless population that is being relocated from along the banks of the Santa Ana River.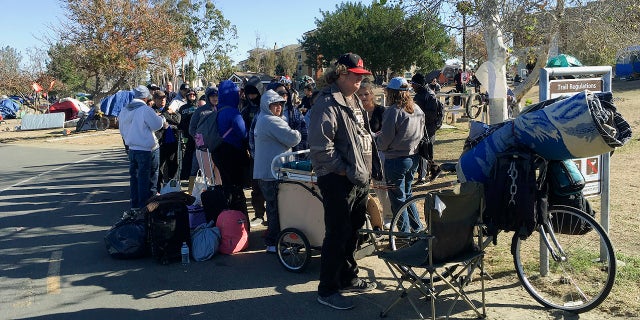 During a court hearing earlier this month, U.S. District Judge David O. Carter said he won't constrain the county to specific locations, but wanted to see officials create emergency shelters. Carter is overseeing a lawsuit against the county from seven homeless plaintiffs over the action to clear the tent city on the Santa Ana riverbed.
COMMUNITY FIGHTS BACK AS CALIFORNIA OVERRUN BY HOMELESSNESS, HUMAN WASTE, NEEDLES
State Sen. John Moorlach told CBSLA that Carter is asking the impossible from Orange County communities.
"We've got a federal judge that says, 'Hey, release inmates,' on one end, and I got a federal judge saying, 'Take care of those homeless,' on this end," he told the television station.
Besides floating the possibility of reusing a soon-to-be closed development center as possible housing, the state senator told the CBS station that area residents shouldn't be completely opposed to any housing for homeless being placed around them.
"You can't just keep tying the hands of people that are trying help out by just being obstinate about it," Moorlach told CBSLA. "We've got to find our balance; we've gotta say, you know, 'When does compassion kick in,' more than 'Not in my backyard.' Because, baby, it is in your backyard. It's on your riding trails. It's on Fairview Park. We've got homeless everywhere."
HOMELESS ENCAMPMENT RELOCATION PLAN HAS CALIFORNIA RESIDENTS OUTRAGED
At least 250 protesters rallied outside Irvine City Hall on Thursday, Friday and Sunday. By Tuesday, thousands, mostly from Irvine, protested the board's plan with crowds so large that many people couldn't get into the meeting, according to FOX11.
Cities across the county are expected to meet during a court hearing on April 3 that will double as a summit on homelessness, which homeless advocates told the Register they hope will serve as a forum for new shelter ideas.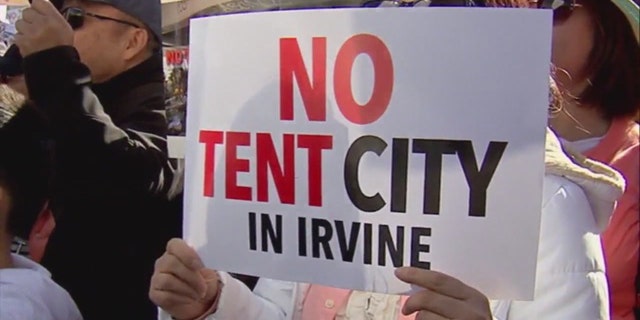 "We've got to work cooperatively and collaboratively and let the group at large come up with some good solutions to homelessness," Supervisor Lisa Bartlett told the paper.
The board could then vote on the new countywide plan as soon as April 10.
Fox News' Travis Fedschun contributed to this report.