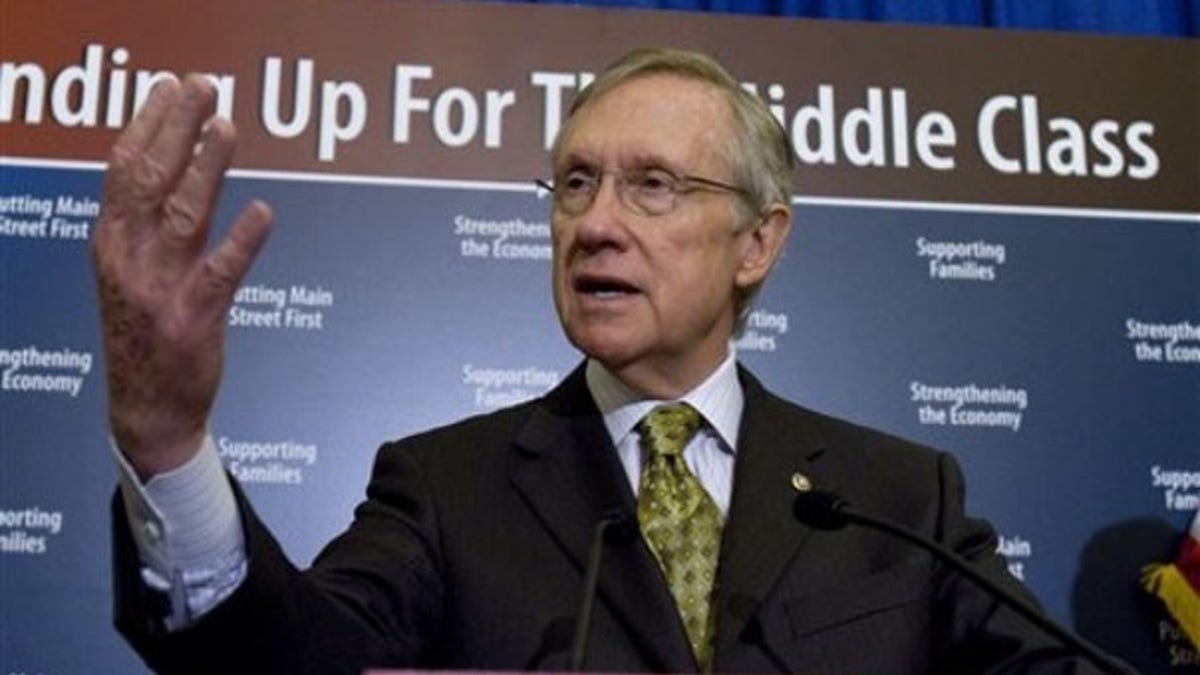 A preliminary Senate vote to extend unemployment benefits was postponed Monday night after the extreme cold across much of the country prevented some senators from traveling back to Washington.
Senate Majority Leader Harry Reid -- who vowed to make the vote his "first item of business"upon returning to Capitol Hill from winter break -- rescheduled the vote for Tuesday.
The bipartisan bill to extend long-term benefits to 1.3 million unemployed Americans will cost $26 billion and needs 60 votes in the Senate on its way to a final vote.
However, Reid will need at least four Republicans to votes yes in the 100-member upper chamber, which has 45 Republicans, 53 Democrats and two Independents, who typically vote with Democrats.
Eighteen senators missed the vote earlier Monday night that confirmed Janet Yellen as chairman of the Federal Reserve, which appeared to make the jobless benefits vote too close for Reid, whose decision to postpone received unanimous consent.
Maine Republican Sen. Susan Collins, among the Senate Republicans considered likely to support the bill, said Monday that she got a call in the morning from President Obama looking for her support and that she would vote yes in the first round.
But whether she would cast a final vote in favor of the extension was unclear.
Collins told Fox News she would like to restructure the unemployment program, particularly linking the extension to job training for workers in dwindling industries and that she expressed her disappointment to Obama that Reid was not allowing amendments.
Illinois Sen. Mark Kirk, another Senate Republican who was considered a possible yes vote, suggested Monday afternoon he is against the extension because the spending is not being offset by cuts.
Senator Bob Corker, R-Tenn., said he will vote against the bill, as expected.
"Unfortunately, this bill is being jammed through, has not been considered in committee and will not be able to be amended on the floor," he said. "Spending [billions] in three months without trying to find ways to pay for it or improve the underlying policy is irresponsible and takes us in the wrong direction."
The money for Americans unemployed for at least six months was cut from a budget deal passed in late December, but not before Republicans made clear they would not restore the money unless Democrats agreed to the so-called offsets.
Reid and Obama have led the Democrats in calling for passage of the legislation that is sponsored by Nevada Republican Sen. Dean Heller and Rhode Island Democratic Sen. Jack Reed.
"Instead of celebrating the beginning of a new year on January 1, more than a million Americans …were left wondering how they would feed their families," Reid said Monday on the Senate floor before delaying the vote. "I hope a few reasonable and empathetic Republicans will join my colleague from Nevada and help us advance this bill today."
The extension faces an even more uncertain future in the Republican-led House, where leaders say the cost must be offset.
"I would like to find a way to get a compromise to extend unemployment insurance, at least for a brief period of time, but at the same time, the Democrats should make compromises," Rep. Peter King, R-N.Y., told CBS on Sunday.
Critics of the plan also argue the benefits have been in place longer and paid out more than in past recessions.
Obama earlier called the cuts "just plain cruel," and is scheduled to give a White House speech Tuesday, surrounded by unemployed Americans, to push for the benefits.
Restoring the money appears critical to Democratic lawmakers who need to energize core voters in the midterm elections, which typically have low voter turnout. It also is part of their large, emerging platform of trying to reduce so-called income inequality.