'Extraordinary' Strzok removal shows FBI agents in crosshairs from IG probe
Peter Strzok's abrupt removal from his FBI office this week signaled that the Justice Department inspector general's work already is leading to consequences for bureau officials ensnared in various probes -- with potentially more repercussions to come.
Strzok, who worked on both the Clinton email and Russia probes, was escorted from the FBI on Tuesday, following a referral for further investigation from DOJ IG Michael Horowitz. The watchdog, as part of his Clinton case review, found that Strzok and four other FBI employees sent "hostile" anti-Trump messages on bureau devices.
The FBI's Office of Professional Responsibility is expected to further investigate the findings against the five FBI employees.
"A referral certainly is very serious and they will investigate the accusations if it's serious enough," retired FBI special agent and former national spokesman John Iannarelli told Fox News Thursday. "The accusations are a violation of FBI rules."
Iannarelli explained that FBI employees are not allowed to use bureau devices for matters other than bureau business.
"As I like to say, every FBI agent has a political opinion, we're just not allowed to express them," Iannarelli said. "You're supposed to keep to yourselves and you certainly can't let it impact your work. What we see here are individuals who disregarded this."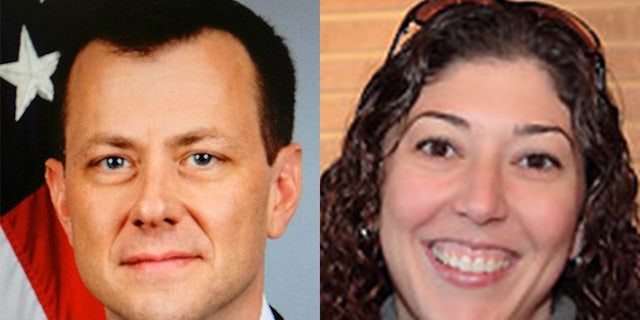 Last week's inspector general report largely dealt with the Justice Department and FBI's handling of the investigation into Hillary Clinton's private email server but uncovered numerous messages that "appeared to mix political opinion with discussions about the MYE investigation."
MYE, or "Midyear Exam," was the code used in the FBI to refer to the Clinton probe.
The report noted that it was specifically concerned about text messages exchanged between FBI officials Strzok and Lisa Page that "potentially indicated or created the appearance that investigative decisions were impacted by bias or improper considerations."
Horowitz ultimately found no evidence that the bias among the several FBI agents impacted prosecutorial decisions in the Clinton email probe.
Strzok and Page, who were romantically involved, both served for a short period of time on Special Counsel Robert Mueller's Russia investigation team. Strzok was reassigned following the revelations of his anti-Trump texts. Page resigned last month.
But while many of those texts were made public in late 2017, the IG report revealed a new one in which Strzok vowed to "stop" Trump from becoming president -- and made clear that as many as five total FBI employees exchanged politically charged messages.
'To be escorted out of the building before the OPR investigation is completed and a decision is rendered is fairly extraordinary.'
"The text messages and instant messages sent by these employees included statements of hostility toward then candidate Trump and statements of support for candidate Clinton," the report said.
The report also revealed instant messages between unnamed agents, which House Freedom Caucus Chairman Mark Meadows suggested at a public hearing could be FBI agents Kevin Clinesmith and Sally Moyer—though neither Horowitz nor the FBI would comment on the accuracy of that speculation.
A spokesman for Meadows did not immediately respond to Fox News' request for comment on why Meadows cited those names.
If Strzok and others are pursued in connection with this report, Iannarelli said the FBI has an "established series of penalties," with potential punishment for agents ranging from "censure, policing your file, to cutting off from work without pay until termination."
"One violation is 'lack of candor,' during an investigation interview. That is grounds for termination and there is no exception to that," Iannarelli said.
Former Deputy FBI Director Andrew McCabe was fired in March by Attorney General Jeff Sessions over his lack of candor when interviewed regarding an unauthorized leak of a self-serving story to the media. McCabe allegedly lied to FBI investigators and his boss, former FBI Director James Comey, though McCabe has pushed back on those findings.
An FBI spokesperson told Fox News they could not comment on the next steps in the bureau's investigation into the implicated agents.
Iannarelli told Fox News that Strzok's forcible exit from the bureau was a "rare occurrence," and that he has seen a number of FBI employees who were eventually terminated, but continued performing functions until OPR decisions were made.
"To be escorted out of the building before the OPR investigation is completed and a decision is rendered is fairly extraordinary," Iannarelli said.
One former senior Justice Department official speculated on Thursday that Strzok might also be implicated in a separate inspector general's review on the start of the Russia investigation.
"My take is that it is possible that escorting him out meant that the inspector general's Russia investigation is going to be brutal for him," the former official told Fox News. "If you're the subject or mentioned by name in an OIG report, they typically show you the parts of the report that relate to you."
The official added: "At the end of the day, one of the drafts of the next inspector general report is making its way around and the findings are alarming to the FBI."
Horowitz on Tuesday confirmed that he is investigating whether Strzok's anti-Trump bias factored into the launch of the FBI's Russia investigation.
During testimony on Capitol Hill Tuesday, Horowitz acknowledged that Strzok's text messages "clearly shows a biased state of mind."
IG CONFIRMS HE IS REVIEWING WHETHER STRZOK'S ANTI-TRUMP BIAS IMPACTED LAUNCH OF RUSSIA PROBE
It was revealed earlier this year that Horowitz's office was investigating allegations of government surveillance abuse tied to the start of the Russia probe. But Horowitz's testimony this week, meant to answer questions about the conclusion of the Clinton case review, revealed some of the specifics involved in the ongoing Russia case review, including the Strzok texts.
"I can't imagine FBI agents even suggesting that they would use their powers to investigate any candidate for office," Horowitz said Tuesday. "I thought this was completely antithetical to the core values of the department and extremely serious."
The former official also speculated the Strzok's escort out of the building could be related to a loss of security clearance, or even the findings of personal texts or emails from Strzok and Page that the inspector general was not able to obtain.
But regardless of the basis for Strzok's exit, Iannarelli told Fox News that FBI rank-and-file are "shaking their heads."
"This is such an aberration of what the FBI stands for," Iannarelli told Fox News. "You have a couple of people who have done these things and draw the spotlight and attention away from all of the good agents and good work being done at the FBI."
Strzok's attorney did not respond to Fox News' request for comment but in a statement issued in response to his removal from the office earlier this week said Strzok wants to continue to serve.
"Pete has steadfastly played by the rules and respected the process, and yet he continues to be the target of unfounded personal attacks, political games and inappropriate information leaks," attorney Aitan Goelman said. "All of this seriously calls into question the impartiality of the disciplinary process, which now appears tainted by political influence. Instead of publicly calling for a long-serving FBI agent to be summarily fired, politicians should allow the disciplinary process to play out free from political pressure.
"Despite being put through a highly questionable process, Pete has complied with every FBI procedure, including being escorted from the building as part of the ongoing internal proceedings."
The report, separately, found instances of FBI employees who "improperly received benefits from reporters, including tickets to sporting events, golfing outings, drinks and meals, and admittance to nonpublic social events."
Any consequences from those perks, however, might come later. Because the gifts were outside the scope of this report, Horowitz said the watchdog "will separately report on those investigations as they are concluded."