Experts question Obama's claim that gas prices tied to recession, recovery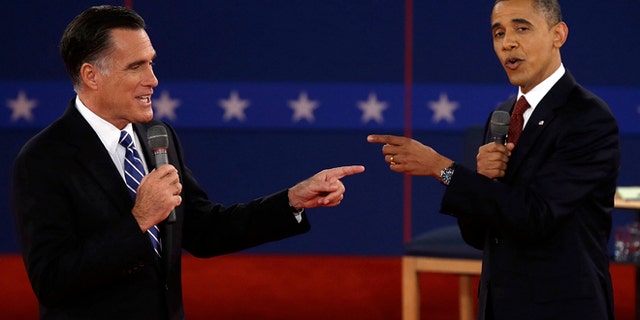 NEWYou can now listen to Fox News articles!
President Obama's claim during Tuesday's debate that gas prices have doubled since 2008 because the economy was collapsing four years ago -- and the implication that they are higher now because things are better -- left some experts scratching their heads.
Economists told FoxNews.com there is a grain of truth to the idea that pump prices go down in bad times and up in good. But refining costs, commodities speculation and oil supply all play a much bigger role in how much a gallon of regular costs drivers, they said. The issue came up when Mitt Romney said the failure of Obama's energy policy is proven by prices currently hovering at nearly $4 a gallon.
Obama responded with the claim that gas prices fall when the economy does - and that's why gas was so cheap as President Bush's tenure came to an end.
"The economy was on the verge of collapse, because we were about to go through the worst recession since the Great Depression, as a consequence of some of the same policies that Gov. Romney's now promoting.
"It's conceivable that Gov. Romney could (bring down) gas prices," Obama added, "because with his policies we might be back in the same mess."
[pullquote]
Indeed, gas prices plummeted during the heart of the 2007-2009 recession. After hitting a peak of $4.17 a gallon in July 2008, the average gasoline price plunged by 60 percent in less than six months before bottoming out at $1.67 by the end of December, a month before Obama took office, according to the Department of Energy.
Since then, the price has steadily climbed back to slightly under peak 2008 levels, with the most recent national average at $3.89.
Even so, if debate viewers had a hard time wrapping their heads around the idea that bad times mean low prices and vice versa, so did some folks who make a living studying such things.
"The president appears to believe that the more than doubling of the price of gasoline since 2009 is an indicator of growth in the economy."," Jonathan Lesser, an energy economist and president of the consulting firm Continental Economics, told FoxNews.com.
Obama's theory is based on the assumption that an improved economy boosts demand and, with it, prices. The problem is, consumption has trended steadily downward since 2009, which the Energy Department attributes to the higher prices, economic conditions and more efficient vehicles. That means other factors are sending the per-gallon price upward, Lesser said.
"Is economic growth driving higher gasoline prices?" Lesser said. "No."
According to the U.S. Energy Information Administration, the price of a barrel of oil has nearly tripled from the a barrel it cost when President Obama took the oath of office in January 2009. But that's not from economic growth, they say. Oil costs more because of instability in the Middle East and the decline of the dollar - the currency to which oil prices are pegged.
Commodity analyst Dave Judday said the Obama administration's reluctance to lease federal lands to oil and gas drillers, blocking of the Keystone XL Pipeline and refusal to allow more offshore drilling hasn't helped.
"It took only a few months of Obama energy policy to drive up gas prices," Judday wrote in The Weekly Standard after the debate. "Energy remains expensive because we're still pursuing the same policies—or as the president might say, we're "back in the same mess."
Gas and oil analyst Trilby Lundberg said Obama was partly correct that a bad economy helped lower demand for gas four years ago. But she said it's never as simple as saying a bad economy equals cheap gas and a good economy means pain at the pump.
"President Obama was right," she said. "But economic conditions have continued since then to be poor, and for now, gasoline prices cannot crash despite severe underemployment, because crude oil prices will not let them. Crude [oil] has its own reasons for buoyancy."