Ex-Rep, 'Gopher' Leaves Radio Show After Alleged Pressure Over Islam Comments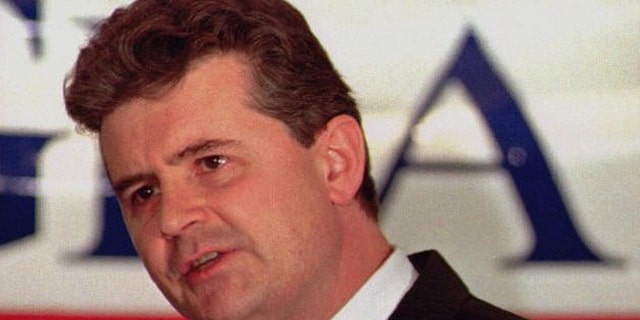 NEWYou can now listen to Fox News articles!
Fred Grandy, the former "Love Boat" star who served several terms in Congress before landing a gig as a radio host, resigned from his show this week after he was pressured to stop talking so much about radical Islam, his wife, Catherine, told FoxNews.com.
Catherine Mann-Grandy, who spoke with FoxNews.com extensively about the details of their split with WMAL management, confirmed that the couple's critical commentary on radical Islam was the driving factor behind Grandy's resignation.
"You're not allowed to talk about what's happening in your country," she said.
Fred Grandy, best known for his role as Gopher in "The Love Boat," had been on air as a host at Washington, D.C.'s WMAL since 2003. He worked most recently as host of "The Grandy Group" -- his wife made regular appearances on that show under the nickname "Mrs. Fred."
But while both of them started devoting more and more segments to the subject of Muslim influence in America over the past year, it was Catherine's comments that apparently led to an ultimatum.
Mann-Grandy, who did a regular segment called "domestic terrorism 101," hit a string of topics on their show last Friday. Though the segment was taken off the radio's site, she described it. She said that, on air, she quoted a rabbi who compared radical Muslims to Nazis, complained that President Obama was not doing enough to help Israel, warned that "Shariah-compliant" individuals work in the government and discussed several other Islam-related topics.
Perhaps sensing she might have stepped over a line, she warned on air about the possibility that she might not return the following week.
Sure enough, she didn't.
Mann-Grandy said her husband told her Tuesday that management told him she could no longer be on the show. Further, she said her husband was told to "really tone it down on the Islam stuff."
In response, Fred Grandy resigned.
Though he was not able to discuss his departure in detail for legal reasons, Fred Grandy also confirmed to FoxNews.com "it was my decision."
Jeff Boden, president and general manager of WMAL, disputed Mann-Grady's account.
"To be clear, at no time has WMAL told Fred that he was not allowed to discuss his views on Islam over the air," he said in a statement to FoxNews.com. "In fact, he has done so on numerous occasions. Further, WMAL has not been contacted by any organization seeking to restrict his broadcasts."
"WMAL remains committed to its goal of providing a forum for discussing a broad spectrum of issues while delivering compelling programming including Chris Plante, Rush Limbaugh, Sean Hannity, and Mark Levin," he added.
The sudden departure immediately triggered rumors that the Council on American Islamic Relations, the country's largest Muslim advocacy group, was somehow involved -- a charge CAIR denied. Mann-Grandy said she thinks that's what happened, though she doesn't have evidence.
"That is just my gut instinct," she said. Fred Grandy said he had "no conclusive evidence."
WMAL, which carries several programs featuring conservative pundits, dumped host Michael Graham several years ago following comments he made about Islam and a subsequent campaign against the station's advertisers by CAIR.
James Lafferty, chariman of the Virginia Anti-Shariah Task Force, accused WMAL of becoming "the first Shariah-compliant radio station in America."
Reached for comment, Lafferty said the host was told to tone it down and keep his wife off the program.
CAIR spokesman Ibrahim Hooper attributed the charges against his group to the "extreme anti-Muslim blogosphere."
"That claim is as credible as any other claim these hate mongers make," he told FoxNews.com. "They make it up out of whole cloth."
Hooper said CAIR had not even made any complaints to the station about Grandy.
The Washington Post reported that Grandy's ratings had also been trailing those of other right-leaning hosts.
But Lafferty alleged that WMAL caved to pressure. The group called on listeners to call the station Monday and Tuesday to demand Grandy and his wife return to the show.
Mann-Grandy, claiming she and her husband have gotten hundreds of e-mails of support, said she doesn't think they'll be asked to return but suggested she'd go back on air.
"I would be happy if someone else did that segment ... but nobody's doing it," she said.