Ex-Lawmakers Line Up to Run for Old Jobs in 2010 Election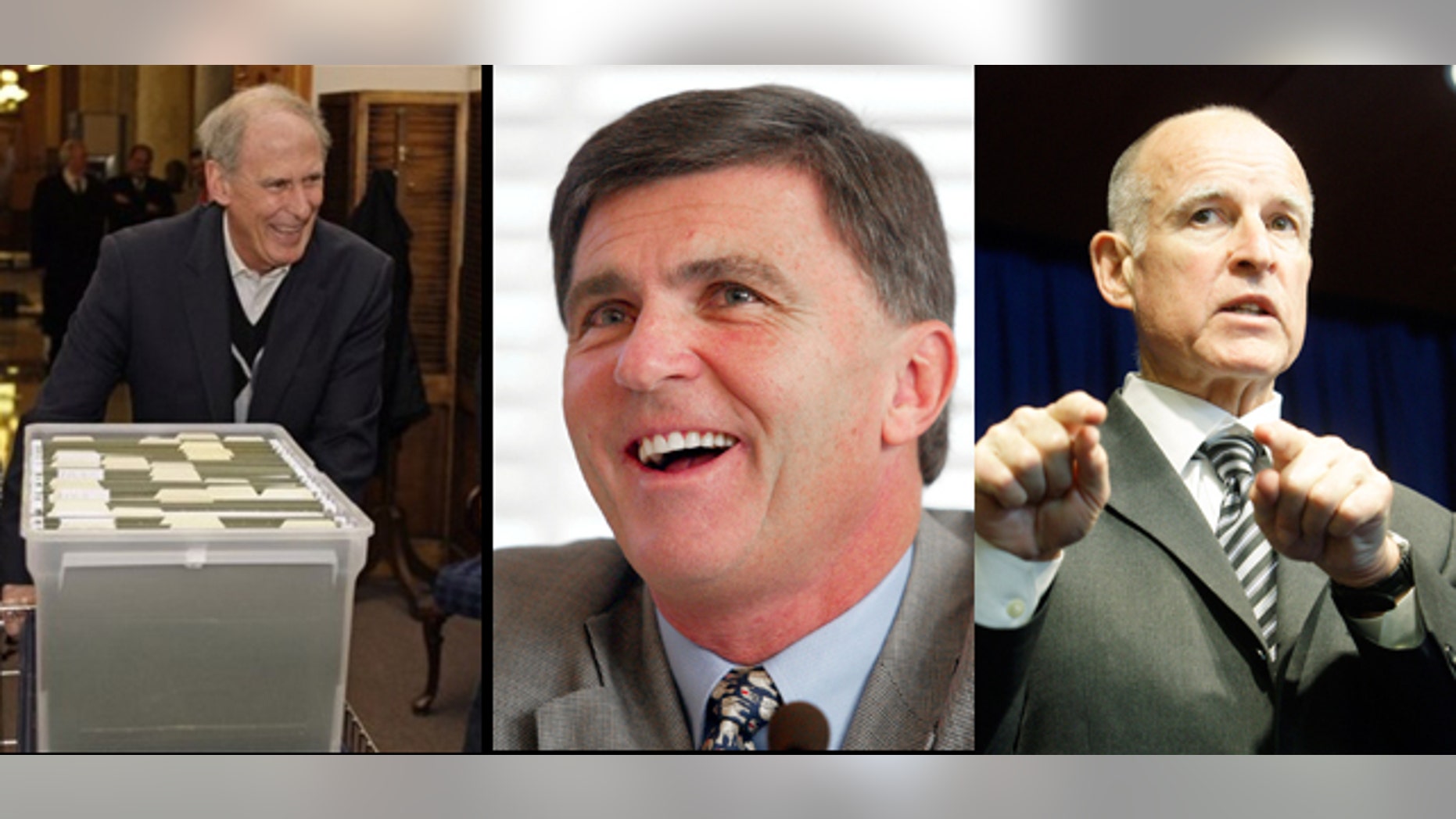 If this is an election year that's supposed to bring a political sea change, why are so many ex-lawmakers dusting off their campaign signs and running to get their old jobs back?
Former Maryland Gov. Robert Ehrlich this week became the latest ousted official to throw his hat back in the ring. The Republican -- whose single term was marked by bitter clashes with the Maryland press and Democratic legislature -- is expected next week to launch what will surely be a nasty rematch against Democratic Gov. Martin O'Malley, who beat him in 2006.
Ehrlich will become at least the fifth ex-governor to try for a sequel this year -- along with former Republican Gov. Terry Branstad of Iowa and former Democratic Govs. Jerry Brown of California, Roy Barnes of Georgia and John Kitzhaber of Oregon. Former Republican Sen. Dan Coats is bidding for his former seat in Indiana. And former Republican Sen. Lincoln Chafee is running as an independent for governor in Rhode Island.
The Democrats appear to be facing a tougher battle to reclaim their seats. But for Republican ex-officials, the motivation seems clear:
They might actually win this year.
"Republican candidates for two cycles had to run with the wind at their face, and now they finally get to run with the wind at their back," said David Avella, director of the Republican recruiting arm GOPAC.
A Rasmussen poll from mid-February, around the time sources said Ehrlich started phoning potential donors about his campaign, showed O'Malley leading Ehrlich 49 percent to 43 percent -- a comfortable lead, but not comfortable enough.
Jeremy Mayer, public policy professor at George Mason University, said candidates like Ehrlich are great for their party, and their odds, because they come with a built-in fundraising base. He said the national mood is a boost.
"If Obama were 65 percent in the polls, I don't think you'd see Ehrlich" running, he said. "Ehrlich got beat by a national tide last time."
Elsewhere, state polls show GOP ex-officials coming into their races with a gale at their backs. Surveys show Coats, who is running for the open seat being left by Evan Bayh, leading potential Democratic opponents by up to 16 points.
Coats said in an e-mail to FoxNews.com that he decided to step back in because he got fed up watching President Obama and congressional Democrats "push their far-left liberal agenda" on the country.
"Why sit on your couch yelling at the TV when you can do something about it? I chose to do something about it," he wrote.
In Iowa, Branstad is giving Democratic Gov. Chet Culver, who is suffering from low approval ratings, a run as well. Recent polls have Branstad up by 16 points. And in Rhode Island, Chafee is leading both Democratic and Republican candidates for an open seat.
Democratic ex-lawmakers are holding their own but not enjoying quite the same reception. While polls show Kitzhaber faring well in the liberal-leaning state, Barnes is in a tighter race against Republicans in his state and Brown is trailing former eBay CEO Meg Whitman, who is running for the GOP nomination.
But in an anti-incumbent year, any candidate running on his credentials as an established political fixture runs the risk of dragging the lingering stench of Washington into the campaign. Those who left their states to become lobbyists, like Coats, give their opponents ready fodder for campaign ads.
"He went to work at a lobbying firm in D.C. ... He doesn't live in the state, he doesn't own a home in the state, he doesn't vote in the state," Indiana Democratic Party spokesman RJ Gerard said of Coats. "He basically bailed on the people of Indiana."
In another preview of the race to come, the Maryland Democratic Party has already posted an ad on its Web site slamming Ehrlich for going into the legal and lobbying trade after leaving office.
"Remember Bob Ehrlich?" the ad says. "Bob Ehrlich has always put the special interests first. ... And now Bob Ehrlich wants to be governor again. Just think how happy that will make the special interests. Maryland can't afford a Bob Ehrlich sequel."
Not all of the returning champions were booted out of office. Branstad left voluntarily, with high approval ratings, after four terms. And they've been keeping plenty busy. Brown, who has run for president three times, is now California's attorney general. Coats, aside from lobbying, was the U.S. ambassador to Germany under President George W. Bush.
Mayer said it may be tough for newbies to enter the political game -- what with the fundraising disadvantage and the invasive media treatment afforded to any un-vetted novice -- but the old pros, even if they've had their time in the spotlight, just can't seem to get enough.
"F. Scott Fitzgerald said there are no second acts in American lives. But in truth there are second and sometimes third acts. Just look at Richard Nixon," he said. "It's what brings boxers and tennis players out of retirement. They want to be in the arena again. They want to hear the crowd and maybe achieve something they didn't achieve last time."