Even after death, Democrat stays 'active' in politics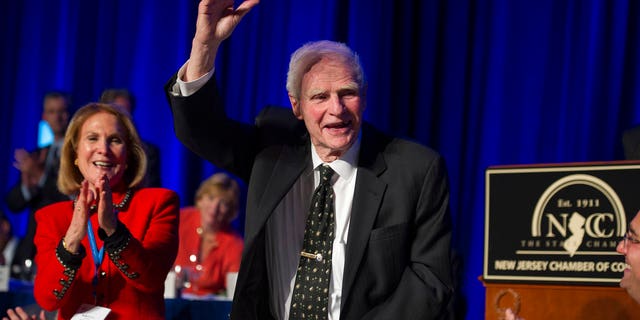 Admirers of the late New Jersey Gov. Brendan Byrne recently congregated in Jersey City to honor one of his last wishes: to have his ashes placed in Hudson County so he could "stay active" in politics.
Byrne, a Democrat who died Jan. 4 at age 93, used to joke about the county, long known for its history of political shenanigans -- such as recruiting "voters" from local cemeteries.
"He always had a lot of affection for Hudson County," son Tom Byrne said. "This is a great way to celebrate his life and his sense of humor."
Even a Republican rival -- former New Jersey Gov. Christie Whitman, remembered in part for removing Byrne's name from a state-owned sports arena -- recalled the Democrat fondly after he died.
"While he may be best remembered for his sense of humor and ability to tell a good story, he had a keen intellect and never stopped caring about the issues of the day," Whitman tweeted.
The ceremony at Healy's Tavern was also attended by another former New Jersey governor, Democrat Jim McGreevy, plus Byrne's widow, Ruthi, among others.
Byrne's ashes were to stay at Healy's through St. Patrick's Day, McGreevey and others said. Their final resting place was still undecided.
Tom Byrne said the family was considering locations including a state forest that bears Byrne's name, or Liberty State Park in Jersey City, located near the Statue of Liberty.
The park was among the Hudson County waterfront improvements that Byrne -- a Democrat who served two terms after being elected in 1973 -- championed in the 1970s. He also oversaw the advent of casino gambling in Atlantic City and instituted the state's first income tax.
The income tax made him unpopular with many residents, but he still managed to win a second term.
The Associated Press contributed to this report.