Ethics Panel Debates Whether Rangel Violated House Rules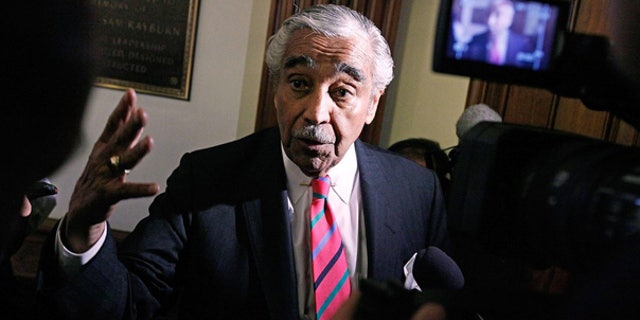 A House ethics subcommittee found no disagreement Monday on the facts of the case against Rep. Charles Rangel, but has to decide whether the facts violate any House rules and if so, what recommendation to forward to a full ethics committee panel to consider.
House ethics committee lawyers earlier had presented their case requesting summary judgment against Rangel, D-N.Y., after the panel denied the congressman's request to delay the trial so that he could get a lawyer to defend him against 13 charges of financial and fundraising misconduct.
Outlining the case, Chief House ethics counsel Blake Chisam, assuming the role of prosecutor, accused Rangel -- and showed video of his own admission of violating rules -- of misusing official stationery to solicit private donations.
Other charges included receiving benefits from private donors that "reasonable people could conclude" was aimed at influencing his votes, violations of franking rules, violations of House rules on the use of official resources to solicit donations, accepting benefits from his landlord and individuals from whom he could derive benefit and failure to uphold federal tax laws.
But Chisam, who said none of the material facts are in dispute, claimed he did not believe Rangel's conduct was corrupt, but rather "overzealous" and "sloppy in his personal finances."
The panel met for several hours before adjourning until Tuesday.
Rangel was not in the room when the case began. Before the case was presented, Rangel argued he's in a "Catch-22" of sorts in attempting to defend himself and asked for a delay in his trial so that he can get a lawyer that he can afford without violating House ethics rules.
Infusing normally dry proceedings with high drama, the 20-term lawmaker said his "50 years of public service is on the line" because he can't afford to get a lawyer and offers for a pro bono defense would violate House ethics rules.
The former Ways and Means Committee chairman said he's spent nearly $2 million defending himself against the misconduct counts and is out of money. He argued that if he were to set up a legal defense fund he would not have time to organize his defense before the panel made a ruling.
"My family has caught hell" in the investigation that has lasted two-and-a-half years, Rangel said.
"All I'm asking for is time to get counsel," Rangel continued. "I have lawyers in New York and Washington who've offered to come and give free counsel ... but then it would be violation of the law. ... So while you tell me, I can hire anybody, get anybody, not have a lawyer, time does not permit this matter to be concluded before the end of this session ... and that's the nuts and bolts of what we're talking about."
Rangel, 80, then said he had to excuse himself from the hearing.
Ethics panelists then met in closed session to discuss the Harlem Democrat's request for what amounts to a continuance in the case, but came back and denied the request saying Rangel had ample time to prepare his defense.
"We recognize that Mr. Rangel has said he will not participate, as is his right," said adjudicatory committee chairwoman Zoe Lofgren, D-Calif., adding that "no conclusion of the facts of the matter can be drawn by Mr. Rangel's decision to refuse to participate in this hearing."
However, House ethics committee panelists agreed it was "fundamentally unfair" and "an astonishing display of professional irresponsibility" for Rangel's defense team to drain the congressman's resources to pay for his defense and then withdraw on the eve of the hearing.
Monday's hearing convened by the four Democrats and four Republicans is only the second time this type of proceeding was held under revamped in-house policing procedures adopted two decades ago.
If the panel finds that Rangel broke the rules, it could recommend the House vote to condemn Rangel's conduct.
Arguing that he's in a "Catch-22" of sorts in attempting to defend himself, New York Rep. Charles Rangel on Monday asked for a delay in his ethics committee trial so that he can get a lawyer that he can afford without violating House ethics rules, but was denied the request.