Ethics panel clears Rep. Devin Nunes of claims he mishandled classified information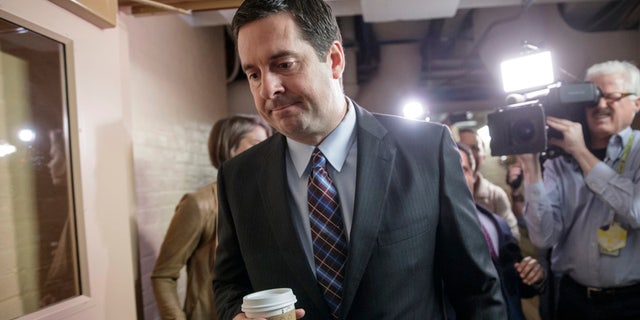 The House Ethics Committee announced Thursday that it had cleared House Intelligence Committee Chairman Rep. Devin Nunes, R-Calif., of claims that he improperly disclosed classified information while leading the committee's investigation of Russian actions during the 2016 election.
In a statement, the committee said that classification experts in the intelligence community had concluded that "the information that Rep. Nunes disclosed was not classified."
In March, Nunes held a news conference in which he discussed viewing intelligence reports in which the names of Trump associates were "unmasked" by then-National Security Adviser Susan Rice in the final weeks of the Obama administration. Nunes then controversially went to brief President Trump on the information before meeting with the Intelligence Committee.
Nunes stepped away from his role at the head of the probe April 6, the day the Ethics Committee announced it was investigating him. At the time, Nunes described the accusations against him as "entirely false and politically motivated" by "several leftwing [sic] activist groups."
In a statement Thursday, Nunes thanked the ethics committee for clearing him and reiterated his claim that "the allegations against me were obviously frivolous and were rooted in politically motivated complaints filed against me by left-wing activist groups."
"I respect the ethics process, but I remain dismayed that it took an unbelievable eight months for the Committee to dismiss this matter," added Nunes, who called on the committee to release "all its transcripts related to my case."
In Nunes' absence Rep. Mike Conaway, R-Texas, had lead the Russia probe "with assistance" from Rep. Trey Gowdy, R-S.C., and Rep. Tom Rooney, R-Fla. When Nunes was asked if he was formally re-taking the helm of the Russia probe, he answered "I'm in charge, I was always in charge."
Despite stepping away from the Russia investigation, Nunes has remained involved in the intelligence committee's other work. The panel has launched a separate investigation into Hillary Clinton and the so-called "Uranium One" deal, which was consummated while Clinton was secretary of state under President Barack Obama.
Fox News' Chad Pergram and The Associated Press contributed to this report.