EPA chief Scott Pruitt has spent millions on security, travel: report
The security detail and travel expenses for Scott Pruitt, administrator of the U.S. Environmental Protection Agency, have cost taxpayers millions of dollars, a report said Saturday.
Pruitt's 20-member, 24-hour security detail blew through overtime budgets and at times also diverted officers away from investigating environmental crimes, the Associated Press reported.
But in March, a report in the Washington Free Beacon asserted that EPA appointees of President Barack Obama had expenses that matched or surpassed Pruitt's.
Shortly after arriving in Washington, Pruitt demoted the career staff member heading his security detail and replaced him with EPA Senior Special Agent Pasquale "Nino" Perrotta, a former Secret Service agent who operates a private security company.
Perrotta signed off on new procedures that let Pruitt fly first-class on commercial airliners, with the security chief typically sitting next to him with other security staff farther back on the plane.
As his security and travel expenses increased, Pruitt championed budget cuts and staff reductions at the agency so deep that even Republican budget hawks in Congress refused to implement them.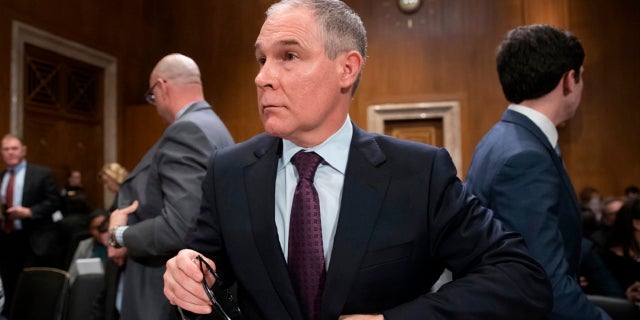 In addition, Pruitt's hefty security detail reportedly racked up so much overtime that many hit annual salary caps of about $160,000.
In his first three months in office, before pricey overseas trips to Italy and Morocco, the price tag for Pruitt's security detail hit more than $832,000, according to EPA documents released through a public information request by the Associated Press.
Then during a trip to Italy in June, Pruitt was accompanied by nine aides and a security detail that cost more than $120,000.
Last year, the EPA spent nearly $9,000 on increased counter-surveillance precautions for Pruitt, including hiring a private contractor to sweep his office for hidden listening devices and installing sophisticated biometric locks for the doors.
An EPA official, speaking on condition of anonymity, said total security costs approached $3 million when pay is added to travel expenses.
The EPA official also said there were legitimate concerns about Pruitt's safety, given public opposition to his rollbacks of anti-pollution measures.
However, a nationwide search of state and federal court records by AP found no case where anyone has been arrested or charged with threatening Pruitt.
Pruitt's predecessor, Gina McCarthy, had a security detail that numbered about a half dozen, less than a third the size of Pruitt's. She flew coach and was not accompanied by security during her off hours, like on weekend trips home to Boston.
Pruitt, 49, was closely aligned with the oil and gas industry as Oklahoma's state attorney general before being tapped by Trump, who has praised Pruiitt's relentless efforts to scrap, delay or rewrite Obama-era environmental regulations.
The EPA administrator has come under intense scrutiny for ethics issues and outsized spending. Among the concerns: massive raises for two of closest aides and his rental of a Capitol Hill condo tied to a lobbyist who represents fossil fuel clients.
At least three congressional Republicans and a chorus of Democrats have called for Pruitt's ouster.
White House Chief of Staff John Kelly also told President Donald Trump last week that he was "convinced" that Pruitt needs to step down, a White House official told the Wall Street Journal.
But Trump so far has stood by Pruitt, despite a review of Pruitt's ethical conduct by White House officials adding to probes by congressional oversight committees and the EPA's inspector general.
The Associated Press contributed to this report.