Environmental group slams EPA's jet-fueled 'Earth Day'-themed tour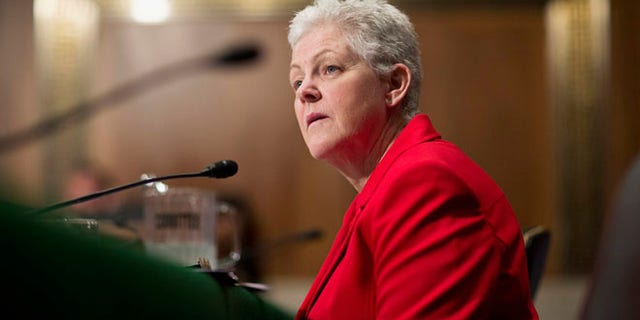 A national nonprofit environmental group is turning up the heat on the Environmental Protection Agency for sending its chief on an Earth Day-themed tour to call for action on climate change, arguing the multi-city excursion will hurt the environment.
The Public Employees for Environmental Responsibility says the greenhouse gases generated by EPA administrator Gina McCarthy's week-long, five-city tour will "far exceed" any concrete action on climate change from her travels.
"Frenetically jetting around the country appears to undercut [the] EPA's message to ordinary Americans that they should conserve, consume less and reduce transportation pollution," PEER Executive Director Jeff said in a statement.
The EPA announced last week that McCarthy would visit New York, Boston, Cleveland, Atlanta and Memphis to "participate in various events to...focus on responsible steps to cut carbon pollution to slow the effects of climate change."
The tour kicked off on Monday with a visit to Jon Stewart on "The Daily Show," where McCarthy touted President Obama's climate action plan. The tour will end on Friday with a tour of sustainable energy projects in Tennessee, the EPA said.
Ruch noted that some events on McCarthy's itinerary have questionable ties to promoting climate action, such as joining Energy Secretary Moniz to throw out the ceremonial first pitch at Tuesday's Red Sox vs. Yankees baseball game at Boston's Fenway Park.
Ruch said McCarthy is a frequent air traveler and has been criticized for commuting frequently back to her home in Boston. An agency official told The Daily Caller earlier this month that McCarthy sometimes drives home to Boston on the weekends, but the official did not specify how many times or the vehicle she uses.
"Hasn't EPA heard of Skype?" Ruch said.
According to PEER, air travel emissions account for only about 5 percent of total carbon pollution, but the percentage is expected to rise sharply since air traffic is growing much faster than technological advances in air-fleet fuel efficiency.
McCarthy has pushed the agency's contentious proposal to set emissions caps for new coal-fired power plants that would likely require the industry to use carbon-capture technology, a process that involves burying carbon underground.
Critics argue the rules aimed at cutting emissions from coal plants are based on technology that is not commercially feasible. Coal-state lawmakers and industry officials have warned the regulations will cost much-needed jobs.
Ruch said the EPA should finalize the rules if it is serious about climate change.
"[The] EPA touts this tour as meaningful but this agency's effectiveness in public education is not measurable. While Ms. McCarthy is an engaging individual she is hardly a charismatic figure whose mere presence galvanizes public action," Ruch said.