Ecuador offers to mediate talks between U.S. and Venezuela to resolve diplomatic dispute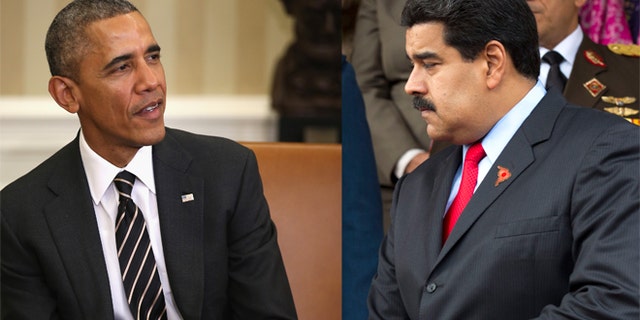 NEWYou can now listen to Fox News articles!
If the United States and Venezuela want to resolve their current diplomatic squabble, Ecuador has said it is ready and willing to step in and mediate talks between the two nations.
Speaking to Venezuelan media conglomerate Telesur, Ecuador's Foreign Minister Ricardo Patiño said both the U.S. and Venezuela have shown "interest" in resolving the conflict and that his country could act as an intermediary to "reduce tensions" between the countries.
"Despite public differences, I think both countries are interested in dialogue. Maybe they need a little support, the help of brotherly countries; and if we can do that, we're delighted," Patiño said.
The option for outside mediation was first proposed earlier this month by Venezuela, with the South American nation saying it would also want foreign ministers that form part of the Bolivarian Alliance for the People of Our America (ALBA) to participate in the mediating commission.
ALBA, founded in 2004 under the leadership of late Venezuelan President Hugo Chávez, is made up mostly of left-leaning Latin American and Caribbean governments and is meant to act as a foil to the Washington D.C.-based Organization of American States (OAS), which Venezuela and other ALBA members see as being controlled by the U.S.
Given the demand for ALBA nations to participate in the talks and statements made by Ecuadorian President Rafael Correa, the U.S. may be wary of stepping into a discussion with Venezuela right now.
Last Saturday, Correa described U.S. President Barack Obama's executive order to sanction a number of Venezuelan officials as "embarrassing." Correa is popular is his country for his government's generous social spending but is widely criticized for intolerance of dissent.
"How can the United States possibly claim that Venezuela is a threat to their national security?" Correa said during his weekly address last weekend. "It's the same story as always … what the United States is trying to do is destabilize the progressive governments in the region."
Obama earlier this month issued an executive order freezing the assets in the U.S. and denying visas to seven Venezuelan officials and freezing their assets in the U.S. The officials – including the former head of the country's intelligence service and the leader of Venezuela's Bolivarian National Police – are deemed responsible for cracking down on anti-government protesters in clashes between the two sides that left more than 40 people dead and led to the jailing of a number of prominent opposition political figures.
The executive order is an expansion of the Venezuelan Defense of Human Rights and Civil Society Act of 2014 that was passed by Congress and signed into law in last December. The act, among other things, declared the situation in Venezuela a "national emergency" – a move that some observers see as doing more harm than good in regards to relations between Caracas and Washington.
Maduro called the move the "greatest act of aggression" by the U.S. against his country in history.