Dreamers' parents to be excluded from immigration executive order, reports say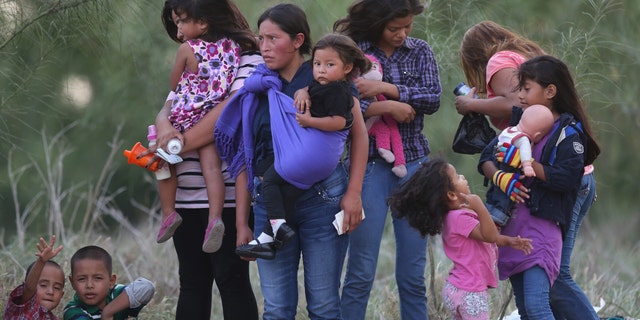 NEWYou can now listen to Fox News articles!
One of the most hoped-for aspects of President Barack Obama's executive action on immigration – a reprieve from deportation for parents of undocumented immigrants brought here as minors – will not be part of the plan expected to be unveiled this week.
Obama plans to speak Thursday night about executive action on immigration. He is expected to speak about it again on Friday when he travels to Las Vegas to appear at Del Sol High School, whose student body is 63 percent Latino.
Several media outlets, quoting unnamed sources described as having first-hand knowledge about the executive order, indicated that it might include so-called "deferred action" – or a reprieve from deportation – for the parents of undocumented immigrants brought as minors, known as Dreamers, and for people not here legally whose children are U.S. citizens or legal permanent residents.
But on Wednesday, word leaked that the parents of Dreamers, as well as farmworkers, are said to be left out of the executive order.
"It's devastating," Cesar Vargas, one of the most vocal leaders in the movement to get undocumented immigrants who came as children a path to citizenship, told Fox News Latino. "It's our parents, the reason we fight. This shows that the president is not going far enough."
Vargas's mother, who is undocumented and has lived in the United States for 26 years, could benefit from the executive order under one possible part that would suspend deportation for parents of U.S. citizens. Vargas's sister became a naturalized citizen through marriage, he said.
Vargas himself is protected by a 2012 initiative known as Deferred Action for Childhood Arrivals, or DACA, that suspended deportation for undocumented immigrants who came to the United States before they were 16 and meet several other criteria. He wants to see this reprieve extended to a much broader group of people.
Vargas said his mother, who is 70 and is from Mexico, now would be able to travel back home to visit the grave of the father whose funeral she could not attend.
"She's happy," he said, adding that his family had hired inept lawyers to try to legalize their status. "We know we won't be separated" through deportation.
It remains unclear what the final draft of the executive action would include. But some media reports quoting people described as knowledgeable about the plan say it may include tightened border security, and expanded work visas.
The New York Times reported, "White House officials have said that the president remains open to signing a legislative overhaul if Republicans relent, but that his patience has run out. By taking action now, Mr. Obama is daring the Republicans, who will take over control of Congress in January, to try to stand in the way of change that is favored by many in the growing, politically powerful Latino constituency."
Arturo Carmona, the director of Presente.org, an online Latino organizing group, said his organization is delivering a petition to the White House on Thursday with 100,000 signatures urging the president "to be bold and inclusive, to end the suffering of over 11 million undocumented immigrants."
"Republicans will not be merciful, whether he takes executive action for one million or 5 million or 11 million," Carmona said. "So we are urging the president to go all the way, to provide relief to a community that has been loyal to him. It's the right thing to do for the economy and for the values that our country stands for."
Obama has maintained that he must act because the House GOP never did even after the Senate passed a sweeping bipartisan bill more than a year ago that included a pathway to citizenship for most of the 11.5 million people in the country illegally.
At least some Republicans pushed for acting now to deprive Obama of that argument, although immigration advocates have little hope of the House arriving at a bill that could pass the Senate and that Obama would sign.
"Right now if he does this and makes all these declarations of the House won't do anything and yada yada yada, what's our response? You're right, we haven't done anything," said Rep. Mike Simpson, R-Idaho. "Our only defense is we are working on it."
Judiciary Committee Chairman Bob Goodlatte, R-Va.,has explored options including a lawsuit to stop Obama on immigration, aides said. House Republicans already had announced plans to file a lawsuit against Obama over his health care plan.
The Associated Press contributed to this report.