Donnelly, Braun trading lead as polls show Indiana Senate race a dead heat
Republican businessman Mike Braun and incumbent Democratic Sen. Joe Donnelly are trading the lead in the polls just two weeks before voters cast their ballots in Indiana's tightening Senate race.
A new poll, released on Tuesday by IndyPolitics.org and Mason Strategies, found that that 47 percent of voters in the Hoosier State back Braun, while 43 percent said they support Donnelly in his bid for a second Senate term. Libertarian candidate Lucy Brenton garned 3 percent while 7 percent are still undecided.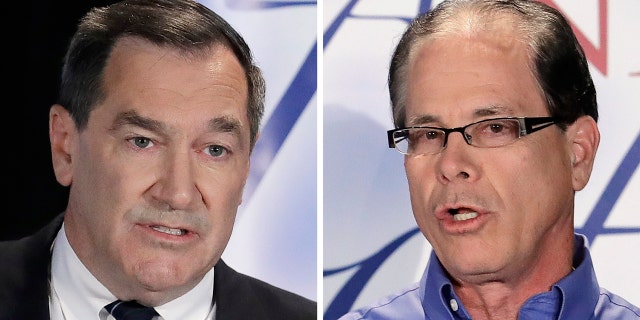 Another poll, released on Monday by the Indianapolis Business Journal, found that 41 percent of voters in Indiana back Donnelly , while 40 percent said they support Braun. Brenton comes in third with 8 percent of the vote.
Donnelly's 1-point advantage over Braun is well within the poll's margin of error of plus or minus 4.6 percentage points.
The poll found that while both candidates hold firm advantages with voters from their respective parties, Donnelley holds an advantage with female voters, voters under 50 years old and voters with a college degree. Braun, on the other hand, leads among white voters and voters without a college degree.
The two candidates are almost tied with voters older than 50 years old and suburban voters.
Republicans see Donnelly's seat as a possible pickup for the party, given that President Trump enjoys broad support in Indiana. Trump won the state in the 2016 election by nearly 20 points.
The president has endorsed Braun and hit the campaign trail for him – making a stop in Evansville, Indiana in August to stump for the businessman.
"Mike Braun…is strong on Crime & Borders, the 2nd Amendment, and loves our Military & Vets," Trump tweeted.
The RealClearPolitics average of polls shows Donnelly with just a 0.8 point lead, while The Cook Political Report rates the race as a "toss up."
The narrowing of the gap between Donnelly and Braun mirrors a trend in many races in the final two weeks before the midterm elections.
Top operatives in both political parties concede that the Democrats' narrow path to a Senate majority has essentially disappeared, a casualty of surging Republican enthusiasm across GOP strongholds. At the same time, leading Democrats now fear the battle for the House majority will be decided by just a handful of seats.
"It's always been an inside straight, and it still is," Democratic pollster Paul Maslin said of the Democrats' outlook in the Senate, where they need to pick up two seats while holding on to several others in Republican-leaning states to seize the majority. "If it had been a different year, with a different map, we might have had a terrific sweep. That would be a long shot."
While the trend may be troubling for Democrats, the evolving political landscape remains unsettled two weeks before Election Day, even with millions of votes already cast across 20 states.
There are signs that the Democrats' position in the expanding House battlefield may actually be improving. Yet Republican candidates locked in tight races from New York to Nevada find themselves in stronger-than-expected positions because of a bump in President Donald Trump's popularity, the aftermath of a divisive Supreme Court fight and the sudden focus on a caravan of Latin American immigrants seeking asylum at the U.S. border.
Democrats say they never assumed it would be easy.
"It's still much closer than people think, with a surprise or two in the wings," New York Sen. Chuck Schumer, the top Senate Democrat, told The Associated Press.
The midterm elections will decide whether Republicans maintain control of Congress for the final two years of Trump's first term. Even if Democrats lose the Senate and win the House, they could block much of Trump's agenda and use subpoena power to investigate his many scandals. Some in the party's far-left wing have also vowed to impeach the president, while others promise to roll back the Republican tax overhaul and expand health care coverage for all Americans.
Democrats have enjoyed an overwhelming enthusiasm advantage for much of the Trump era. They hope an explosion of early voting across states like Florida, Texas and Nevada is further proof of their enthusiasm.
The Associated Press contributed to this report.