Donald Trump may not need Latino support to win presidential election, experts say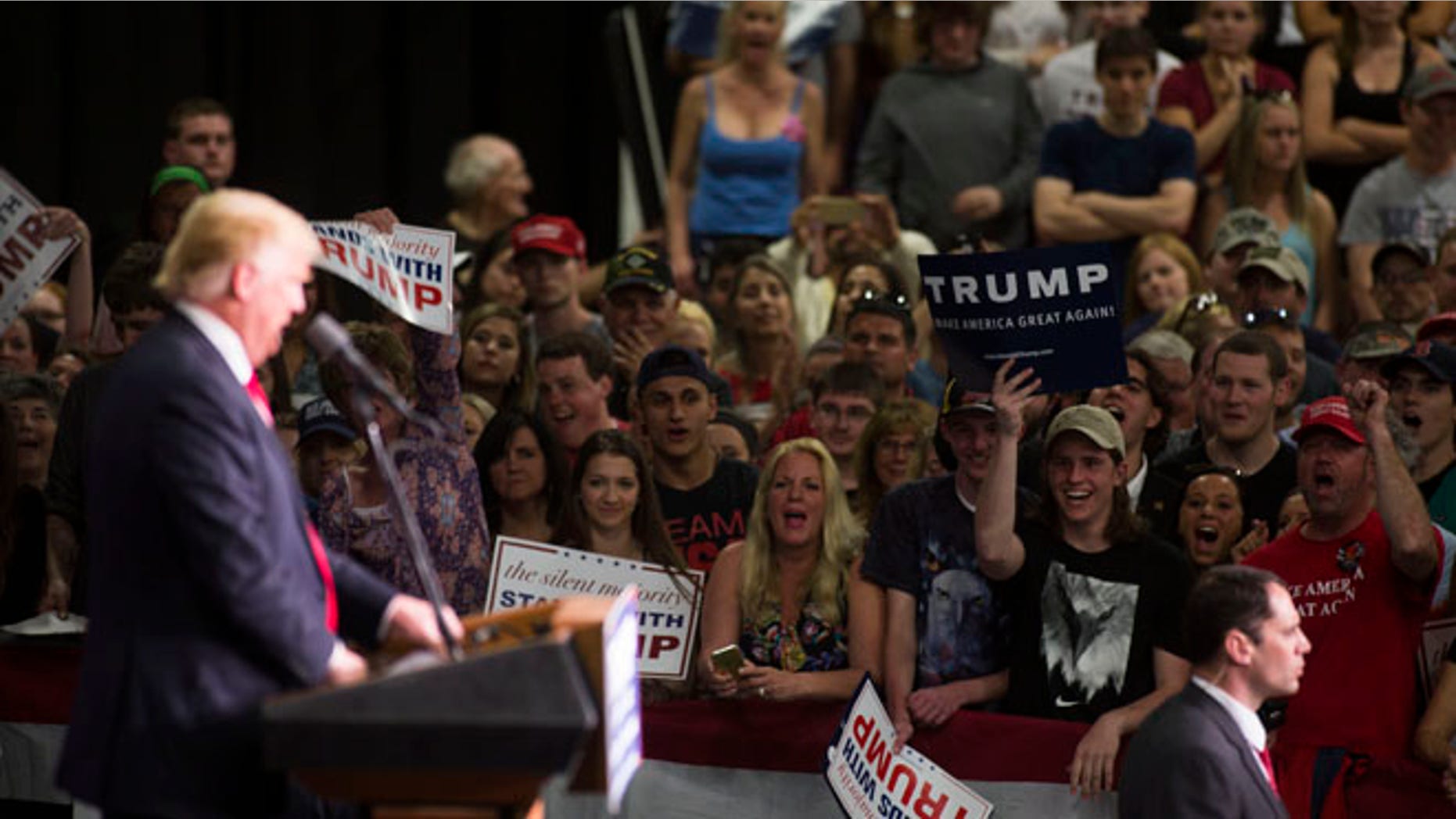 Ask most political analysts following this year's presidential campaign about Donald Trump's chances of winning the Latino vote and you'll get answers ranging from not very likely to there's absolutely no chance.
The border wall proposal, the call for mass deportations, the now infamous Cinco de Mayo "taco bowl" – none of these statements have endeared him to a voting bloc that the Republican Party has been heavily courting ever since losing the 2012 presidential race.
While Trump's ascendency to the forefront of Republican presidential politics may have some GOP insiders worried about their party's chances against Democrat Hillary Clinton in the fall, there are others who argue that Trump may not need to win over the Latino vote to be competitive in the race.
"It's not a question about him doing better with Hispanics," Larry Sabato, the director of the University of Virginia's Center for Politics, told Fox News Latino. "It's an attempt to do better in other sectors that are more favorable to Trump's policies, like white working-class voters."
While a recent Latino Decisions poll found that 87 percent of Hispanics view Trump unfavorably and 79 percent view him very unfavorably, on a national level the real estate mogul fairs much better in a head-to-head match-up against Clinton. A poll released earlier this week by Public Policy Polling found Trump trailing the former secretary of state by only six points, and he fares even better in match-ups in two key swing states.
Trump is behind Clinton by only one point in the swing state of Pennsylvania and he holds a four-point advantage over his Democratic rival in Ohio, a perennial bellwether state, according to the most recent Quinnipiac polls.
That's why, experts say, Trump should focus his campaign efforts on securing votes in the so-called Rust Belt (states like Michigan, Wisconsin and Ohio) that have strong blue collar populations attracted to Trump's "Make America Great Again" message of bringing business and manufacturing jobs back to the U.S. Experts say he may devote less time to Latino-heavy states like the Democratic stronghold of California and even the toss-up state of Florida, despite Trump's win in the state's GOP primary back in March.
"Ohio is a must win for him and he needs to add another one of the Midwest states," Sabato said. "He should focus on what he can substitute the Latino vote for."
Trump, however, can't completely ignore the Latino vote. He will need to win some of it to take the White House in November. But the question remains: What is the minimal number he needs to win to become president?
In 2004, then-incumbent President George W. Bush hit what is considered the high water mark with Latinos when he took home about 44 percent of the Hispanic vote against Democrat John Kerry. Following Mitt Romney's 2012 defeat to Barack Obama, the GOP pulled off an autopsy in which they found one of the key reasons why he lost was that he only won 27 percent of the Latino vote.
Now with Trump's divisive rhetoric on issues important to Latinos, such as immigration and border security, strategists are saying that obtaining a number close to Romney's 2012 mark appears to be the best the billionaire businessman can hope for.
"I don't see how with his rhetoric on issues like immigration and the border wall for Trump to get even close to the numbers that Bush did," Joe Trippi, a political strategist and frequent Fox News Channel contributor, told FNL.
Trippi agreed that Trump's best chance at mitigating the Latino vote is having a major turnout of his support base, but added that there are some things the presumptive GOP nominee can do to win over Latinos that doesn't involve tweeting "I Love Hispanics."
"A more likely and smarter thing would be picking someone like New Mexico Gov. Susana Martinez as a vice presidential pick," Trippi said.
For its part, the Trump campaign has brushed off any questions that Latinos won't support the Republican candidate come general election – citing Trump winning the Latino vote in Nevada and besting Cuban-American Sen. Marco Rubio to win the Florida primary. When reached by Fox News Latino, the Trump campaign would not comment further.