DOJ excoriates University of Michigan's 'bias response team,' says free speech is 'under attack'
The University of Michigan's sweeping "bias response policy" violates the First Amendment by punishing students for offenses as minor as hurting their classmates' "feelings," the Justice Department said Monday in a statement of interest filed in federal court.
The filing -- the DOJ's fourth since September in an ongoing campus free-speech case -- strongly suggests that the Trump administration is preparing for an eventual Supreme Court showdown that could set the limits on public universites' so-called bias prevention policies.
In the statement of interest filed in the U.S. District Court for the Eastern District of Michigan, the DOJ wrote that "free speech has come under attack on campuses across the country," including at schools like the University of Michigan that regularly receive tens of millions of dollars in federal funds.
The filing then excoriates the University of Michigan's "overbroad, vague, and subjective" bias response policy -- which comes complete with a fast-acting "Bias Response Team" (BRT) -- that the DOJ paints as an Orwellian betrayal of First Amendment principles.
Students who want to contact the BRT or the "Office for Institutional Equity" on campus are reminded in the school's written policy that "[t]he most important indication of bias is your own feelings."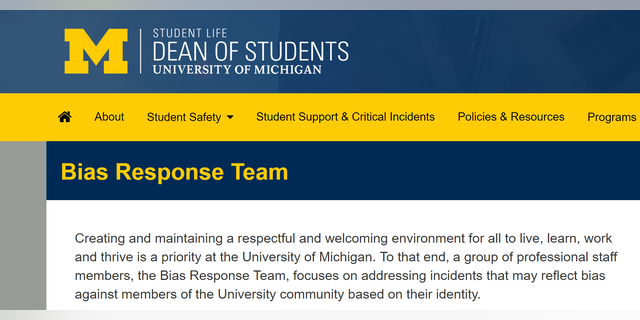 The DOJ describes that policy as an unconstitutional effort to punish students and teachers simply for offending someone else.
Students who violate the university's policies against bullying and bias are subject to what the school calls "sanctions/interventions," including "Formal Reprimand," "Disciplinary Probation," "Restitution," "Class/Workshop Attendance," and suspension or expulsion.
However, the DOJ notes, the university fails to provide a single coherent definition for "harassing" or "bullying," and instead provides a series of examples and links to a variety of sources with their own inconsistent definitions, including the Merriam-Webster Dictionary and Michigan state law.
"The American university ... is transforming into an echo chamber of political correctness and homogenous thought, a shelter for fragile egos."
UC BERKELEY CAN'T BLOCK LAWSUIT ALLEGING CENSORSHIP OF CONSERVATIVES, JUDGE RULES
The inconsistency is unconstitutional for a variety of reasons, the DOJ writes, including that it allows university officials to apply different definitions to different cases depending on the viewpoints expressed.
The University of Michigan's website explains that its "Bias Response Team" (BRT), which includes administrators, law enforcement personnel and students, focuses on "addressing incidents that may reflect bias against members of the University community based on their identity."
The BRT's mandate, according to the DOJ's findings, is expansive, and students have brought a range of complaints to the body's attention.
"To date, the BRT has investigated and responded to more than 150 reports of 'expressions of bias' in a wide array of forums and touching on a broad range of subjects, including race, religion, sexual orientation, color, national origin, sex, disability, socio-economic status, organizational affiliation, political status, 'race/politics,' 'cultural appropriation,' and 'gender expression,'" the DOJ wrote.
While the school website claimed that BRT was "not a disciplinary body" and merely referred students to other departments for punishment, the DOJ's filing said the BRT was authorized to take "disciplinary action."
On Monday, university spokesperson Rick Fitzgerald wrote in a statement that the university had "clarified and standardized" its definitions of "bullying" and "harassing" after Speech First handed them a lawsuit.
Fitzgerald also told Fox News the DOJ, like Speech First, has "seriously misstated" the policy and "painted a false portrait of speech" on their campus.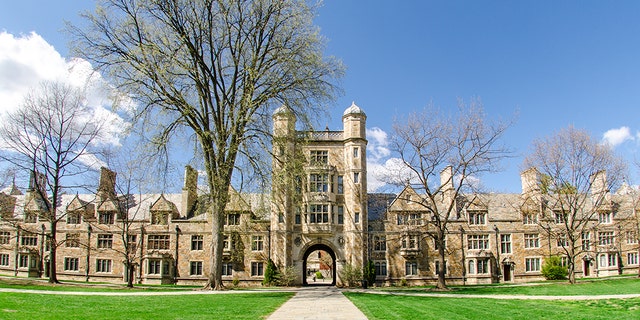 "Contrary to the department's statement, the university's Bias Response Team does not 'ha[ve] the authority to subject students to discipline and sanction,'" Fitzgerald said. "Rather, it provides support to students on a voluntary basis; it does not investigate claims of bias or discipline students in any way."
A statement of interest like the one filed in the Michigan case is effectively a non-binding declaration by the government of its position on an ongoing legal dispute between two other parties.  Speech First, a pro-First Amendment group, sued the University of Michigan in May.
Speech First, the group DOJ is supporting, told Fox News they are heartened by the move.
"It's very encouraging that the Department of Justice has expressed interest in our case, and we look forward to arguing the merits of our case in court," said Nicole Neily, President of Speech First.
While the DOJ is not directly involved in the case as a party, the move is yet another sign that the department wants a campus free-speech case to go to the Supreme Court, which could help set nationwide law on public school bias policies.
Attorney General Jeff Sessions has warned that because of "fragile egos," many universities are transforming into "echo chambers" marked by "political correctness, and homogenous thought".
The DOJ previously has filed statements of interest challenging restrictive campus speech policies that established limited "free speech zones" in Georgia and California.
And, in January, the DOJ filed a statement of interest in defense of the Berkeley College Republicans, who said the school unfairly applied a "High-Profile Speaker Policy" that unconstitutionally hurt their efforts to bring conservative speakers to campus.
Fox News' Caleb Parke contributed to this report.