DNC deputy chair Keith Ellison signals support for Antifa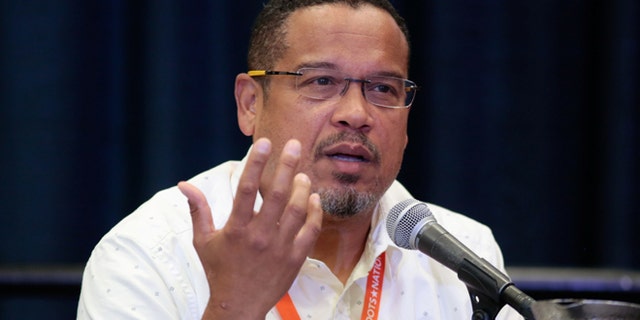 Rep. Keith Ellison, D-Minn., the deputy chair of the Democratic National Committee, caused a stir on social media Wednesday when he posed with a book promoting the violent "Antifa" movement.
In a post on Twitter, Ellison said that he found the book "Antifa: The Anti-Fascist Handbook" at a Minneapolis book shop and said it would "strike fear in the heart of @realDonaldTrump."
"Antifa," written by former Occupy Wall Street organizer and current Dartmouth visiting scholar Mark Bray, is promoted on Amazon as "a smart and gripping investigation ... of the full history of anti-fascism from its origins to the present day." The book's Amazon page includes complimentary reviews by The New Yorker, The Washington Post and the San Francisco Chronicle.
Since Trump's election as president, Antifa activists have initiated violent clashes on college campuses and at other gatherings. The group has been accused of using coordinated violence against people they deem to espouse far-right ideology.
PELOSI ON VIOLENCE ANTIFA MEMBERS: LOCK THEM UP
In August, House Minority Leader Nancy Pelosi, D-Calif., condemned what she called the "violent actions of people calling themselves Antifa" and distanced them from the Democratic Party.
"You're not talking about the far left of the Democratic Party — they're not even Democrats," Pelosi told the Denver Post editorial board. "A lot of them are socialists or anarchists or whatever."
Ellison's post drew a negative response from conservatives on Twitter. Jordan Schachtel of Conservative Review noted, "The FBI and DHS consider Antifa a domestic terrorist organization ... Does the @DNC now support terrorist groups? Every Democrat in Congress should have to answer for this ON the record."
Washington Free Beacon reporter Alex Griswold pointed out that Ellison was endorsing a book "that advocates for violence in the streets".
However, others on Twitter responded approvingly to Ellison's post, with one user writing, "ugh why is he not in charge of the dnc."
Another posted, "that all Keith Ellison has to do is hold up a book with the word ANTIFA on it and it triggers millions of whiny MAGA babies into a rage means he should definitely do it more."