DNC Chairman Says GOP Cannibalizing Itself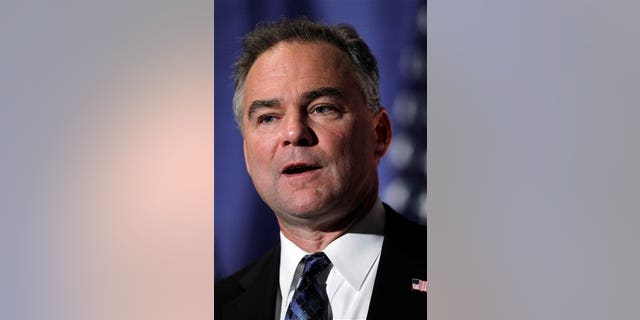 Top Democratic officials are accusing Republicans of "playing politics" with the American public. During a conference call with reporters on Tuesday, Democratic National Committee (DNC) Chairman Tim Kaine and Vice Chairwoman Rep. Debbie Wasserman Schultz (D-Fla) said certain GOP members are threatening to shut down the government if they take back the majority in the House of Representatives this fall.
Kaine also seemed to relish the chance to comment on the recent struggle inside the Republican Party, between Washington establishment politicians and Tea Party activists. "They invited the Tea Party in and it's turning into the Donner Party," said Kaine, referring to the infamous group of 19th-century American pioneers who became snowbound in California's Sierra Nevada mountain range and resorted to cannibalism.
Kaine also said Tea Party candidates are giving Democrats "great opportunities in races that we wouldn't have."
However, Kaine and Wasserman Shultz saved their most serious fire for the issue of a government shutdown. "They have no ideas, so instead of coming up with some, they'll just shut the government down," said Wasserman Shultz.
The Florida congresswoman also recounted some of the consequences of the 1995 government shutdown, saying the hiring of 400 border patrol agents was cancelled, 368 national park sites were closed, costing $14.2 million in lost tourism revenue, and 200 passport applications went unprocessed, costing the tourism and airline industries millions of dollars.
Among those who have floated the idea of a government shutdown are Alaska Senate GOP nominee Joe Miller and Georgia Republican Congressman Lynn Westmoreland.
Westmoreland has made reference to the Newt Gingrich led government shutdown of 1995, arguing that it may be an effective strategy to battling President Obama over government spending.
Wasserman Shultz said any standoff would be "cruel and inhumane" for Americans who rely on government assistance.
"Fifteen years after Newt Gingrich shut down the government because he didn't like his seat on Air Force One," said Wasserman Shultz, "I don't know what's in the water down there in Georgia."