'Disgusting': Trump takes aim at Kasich's eating habits, alliance with Cruz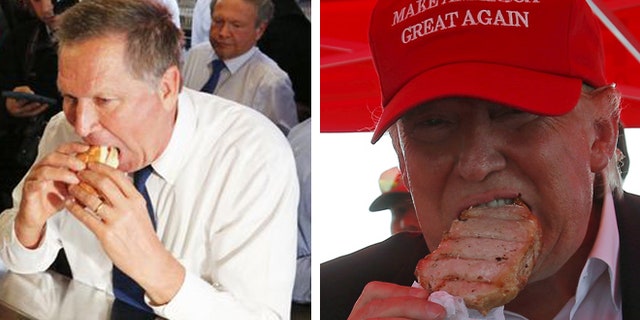 NEWYou can now listen to Fox News articles!
Republican frontrunner Donald Trump on Monday unleashed blistering personal attacks against Ted Cruz and John Kasich, in response to what he called their "collusion" in joining forces to try and stop him winning the Republican nomination -- even targeting Kasich's eating habits "disgusting."
Trump's new campaign strategist Paul Manafort had promised a more presidential Donald Trump, and there had been some signs of that, with him talking about "Senator Cruz" rather than insulting references to "Lyin' Ted." But the billionaire campaigning in Rhode Island and Pennsylvania reverted to the same Trump textbook of name-calling and outrageous behavior.
At a rally in West Chester, Pa., Trump questioned how Republicans at the nominating convention in July could allow Cruz to become the party's presidential nominee with less delegates and "millions" of fewer votes.
"How do you explain how that gets done?" Trump asked the crowd. "You are going to have a revolt."
Trump, in fact, has gotten roughly 8.8 million votes, compared to roughly 6.4 million for Cruz.
In Rhode Island, earlier Monday, the focus of Trump's ire was largely on a comment Sunday night by the Cruz and Kasich campaigns that they will coordinate strategies to give Cruz a clear run in Indiana on May 3, and Kasich a clear path in Oregon on May 17, and New Mexico on June 7.
Trump blasted the move as "collusion."
"You know, if you collude in business or if you collude in the stock market, they put you in jail," Trump told a boisterous crowd in Warwick, R.I. "In politics you're allowed to collude. Actually I was happy, as it shows how weak they are, it shows how pathetic they are."
Trump mocked his rivals responses to questions as "stuttering and stammering," and called Cruz "a basket case" under pressure.
But his choicest remarks were saved for Kasich. Trump labeled the Ohio governor as "1-for-41," a reference to his only winning one contest in 41 tries, and attacked his eating habits on the campaign trail.
"He has the news conference all the time when he's eating. I have never seen a human being eat in such a disgusting fashion," Trump said. "I'm always telling my young son, Barron, always with my kids, all of them, I'd say 'children, small little bites.'" This guy takes a pancake and he's shoving it in his mouth, it's disgusting."
"Do you want that for your president?" Trump asked the crowd. "I don't think so."
At another campaign event Monday in West Chester, Pa., Trump took another shot at at the Ohio governor's eating habits.
"Kasich is a stubbon guy, he is a slob," he said.
The Kasich campaign was quick to react to Trump's attack, tweeting out a not-so-flattering image of the frontrunner eating a steak.

On Sunday night, Trump called his two rivals "mathematically dead and totally desperate" in a tweet, while a statement from the campaign called the Kasich/Cruz strategy "a horrible act of desperation from two campaigns who have horribly failed."
The Cruz and Kasich campaigns made their announcement immediately after each appeared on a Fox News town hall from Philadelphia Sunday night, where each tried to make the case that Trump was incapable of beating Democratic rival Hillary Clinton for the White House — but that polls show that each of them could.
"Having Donald Trump at the top of the ticket in November would be a sure disaster for Republicans," Cruz's campaign manager, Jeff Roe, said. "To ensure that we nominate a Republican who can unify the Republican Party and win in November, our campaign will focus its time and resources in Indiana and in turn clear the path for Gov. Kasich to compete in Oregon and New Mexico, and we would hope that allies of both campaigns would follow our lead."
The arrangement marks a sharp reversal for Cruz's team, which aggressively opposed the idea of a coordinated anti-Trump effort as recently as late last week. Yet it underscores a bleak reality for the billionaire businessman's Republican foes: Time is running out to stop him.
The Kasich campaign confirmed to Fox News that it had canceled two Indiana campaign events scheduled for Tuesday. As recently as three days ago Kasich's campaign announced investments in Indiana, including the opening of two offices and the creation of a campaign leadership team.
Campaign manager John Weaver said in his statement that the Kasich team hoped to perform well in Oregon and New Mexico, which Weaver said were "structurally similar" to northeastern states where Kasich performed well earlier in the cycle.
"Our goal is to have an open convention in Cleveland," Weaver added, "where we are confident a candidate capable of uniting the party and winning in November will emerge as the nominee."
Polls show voters in five Northeastern states are poised to add to the New York billionaire's already overwhelming delegate lead. Trump campaigned Sunday in Maryland, which will vote on Tuesday along with Rhode Island, Connecticut, Pennsylvania and Delaware.
Trump needs 1,237 delegates to win the Republican nomination. If he falls short, the national Republican gathering in July will evolve into a rare contested convention. He currently has 845 delegates, while Cruz has 559 and Kasich 148.
Even before the plan was announced, Cruz had all but abandoned the Northeastern states in favor of Indiana, which holds its primary on May 3. Both Cruz and Kasich had cast the state as a critical turning point.
"Keeping Trump from winning a plurality in Indiana is critical to keeping him under 1,237 bound delegates before Cleveland," Kasich's campaign said Sunday. "We are very comfortable with our delegate position in Indiana already, and given the current dynamics of the primary there, we will shift our campaign's resources west and give the Cruz campaign a clear path in Indiana."
Indiana will award 57 delegates to the winner of its primary. Oregon and New Mexico have 28 and 24 proportionately awarded delegates at stake, respectively.
Fox News' Dan Gallo and the Associated Press contributed to this report.