Despite Expected Low Turnout, Latino Voters Could Prove Crucial In Some Midterm Races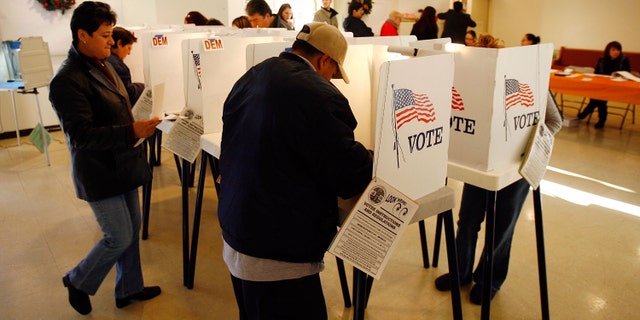 NEWYou can now listen to Fox News articles!
Latinos are likely to cast votes in this midterm election in lower numbers overall than they did in the last presidential election, but they can still play an important role in outcomes in statewide and local races, experts say.
Arturo Vargas, the executive director of the National Association of Latino Elected and Appointed Officials, or NALEO, says that some 7.8 million Latinos are projected by his organization to vote in the November midterm elections.
That is less than the roughly 11 million Latinos who voted in 2012, with about 70 percent of them re-electing President Obama over his Republican challenger, former Massachusetts Gov. Mitt Romney, who got 27 percent of the Latino vote.
And it is far less than the 28.8 million Latinos who will be eligible to vote by November.
Several key U.S. Senate races are happening in states where Latinos are a small part of the population or electorate, less than 3 percent.
Republicans need to win six Senate races to have a majority in that chamber; they are already the majority in the House. The most competitive U.S. Senate races are taking place in such states as Michigan, Iowa, Alaska, Montana, Kentucky and Georgia.
Nonetheless, Latinos can still make a difference in elections where their numbers are larger, Vargas said.
"There are a number of elections throughout the country where the Latino vote will be pivotal," he said.
In Colorado, Latinos comprise 15 percent of the electorate, and appear to be leaning in favor of the incumbent, U.S. Sen. Mark Udall, a Democrat, who is running against Republican challenger Rep. Cory Gardner. Polls have showed that the race is close, and many experts think it could be an election on which GOP control of the Senate could pivot.
"In terms of Senate races," Vargas said, "Colorado is the important one where Latinos can make a difference."
Four years ago, he noted, Democrat Michael Bennet defeated Tea Party Republican Ken Buck in a U.S. Senate race in Colorado that had been viewed as a chance for Republicans to gain another seat in the chamber.
"Bennet was able to win because he got 80 percent of the Latino voters," Vargas said.
In Texas, U.S. Rep. Pete Gallego, a Democrat, is running for re-election against Will Hurd, a Republican in a district that has swung from Republican to Democrat several times. Voters in this district also chose Romney over Obama in 2012.
"By the nature of the district, it is a competitive race," Gallego told reporters.
And so, said GOP pollster Whit Ayers, "The right way to say it is that Hispanics are not as important a factor in midterm elections as they are in presidential elections, but that said, they are still a very important part of the electorate."
Republican incumbents tend to be in districts where there are few Latinos, Ayers said, so they have few incentives to be responsive to issues of importance to many in the community.
That is why, Ayers said, many of the midterm election's most important races are likely to favor Republicans, unlike in 2016, which is more likely to favor Democrats.
Then again, a lot can happen in politics in a short time and upend races.
If, for example, President Obama does act unilaterally on immigration, as he has threatened to do, and spare several million undocumented immigrants from deportation and perhaps allow them to obtain work permit, it can influence the election.
Efforts to pass immigration reform legislation has stalled in Congress, as conservatives in the House object to any measure that would give a pathway to legal status – or virtually any lenient treatment – to undocumented immigrants. The recent influx on the U.S.-Mexico border by Central American immigrants altered the debate over immigration to a great extent, and thrust it back onto the front burner.
"Jobs and the economy," Ayers said, "are expected to be top issues for voters in the midterm elections. The failed rollout of Obama's Affordable Care Act could be, as well, he said.
"But if President Obama tries to legislate [immigration] by executive action," he noted, "it will create a major new issue in the midterm election."
Vargas says that immigration has climbed up the ladder of important issues for Latinos.
"Traditionally, it has not been a priority issue for Latino voters," he said. "They are U.S. citizens, they didn't have an immigration problem to resolve. But polls show that now, while voters may not be personally affected, they know someone who is. It's very much a gateway issue now. Latinos want to know where you are on immigration – are you on my side or not?"
Fernand Amandi, a managing partner at Bendixen & Amandi International, a Miami-based Democratic polling company, thinks Latino voters can defy predictions of a lower than usual turnout in November.
"There are a lot of potential game-changers between now and November," Amandi said.
"The question for the midterm elections is, given the extra emphasis on immigration, and the economy and the impact of the healthcare program," Amandi said, "will that cause a Hispanic spike in voting, like we saw in 2006, or will Hispanics revert to the historical pattern of less than a regular turnout?"
He said with every passing election cycle, the Hispanic electorate is becoming more and more part of the national vote.
"They are no longer concentrated in just six or seven states. That phenomenon will be more pronounced by how the community is branching out [across the United States]."
Even though they did not turn out in large numbers in the 2010 midterm elections – 6.6 million Latinos voted – they were critical to helping Democrats keep control of the Senate.
"Any issue can catch fire," Amandi, said, "and this election would become a referendum on that issue."