Dems Howl About Showing Affleck Movie Clip During GOP Conference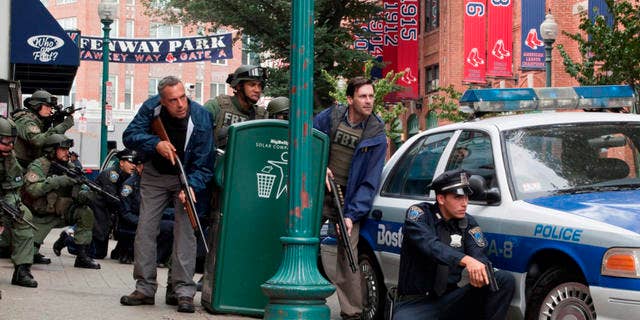 NEWYou can now listen to Fox News articles!
The head of the Democratic National Committee took a swipe at House Republicans on Wednesday for airing a clip from a Ben Affleck film about bank robbers in order to rile up the troops in their fight over debt reduction.
On Tuesday, the Republican Conference showed a clip from the movie "The Town" at a closed-door meeting. In it, the criminal character played by Ben Affleck tells his accomplice buddy: "I need your help. I can't tell you what it is. You can never ask me about it later and we're gonna hurt some people."
His pal, played by actor Jeremy Renner, responds, "Whose car are we going to take?"
After the showing, Florida Rep. Allen West, evidently showing his support for House Speaker John Boehner, reportedly stood up and roared: "I'm ready to drive the car."
In response, West's arch-rival, Democratic National Committee Chairwoman Debbie Wasserman-Schultz, said the movie choice is "a sad metaphor" for GOP policies.
"I'm sure Republicans will think we're making a mountain out of a molehill," said Wasserman-Schultz, D-Fla. "It tells you all you need to know. ... Their uncompromising position would hurt the American people."
Sen. Chuck Schumer, D-N.Y., also derided the metaphor.
Literally in the movie people are going to get hurt, but they have to go ahead and do it anyway, Schumer said. "This is your House Republican majority."
Wasserman-Schultz said while the use of movie clips to fire up members isn't uncommon, the selection was beyond the pale.
"They could have used 'Hoosiers,' 'Rudy,' 'Band of Brothers,' but this was the choice that they made," she said. "Who are they planning to hurt?"
Speaking to the film, assistant to the Democratic Leader James Clyburn, D-S.C., acknowledged that Democrats have used films that were less than family-friendly to fire up members.
"'Braveheart' was used by (former House Minority Leader Richard) Gephardt some years ago as a metaphor for us maintaining our own faith in the process," Clyburn said. "We had just gone into the minority and it had been the first time in almost 40 years."
He said the film was used to talk about teamwork and unity, not about "going out and hurting anybody."
'Braveheart,' among the bloodier movies out of Hollywood, contains no small amount of betrayal by supposed friends and allies in depicting the 13th-century Scottish revolution against English rule.
John Ullyot, a long-time senior Senate aide who now works as a public policy consultant, said the whole dispute Wednesday just shows how out-of-touch lawmakers are at a critical time.
"It sounds like there's a real loss of perspective on Capitol Hill when they're worried about a small detail like that several days before the economy is potentially going to crash," he said. "It's not only in the weeds, it's entirely off the radar screen."
Fox News' John Brandt contributed to this report.