Democrats Scramble to Prevent GOP Victories in Key Races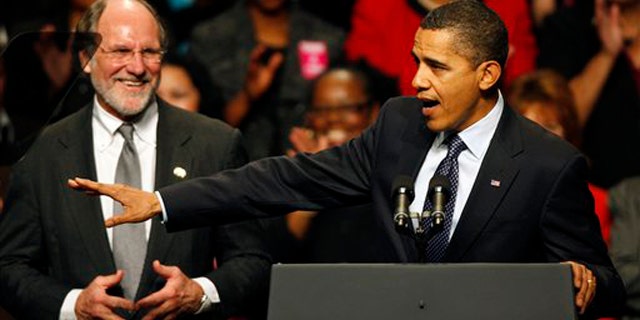 President Obama and his fellow Democrats pulled out the stops Sunday in a bid to prevent Republicans from sweeping the major state and local elections Tuesday.
In a coup of sorts for the Democratic Congressional Campaign Committee, the Republican candidate who just dropped out of the race for an upstate New York congressional seat endorsed her former Democratic opponent.
Dede Scozzafava's decision to back Democrat Bill Owens could help stanch the expected migration of her supporters toward Conservative Party candidate Doug Hoffman's campaign.
Obama also personally vouched for New Jersey Gov. Jon Corzine Sunday in his tough race for re-election against Republican Chris Christie. The president traveled to two Democratic strongholds in the Garden State to urge supporters to drive up voter turnout on Tuesday just as they did for him a year ago.
"You need to work hard on Tuesday," Obama told a Camden crowd. "I need you to go back into your neighborhood. I'm going to need you to knock on doors. ... I'm going to need you to do the same thing you did last year."
But the last-minute maneuvers come ahead of a perilous election for Democrats. In the other major race, Virginia's gubernatorial election, Republican Bob McDonnell appears poised for victory over Democrat Creigh Deeds. A Richmond Times-Dispatch poll released Sunday showed McDonnell leading Deeds by double digits, which is consistent with other recent surveys.
The White House is aware Democratic losses would be spun as a referendum on Obama. The results of Tuesday's elections could also foreshadow next year's elections, when 37 governorships come up for grabs.
The Obama administration seems to view the New Jersey race as its best hope for victory, and has devoted the president's final campaign push to that race.
On Sunday, Obama attended a rally first in Camden and then in Newark, both areas where Democrats far outnumber Republicans. The strategy is to drive up turnout among the Democratic base to give Corzine the edge in what has become an airtight contest. In a Monmouth University/Gannett New Jersey Poll released Sunday, Christie led Corzine by just 1 point among likely voters.
In Camden, Corzine repeatedly said his opponent is "wrong when it matters most."
Obama called Corzine an "honorable" man who has provided property tax relief and reduced the size of government.
But Christie was continuing a grueling schedule of rallies and diner visits as well. He was capping off Sunday's events with a get-out-the-vote rally in Republican-heavy Toms River. Though he can't claim White House support, Christie has been joined lately by several prominent New Jersey Republicans and former New York Mayor Rudy Giuliani.
The New York congressional race, meanwhile, has attracted an unusual amount of attention. Hoffman, a third-party candidate, experienced of surge of support and endorsements late in the race, leading Scozzafava to drop out Saturday.
The move was expected to consolidate GOP voters behind Hoffman. But on Sunday, Scozzafava backed Owens.
"I am supporting Bill Owens for Congress and urge you to do the same," she said in a written statement. "In Bill Owens, I see a sense of duty and integrity that will guide him beyond political partisanship. He will be an independent voice devoted to doing what is right for New York. Bill understands this district and its people, and when he represents us in Congress he will put our interests first."
Hoffman and Owens are competing for the 23rd Congressional District seat formerly held by Republican John McHugh, who was lured away by the Obama administration to be Army secretary.
Scozzafava was criticized by members of her party for being too moderate on social issues. However, it's unclear how much of an impact her endorsement will have. Ken Spain, a spokesman for the National Republican Congressional Committee, downplayed the endorsement Sunday.
"There are only two candidates that remain in this race," he said in a written statement. "Only Doug Hoffman is willing to stand up to House Speaker Nancy Pelosi and put the brakes on her agenda of massive government takeovers and less jobs."
And poll numbers suggest Owens would have to make significant inroads among Republican moderates to pull support away from Hoffman. A Siena Research Institute survey showed 64 percent of Scozzafava voters were self-identified Republicans -- only 19 percent identified themselves as Democrats.
Democrats, though, were clearly banking on Scozzafava to try to tilt the balance in their favor.
White House Senior Adviser Valerie Jarrett said on ABC's "This Week" that Democrats would "love" to have the former Republican candidate back Owens.
And she criticized Hoffman's surging candidacy as a sign that the Republican Party is squeezing out moderates.
"It's rather telling when the Republican Party forces out a moderate Republican and it says, I think, a great deal about where the Republican Party is right now," she said. "I think it's becoming more and more extreme and more and more marginalized."
Senior Adviser David Axelrod echoed that point on CBS' "Face the Nation."
"It sends a clear message to moderates within that party that there's no room at the inn for them," he said.
DCCC Chairman Chris Van Hollen, D-Md., said in a statement that the developments in New York should send a "chilling message" to other moderate Republicans.
House Minority Leader John Boehner, though, said on CNN's "State of the Union" that New York represents an "unusual circumstance" and that "we want moderates in our party."
In Virginia, McDonnell and Deeds barnstormed church services Sunday morning before rousing partisan crowds in their last blitz before Tuesday's governor's election.
But Obama, who stumped for Deeds last week, is not expected to return to Virginia.
The Associated Press contributed to this report.