Democrats, celebrities and Republicans defend Democratic Rep. Lewis after Trump's tweets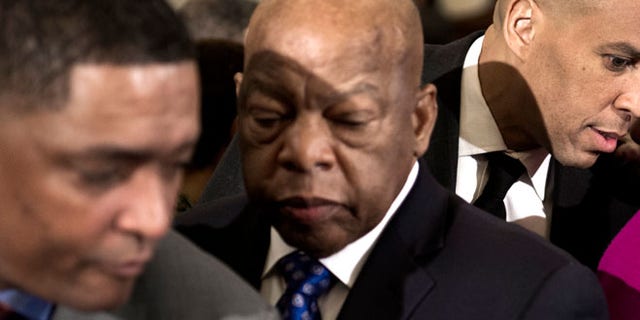 A growing number of Democrats, Hollywood celebrities and some Republicans came to the defense of civil rights leader Rep. John Lewis amid fallout from Donald Trump's comments earlier on Saturday.
Trump said that Lewis, who has argued the president-elect won't be a legitimate leader, should focus more on fixing his Georgia district.
"Lewis should spend more time on fixing and helping his district, which is in horrible shape and falling apart," Trump tweeted.
The response on Twitter was swift. GOP Sen. Ben Sassse of Nebraska tweeted that "John Lewis and his "talk" have changed the world."
On this Martin Luther King Jr. weekend, let it be clear that John Lewis is an American patriot. Trump's attacks on him further confirm it. pic.twitter.com/WavPT36Atu

— Evan McMullin (@Evan_McMullin) January 14, 2017
Trump assumes John Lewis represents a poor district that's "falling apart" simply because he is black. Textbook definition of racism. https://t.co/3Vi93Oq9T2

— Guy Cecil (@guycecil) January 14, 2017
Residents of Lewis' district in Atlanta, meanwhile, in response to a tweet from the Atlanta Journal-Constitution, began to post pictures of their neighborhoods on Twitter -- many of which did not fit with Trump's characterization.
Lewis, a leader in the civil rights movement of the 1960s who was beaten by state troopers during the "Bloody Sunday" march from Selma to Montgomery in Alabama, says in an NBC's "Meet the Press" to air Sunday that he does not consider Trump a "legitimate president," and blamed the Russians for helping the Republican win the White House.
"You know, I believe in forgiveness. I believe in trying to work with people. It will be hard. It's going to be very difficult. I don't see this president-elect as a legitimate president," Lewis said.
Trump, in followup tweet Saturday, said Lewis should spend more time helping his "crime invested" district, instead of "falsely complaining about the election results."
"All talk, talk, talk -- no action or results. Sad." Trump concluded.
Lewsi has said he will skip next week's inauguration of Trump at the Capitol, joining several other Democrats who have decided to boycott the historic event.
"I think the Russians participated in helping this man get elected. And they helped destroy the candidacy of Hillary Clinton," Lewis said.
The Lewis-Trump fued escalted on the eve of Martin Luther King Jr. Day.
U.S. Intelligence agencies have said Russia meddled in the election to help Trump win. After spending weeks challenging that assessment, Trump finally accepted that the Russians were behind the election-year hacking of Democrats that roiled the White House race. However, he also emphasized that "there was absolutely no effect on the outcome of the election including the fact that there was no tampering whatsoever with voting machines."
Lewis explained his decision to stay away from the inauguration as "you cannot be at home with something that you feel that is wrong, is not right."
He said it will be the first inauguration he has missed in three decades, a time that includes Democrats and Republicans taking the oath of office.
Other Democratic lawmakers who have announced plans to skip the inauguration include Reps. Barbara Lee of California, Earl Blumenauer of Oregon, Katherine Clark of Massachusetts and Luis Gutierrez of Illinois. They cite an array of reasons, but have one at least one thing in common. All represent heavily Democratic districts.
The Associated Press contributed to this report.