Democrats and Republicans both appear eager for Judd to enter Kentucky Senate race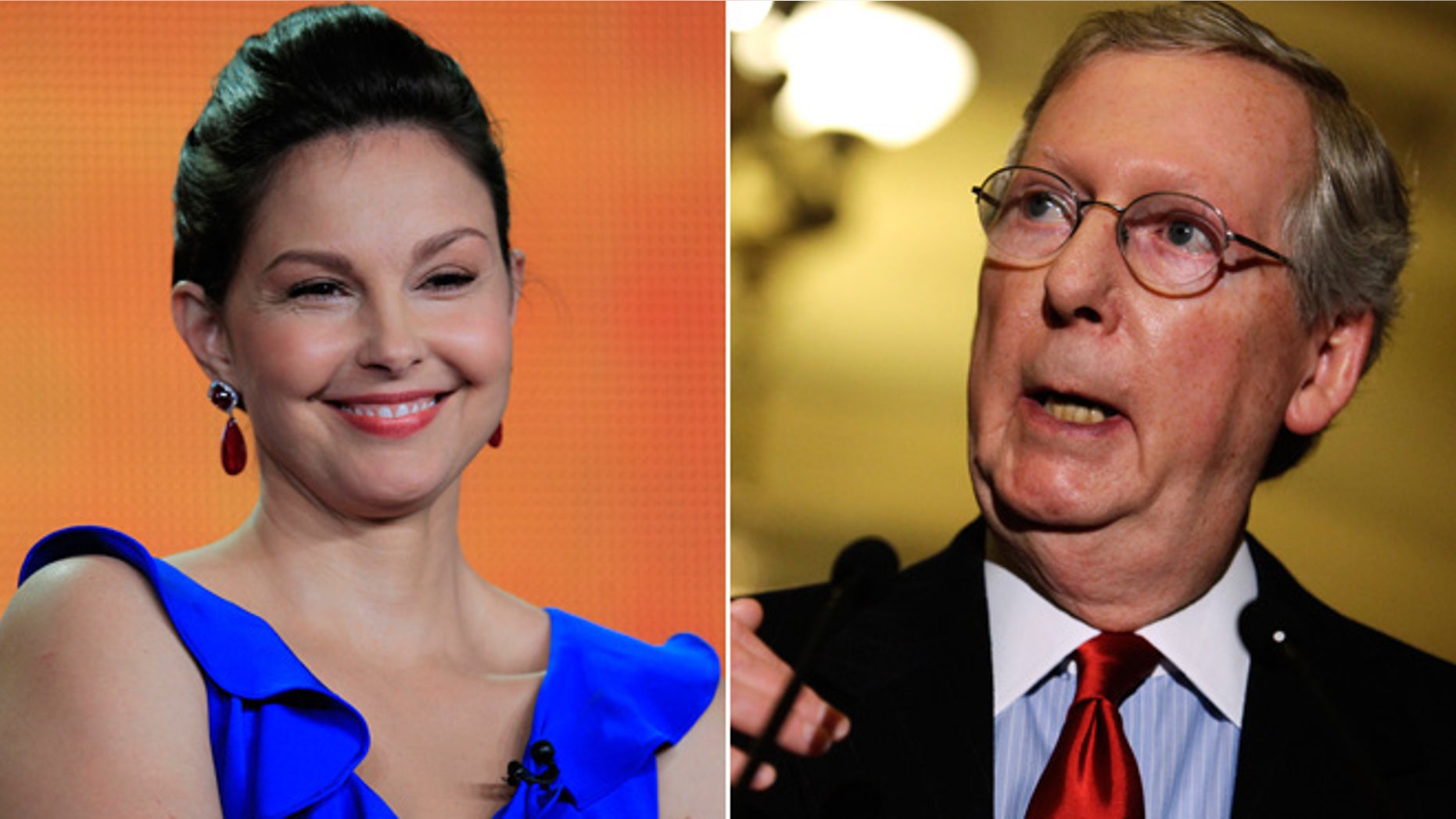 Senate Minority Leader Mitch McConnell's reelection bid is just a movie star away from becoming the 2014 feature race – and both parties appear to be clamoring for her to take the part.
As Ashley Judd seems more and more interested in challenging the Kentucky Republican, Democrats and Republicans each argue her candidacy will help their party.
Republicans sound eager for Judd to jump into the Democratic primary and advance to challenge McConnell in November.
The 44-year-old Judd has yet to decide, but Washington Republicans have already compiled a greatest-hits list of her progressive ideals that they expect to alienate enough Kentucky voters.
Among the statements, Judd declares the era of the coal plant "over" and raises questions about such conservative bedrocks as raising children and the traditions of marriage.
"Veteran Democrat strategists are terrified of the impact that her views, which are eccentric for even Hollywood, would have on down ballot races throughout Kentucky," says the National Republican Senatorial Committee, which on Friday issued a faux Judd fundraising letter in which voters are reminded she has called San Francisco her "American home" said that she "winters" in Scotland.
Democrats are also excited about Judd, a University of Kentucky graduate, though they appear to approach the possibility with eyes wide open.
Judd would be a first-time political candidate, who often lose. And she'd be labeled a Hollywood liberal in a Red state that in last year's presidential race gave 60.5 percent of the vote to Republican nominee Mitt Romney.
Still, Judd, who is camera ready and politically engaged, could also rely on that Hollywood support to create a well funded campaign, without the help of Washington Democrats.
"That alone is a Godsend for Democrats," Ben Tulchin, a Democratic pollster and founder of San Francisco-based Tulchin Research, told FoxNews.com.
Moreover, Tulchin said, Judd's entry could have an even bigger impact on national efforts to control the Senate.
Washington Republicans, he thinks, would pour tens of millions into the race to protect a party leader, which would take money away from other competitive races.
And McConnell appears vulnerable in his bid for a sixth term.
Lumped in with the rest of Congress as responsible for Washington gridlock and a fiscal crisis du jour, McConnell has an approval rating that has barely cracked 50 percent. And early polling shows him unable to get a double-digit lead on Judd.
"It's all positive from the Democrats' perspective," Tulchin said. "It would be interesting to see how she does. And who else do the Democrats have."
To be sure, Kentucky Democrats have yet to come up with top-tier candidate to challenge the 71-year-old McConnell. And they would be pressed to raise enough money to challenge McConnell, a strong fundraising, unless the contest becomes a national race.
A source told a Fox columnist earlier this week that Judd, a Tennessee resident, is definitely in the race.
In addition, she spoke last month at George Washington University at a forum on women's reproductive issues and has reportedly met twice already this year with Washington Democrats.
Though Republicans appear to argue Judd and her progressive views could easily be defeated, they also appear to be making a big effort to keep her out of the race.
McConnell so far has at least two ads that feature Judd. And American Crossroads, the super PAC backed by Karl Rove, has released one.
McConnell, meanwhile, appears to be positioning himself well to the right of any potential, continuing to embrace the Tea Party movement and its potential support. This week, he  even came down to the Senate floor to congratulate junior Kentucky Republican Sen. Rand Paul for his "tenacity" and "conviction" regarding his filibuster on drone attacks.