Democrat Donna Shalala beats Republican Maria Elvira Salazar in hotly contested Florida House race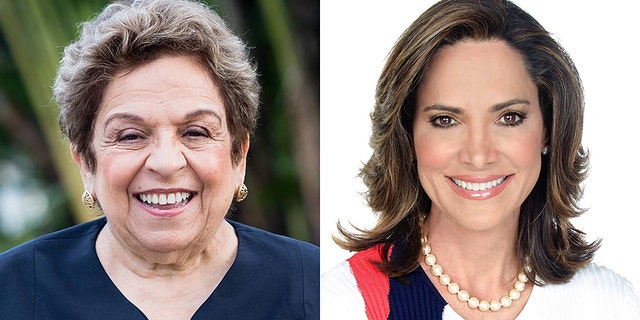 Democrat Donna Shalala won a House seat in Florida's 27th district on Tuesday in a hotly contested race to replace retiring Florida Republican Rep. Ileana Ros-Lehtinen.
The 77-year-old Shalala -- who served as secretary of Health and Human Services during the Clinton administration -- defeated GOP challenger, Maria Elvira Salazar, in a mostly Republican district, with 51.7 percent of the vote.
Shalala and Salazar -- a first-time candidate and former television journalist -- sparred on a number of issues, including the economy, health care and immigration.
"I think the voters are upset with the way the country is going," Shalala said Tuesday as she cast her vote in Coral Gables, according to local station WFOR-TV.
"I think this administration is making war on pre-existing conditions and Obamacare. One hundred thousand people in this district have Obamacare and they want to keep it."
"I am also concerned about our standing in the world," she added. "We need to continue to be a country that cares for human rights and cares for workers and their opportunities and that they be able to fulfill their dreams."
Shalala is a former president of both the University of Miami and University of Wisconsin and was Health and Human Service Secretary under President Clinton for eight years.
Shalala's victory is a key win for Democrats. The district was represented for decades by GOP Rep. Ileana Ros-Lehtinen, who is retiring. It is also a district where nearly 60 percent of registered voters are Latino. Shalala does not speak Spanish but managed to beat Salazar, 56, a Cuban American and former long-time TV news anchor with Telemundo.
During the campaign, Republicans sought to highlight a string of controversies at the University of Miami when Shalala was president. Shalala was also criticized by opponents last month after a congresswoman who praised the late Cuban dictator Fidel Castro was seemingly invited to campaign with her.
Without mentioning President Donald Trump by name, Shalala had a clear message for the White House in her victory speech.
"Mr. President, here we come," she said to loud cheers. "Bringing us together is absolutely crucial. Some people would like to divide us. We just can't let that happen, because it's un-American."