Dem senators: Obama not a strong leader, 'Not Relevant'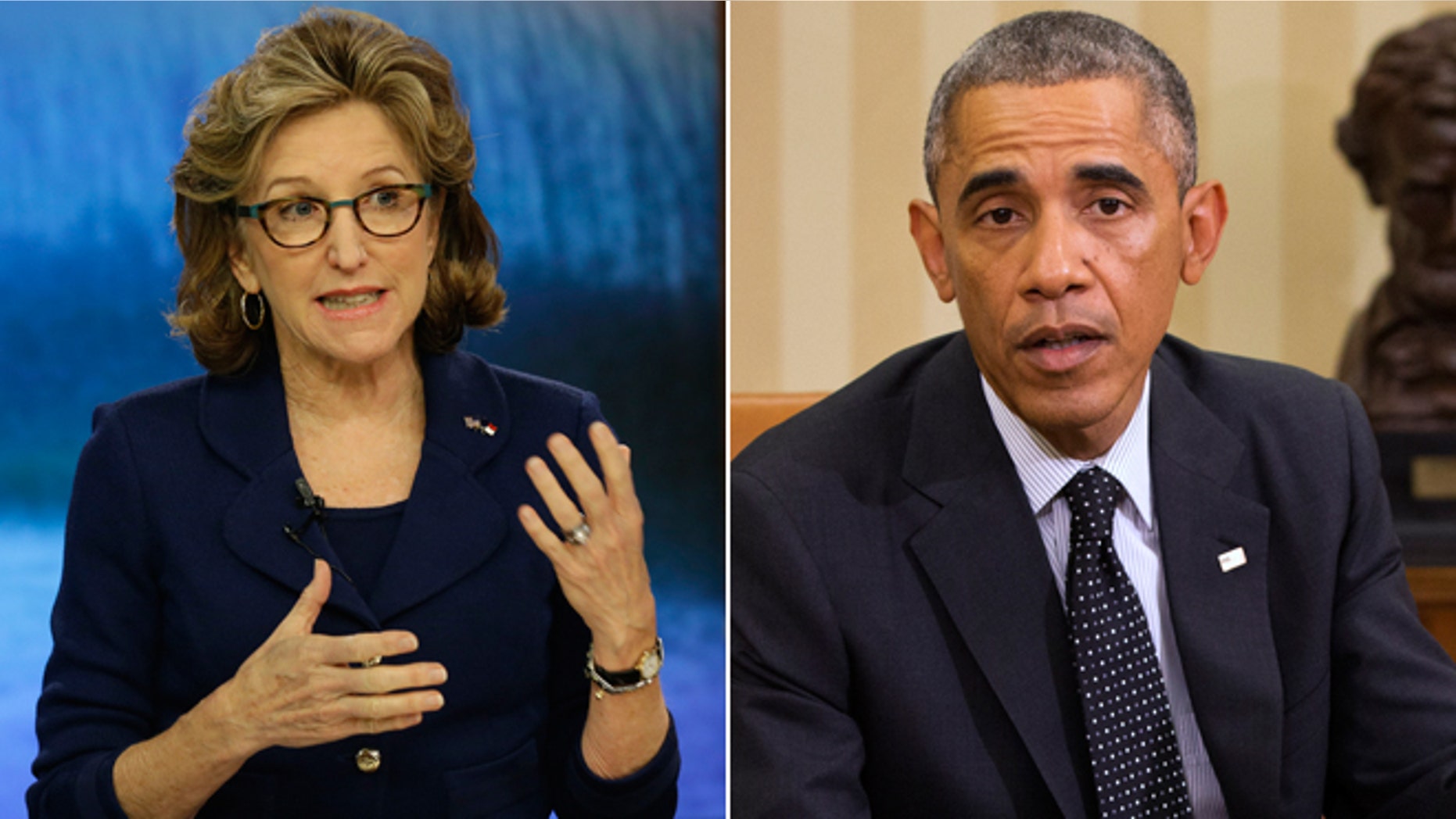 **Want FOX News First in your inbox every day? Sign up here.**
Buzz Cut:
• Dem senators: Obama not a strong leader, 'Not Relevant'
• South Dakota: Never mind…
• In a first, GOP beats Dems in Iowa early vote
• Paul's new frame on foreign policy: 'Conservative realist'
• Oooh… Aaah… Awww
DEM SENATORS: OBAMA NOT A STRONG LEADER, 'NOT RELEVANT'
Asked by MSNBC whether President Obama is a strong leader, Sen. Kay Hagan, D-N.C., couldn't quite pump up an answer at first. She initially dodged, saying Obama has "a lot on his plate." First on her list: The BP oil spill of 2010, but also ISIS and Ebola. After rummaging around for a while and being pressed for an answer, Hagan eventually concluded with "certainly there are issues that I certainly think… um, no." But that was tame compared to what Sen. Mark Begich, D-Alaska, had to say. In an interview with Washington Examiner Begich didn't duck the question of whether he voted for Obama in 2008 and 2012, as other Democratic candidates have. But Begich said the question wasn't relevant. Why not? "The president's not relevant," Begich explained. "He's gone in two years."

-- 12 days until Nov. 4 --

Not what he had in mind - Obama recently claimed that he told Senate allies like Hagan and Begich that it was okay to distance themselves from him – "to do what they need to do to win" –but one can hardly imagine he had lines like these in mind. Obama said Democrats like Hagan and Begich should avoid inflaming anti-Obama sentiment that would motivate Republican voters while the president worked on mobilizing "our voters." While there aren't many Obama supporters to dispirit in Alaska, Hagan's hesitant declaration of Obama's weakness will hurt her chances in North Carolina, where Democrats are going all out to engage black voters and get young liberals off the sidelines.

[Charlotte Observer: "A national environmental group on Wednesday kicked off a TV ad, voter outreach, mail and digital campaign against Thom Tills in his campaign for U.S. Senate. The League of Conservation Voters Victory Fund says the effort adds up to $4.2 million."]

DSCC SENDS CASH BACK TO GRIMES
Fox News: "Senate Democrats' campaign arm is going back on air in Kentucky with new ads in support of nominee Alison Lundergan Grimes. A Democratic Senatorial Campaign Committee official confirmed to Fox News on Wednesday that they would go up with new ads – a week after the DSCC initially stopped spending on TV time in the race against Senate Republican Leader Mitch McConnell… the group is reserving $650,000 in airtime after recent polling apparently indicated Grimes' chances of unseating McConnell are improving.

But money's not Grimes' problem - George Will points out "Her campaign has raised more money than McConnell's in three consecutive quarters, but money is not magic, which would be needed to make her candidacy coherent."

'Liberated' by failure - Dana Milbank argues that having stumbled so badly, Grimes is now campaigning with new zeal and feels freedom to speak her mind.

No shame in her game - WaPo's Fact Checker caught Grimes recycling claims previously debunked in a new ad. Pinocchio is not amused:  "We realize that the game of politics is sometimes played rough in Kentucky, but this ad is beyond the pale. Indeed, it is likely the worst ad of a nasty campaign year. Grimes should be ashamed of herself."

Women for McConnell - Sen. Mitch McConnell, R-Ky., is out with a new ad that seeks to undermine the war on women attacks leveled by Senate opponent Alison Lundergan Grimes.

SOUTH DAKOTA: NEVER MIND…
A new survey from top Republican polling firm Public Opinion Strategies may explain why Democrats are bringing money back to Kentucky: South Dakota, the blue team's long-shot play earlier this month, is back off the table. GOP Senate candidate Mike Rounds leads in the poll by a whopping 24 points, more than double his advantage from earlier this month. The polling memo from Glen Bolger shows Rounds leading Democrat Rep. Rick Weiland 48 percent to 24 percent, with former Sen. Larry Pressler, who left the GOP after his 1996 defeat and is now running as an independent, polling at 16 percent down 8 points from earlier this month.

Will South Dakotans swoon for Thune? - Sen. John Thune, R-S.D., appears in an ad supporting Republican Mike Rounds saying, "This November, you can make South Dakota's voice in Washington even stronger by electing Mike Rounds to join me in the United States Senate. With Mike, our state will have two senators, working together to get our state headed back in the right direction."

[The left-leaning Mayday PAC is putting $1.25 million towards an ad the keeps up the assault on former Gov. Mike Rounds, R-S.D., over a work visas controversy. South Dakotans appear saying they don't believe he's telling the truth on what he knows about it.]

IN A FIRST, GOP BEATS DEMS IN IOWA EARLY VOTING
Fox News: "More registered Republicans than registered Democrats have cast a ballot during early voting in Iowa for the first time in a modern-day election, according to a GOP report. The report stated that as of Wednesday, the cumulative number of registered Republican early and absentee voting returns surpassed those of the Democrats by 305 ballots… The Wednesday numbers were the first time the GOP has led in Iowa in modern early voting history, according to Republicans. There are 13 remaining days of early voting in the state."

Q Poll: Ernst holds edge in razor-tight race - Iowa Republican Senate Candidate Joni Ernst holds a slim lead over Rep. Bruce Braley, D-Iowa., in a Quinnipiac University Poll released this morning. According to the survey, Ernst leads Braley 48 percent to 46 percent. Ernst leads among independent voters 47 percent to 41 percent.

One crack in the glass ceiling Hillary doesn't want to see - Democratic 2016 frontrunner Hillary Clinton will return to Iowa to make a final pitch for Rep. Bruce Braley's, D-Iowa Senate bid. According to reports, Clinton will stump for Braley Oct. 29.  Clinton is slated to campaign for Democrats in over 15 states by election day.

[Rep. Bruce Braley, D-Iowa, appears in a new ad hammering Republican Joni Ernst for sending jobs overseas saying, "Joni Ernst wants to keep giving tax breaks to companies that ship jobs overseas.  I say it has to stop."]

POLL: GARDNER LEAD CONTINUES TO GROW
A new USA Today/Suffolk University Poll gives Rep. Cory Gardner, R-Colo., his largest lead yet over Sen. Mark Udall, D-Colo.: 46 percent to 39 percent, compared to the firm's Sept. survey which had the two tied.

[Udall cites his skill as a mountain climber in his latest ad saying, "what it takes to be a mountain climber is what it takes to be successful in anything else in life…you have to be a risk taker. You have to be willing to put it all on the line."]

WITH YOUR SECOND CUP OF COFFEE...
Money literally does grow on trees for New England's booming tourism business in autumn.  According to recent figures, it's a $3 billion dollar a year business for the six northeast states.  Last fall, nearly 8.2 million visitors flocked to New Hampshire and this year they are expected to drop nearly $1.6 billion dollars. With better weather the states are anticipating a longer season. While New England boasts they are the destination for foliage, Mashable offers a nifty list of the top locations across the country to take in the best foliage.

Got a TIP from the RIGHT or LEFT? Email FoxNewsFirst@FOXNEWS.COM

POLL CHECK
Real Clear Politics Averages
Obama Job Approval: Approve – 41.5 percent//Disapprove – 54.1 percent
Direction of Country: Right Direction – 27.1 percent//Wrong Track – 64.6 percent
Generic Congressional Ballot:  Democrats – 41.3 percent// Republicans – 45.5 percent

NUNN USED OUTSOURCER TO HIT PERDUE OVER… WAIT FOR IT, WAIT FOR IT
Washington Examiner: "Bless her heart for trying, but Democratic U.S. Senate candidate Michelle Nunn has made quite a blunder by attacking her Republican opponent in the Georgia race, David Perdue, in an ad for supposedly outsourcing jobs. It turns out the ad features a businessman who has outsourced jobs. The ad, titled 'When I hear,' features Roy Richards Jr., chairman of power-cable manufacturer Southwire, disparaging Perdue's supposed approval of outsourcing."

COTTON PUMMELS PRYOR ON OBAMACARE SUPPORT
In his latest ad, Rep. Tom Cotton, R-Ark., uses clips of Sen. Mark Pryor, D-Ark., voicing support for ObamaCare to say, "Mark Pryor doesn't get it."

[NYT looks at how demographic shifts in Arkansas have worked to the GOP's favor.]

BROWN GAINS GROUND IN GRANITE STATE
A new survey from New England College finds independents are breaking for New Hampshire Republican Senate candidate Scott Brown 48 percent to 44 percent over Sen. Jeanne Shaheen, D-N.H. Brown has also cut into Shaheen's lead among women to just three percent from 12 percent in a Sept. survey. Brown now leads Shaheen 48 percent to 47 percent. Similarly, a CNN/ORC Poll released today shows a statistical tie with Shaheen leading 49 percent to 47percent.  According to the survey, President Obama holds a 33 percent approval in the Granite State.

[Breitbart's Matt Boyle details how he got kicked out of a Shaheen event Wednesday.]

FREEDOM PARTNERS BRINGS IN BIG BUCKS
USA Today: "Freedom Partners Action Fund, a new super PAC tied to the Koch brothers' political network, has quickly raised nearly $21 million to help Republicans in midterm races, new documents show. Nearly $5 million — or roughly a quarter of the super PAC's total haul — poured in during the first two weeks of October, according to a report Freedom Partners will file Thursday with federal regulators."

TENNANT'S VACANCY
Charleston [W.Va.] Daily Mail: "The state's chief election officer may have violated state election laws when she brought a group of supporters to the Kanawha County Voters Registration Office. On Wednesday, the first day for early voting in West Virginia, Secretary of State Natalie Tennant, who is running for U.S. Senate, led a group of about 30 supporters down Court Street to cast their ballots. She then proceeded to stump on the building's front steps for about a minute, an activity her official voting guide prohibits… State election law prohibits any electioneering on the property of the county courthouse, any annex facilities or any other designated early voting locations. Also, the secretary of state's official guide for absentee and early voting states that electioneering is not allowed on the property of the county courthouse, judicial annex or any community voting location during the entire period of early voting."

[Always Election Day: Early voting begins today in Maryland]

PICK SIX: TICK, TICK, TICK, TICK…
Republicans need six more Senate seats to take control of the upper chamber. Which blue seats are the most vulnerable in this year's midterms? Here are the top picks among Fox News First readers: Arkansas (13.8%), Montana (13.2%), West Virginia (12.4%), South Dakota (12%), Louisiana (11.7%), and Alaska (8.8%). Time is running out, team! Get your picks in before it's too late.

Share your top six picks. Email them – just your top six, please – to FOXNEWSFIRST@FOXNEWS.COM or tweet @cstirewalt.

Climate Changes
NYT's Upshot says there's a 67 percent likelihood of the GOP winning the Senate, unchanged from Wednesday.

WaPo's Election Lab forecasts that Republicans will see a net gain of eight Senate seats with a 94 percent chance they win the upper chamber, unchanged from Wednesday.

Nate Silver's FiveThirtyEight Blog gives the GOP a 66 percent chance of winning the Senate, up just under a point from Wednesday.

PUPPY LOVE CAMPAIGNING
WaPo: "The race for Gabby Giffords' old House seat has been a mean one. Giffords's PAC, Americans for Responsible Solutions, has run attack ads against Republican candidate Martha McSally's position on background checks, and outside groups have spent a total of nearly $4 million against her. Her opponent, Democratic Rep. Ron Barber, has had more than $3 million spent opposing him. McSally is now trying to counter all the negativity with a light-hearted ad, seeking paint the attacks as overblown and the candidate as actually a pretty nice person. She loves apple pie and puppies, you see."

[Listen to Fox - Senior Producer for Capitol Hill Chad Pergram goes granular as Fox News Radio dives into the five most intriguing House races this cycle. Check out this week's Balance of Power podcast, and bonus possum pic, here.]

PAUL'S NEW FRAME ON FOREIGN POLICY: 'CONSERVATIVE REALIST'
Sen. Rand Paul, R-Ky., will lay out his full foreign policy agenda in an address today at the Center for the National Interest, a foreign policy think tank founded by former President Richard Nixon. National Review's Eliana Johnson has a preview: "[Paul] will outline a number of national-security threats, from Russia to China to the Middle East, and his proposals for dealing with them. But he will cut to the chase early, arguing that 'the greatest threat to our national security is our national debt' That's why, he will say, the promotion of free trade and technology should lead our public-diplomacy efforts…In the realm of foreign policy, however, Paul paints himself as hardheaded and rational. His lodestars are the Cold War strategist George F. Kennan and the Reagan-era secretary of defense Caspar Weinberger. 'Until we develop the ability to distinguish, as Kennan put it, between vital interests and more peripheral interests, we will continue to drift from crisis to crisis,' Paul will say…"

Huddle up - National Journal: "Sen. Rand Paul is summoning his top strategists and political advisers to Washington one week after the November election for a strategy session over his widely expected 2016 presidential bid. The gathering of Paul's top lieutenants in the nation's capital has been quietly organized by Doug Stafford, his chief political strategist, who began reaching out to key figures in Paul's political world earlier this month, multiple sources told National Journal. Stafford has told invitees to reserve Nov. 12 on their calendar both during the day and into the night. Paul himself is expected to attend some of the meetings. 'This is the come-to-Jesus before the planned launch,' said one Paul insider, who has been invited to the gathering.'''

The Judge's Ruling - From the NSA monitoring phone calls to the National Science Foundation studying the truthfulness of what people say on social media, Fox News Senior Judicial Analyst Judge Andrew Napolitano details how "…the Obama administration's persistent efforts to monitor communication and scrutinize the expressions of opinions it hates and fears" violates constitutional norms and suppresses speech.

HUCKABEE PUMPS UP SUPPORT IN IOWA
RCP: "The 2016 Republican field figures to include several candidates who enjoy and excel at retail politicking.  But few, if any, of the likely GOP contenders enjoy the kind of deep-seated emotional bond that saturates [Former Gov. Mike Huckabee's, R-Ark.] grip-and-grin sessions. During his latest visit to Iowa [to campaign for Republican Senate candidate Joni Ernst], people passed him hand-written notes and whispered heartfelt encouragement. One suspenders-clad man wiped away tears as he asked Huckabee to consider throwing his hat in the ring once again.  'I've admired you for years,' another woman told him. 'Maybe you could go for president again.' 'We'll see,' Huckabee shot back. 'I've done dumber things."'

PICTURE THE TWITTER BIRD WITH A MUSTACHE…
He's been campaigning in New Hampshire and handing out campaign cash to candidates like crazy, but maybe the best measure of the role former U.N. Ambassador John Bolton may play in 2016 is his fast-growing presence on Twitter. As of this morning, Bolton has more than 145,000 Twitter followers, some 20,000 more than President Obama on the day he was elected: 125,639.

OOOH… AAAH… AWWW
Springfield [Mo.] News Leader: "Urns, burials, scatterings — and now fireworks. When families decide on cremation for themselves or a loved one after death, there is always another decision: What should you do with the cremains? On Saturday night, Greenlawn Funeral Homes will present the first display of a new Firework Memorial program, a partnership with AM Pyrotechnics in which fireworks are manufactured with cremated remains. Basically, ashes are fired into the air with the explosives. Some have said, 'this is the coolest thing I've ever seen,' said funeral director Jim Carver about the new program. One family has purchased a prearranged fireworks memorial for the one-year anniversary of a loved one's death…Carver's family will be the first to try Greenlawn's new program. The cremains of his father, James Carver, will be incorporated in Saturday's memorial display."

AND NOW, A WORD FOR CHARLES…
"It looks as if the appeal of ISIS is such that it can now spark these attacks, minor attacks of course compared with 9/11 but spark these attacks around the world without lifting a finger, without organizing, without doing for example what al-Qaeda in Yemen does – to organize, create a bomb, send somebody on a plane – and that's the new face of terror"—Charles Krauthammer, on "Special Report with Bret Baier" Watch discussing the shooting death of a Canadian soldier in Ottawa, Wednesday. Watch here.

Chris Stirewalt is digital politics editor for Fox News.  Want FOX News First in your inbox every day? Sign up here.