Dem Rep. Kihuen won't seek re-election amid sexual harassment claims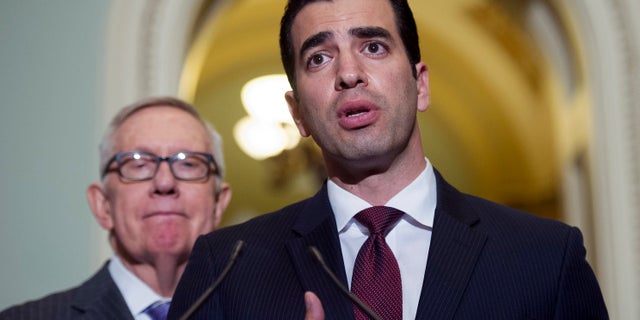 Rep. Ruben Kihuen, D-Nev., announced Saturday that he would not seek re-election in the wake of multiple sexual harassment allegations against him.
"I want to state clearly again that I deny the allegations in question," Kihuen said in a statement. "However," the freshman congressman added, "the allegations that have surfaced would be a distraction from a fair and thorough discussion of the issues in a reelection campaign."
"Therefore," Kihuen went on, "it is in the best interests of my family and my constituents to complete my term in Congress and not seek re-election."
The announcement by Kihuen, 37, came one day after the House Ethics Committee announced it had opened an investigation into the harassment claims against him.
Earlier this month, a former campaign aide accused Kihuen of propositioning her for dates and sex despite her repeated rejections during his 2016 campaign. This week, a lobbyist told the Nevada Independent that he touched her thighs and buttocks and made unwanted sexual advances while he was a state senator.
Shortly after Kihuen announced his resignation Saturday, the Nevada Independent published accusations from another woman who claimed that he made "unwanted overtures and asked overly personal questions of her" while serving in Congress.
The woman's claims against Kihuen included allegations that he rubbed her back and repeatedly kissed her at a fundraising event this past October. She said Kihuen asked her several times if she had a boyfriend and once called her "one of the most beautiful girls he's ever seen in D.C."
"It's just so off-putting," the woman told the website. "... [Y]ou hold them to a higher standard and I think for good reason and then — it's just disappointing when they don't live up to it."
House Minority Leader Nancy Pelosi, D-Calif., has called on Kihuen to resign, a request he has resisted. On Saturday, Kihuen said that he is "committed to fully cooperating with the House Ethics Committee and look forward to clearing my name."
A native of Mexico and the first Latino to represent Nevada in Congress, Kihuen represents the state's 4th Congressional District, which stretches north from the Las Vegas metro area into sparsely populated central Nevada.
Kihuen is among a growing number of lawmakers whose political careers have been thrust into uncertainty or ended altogether by allegations of sexual misconduct.
On Thursday, Rep. Blake Farenthold, R-Texas, said he would not seek re-election amid sexual harassment allegations that he has denied.
Last week, Rep. John Conyers, D-Mich., retired weeks after former aides shared stories of habitual sexual harassment. Sen. Al Franken, D-Minn., announced he would step down after he was accused of improper behavior by at least eight women and his support from fellow Democrats collapsed.
On Dec. 8, Rep. Trent Franks, R-Ariz., abruptly resigned over revelations that he'd asked two staff members to act as surrogates to have his child, offering one $5 million.
The Associated Press contributed to this report.