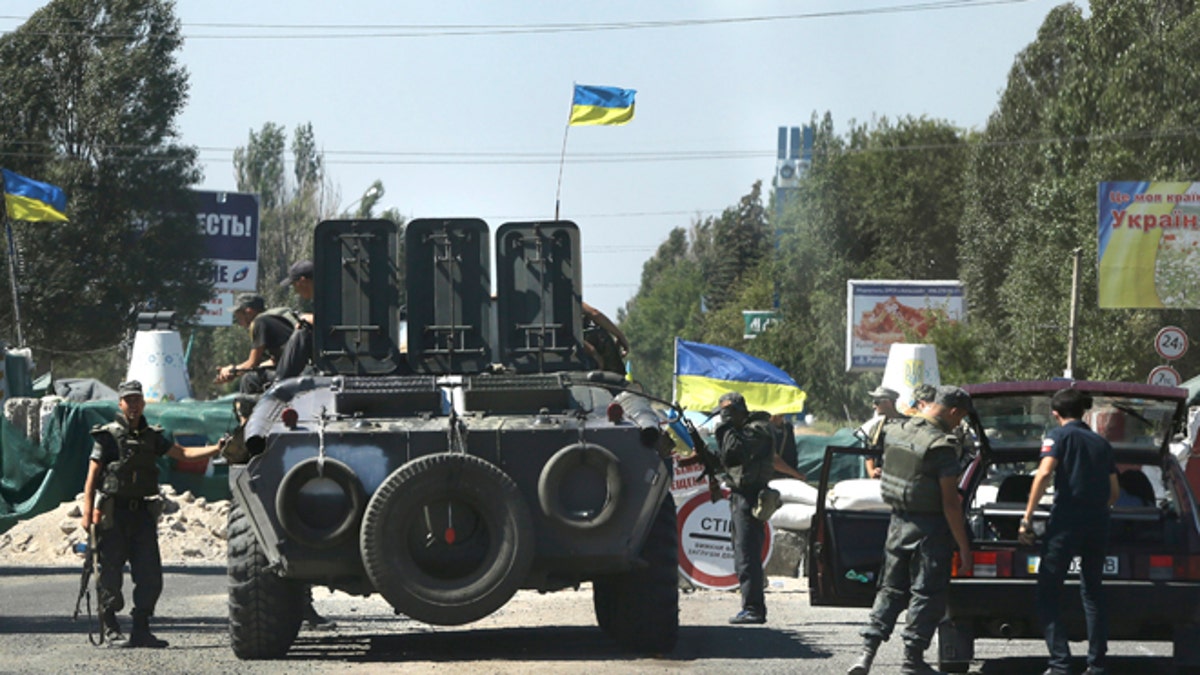 A senior U.S. defense official said Wednesday that Russian troops have fired missiles inside Ukraine at central government military positions, providing further evidence for the Obama administration's charges that Russia is orchestrating new military operations in eastern Ukraine.
The defense official told Fox News the Pentagon has seen evidence of the artillery firings and "this is not the first time" such offensives have occurred.
The administration has said the Russian campaign also includes helping rebel forces, or separatists, expand their fight in the country's east by sending tanks, rocket launchers and armored vehicles.
"These incursions indicate a Russian-directed counteroffensive is likely underway in Donetsk and Luhansk," State Department spokeswoman Jen Psaki said earlier Wednesday.
Russia earlier this year occupied, then annexed Ukraine's Crimea Peninsula amid that country political revolution in which its pro-Moscow president was ousted and replaced with a more Democratic, pro-Western government.
Russia has since been accused of fueling protests and arming separatists inside Ukraine who are opposed to the new central government.
Psaki also voiced concern about overnight deliveries of materiel in southeast Ukraine, where the separatists on Wednesday entered a key town linking Russia to the Crimean Peninsula.
Moscow denies directly supporting separatists. But Psaki says Russia was being dishonest about its actions, even to its own people.
Russian forces, she said, are being sent 30 miles inside Ukraine, without knowing where they are going. She cited reports of burials in Russia for those who have died in Ukraine and wounded Russian soldiers being treated in a St. Petersburg hospital. She said such actions show Russia isn't acting transparently.
U.S. intelligence suggests that at least 1,000 Russian troops are now fighting inside Ukraine.
U.S. officials say Russian Special Forces have joined in the fighting in Ukraine and that if you look at a Russian separatist, "it is basically a Russian soldier."
Despite the critical rhetoric, Psaki didn't outline any immediate response.
She said the U.S. had options at its disposal, including giving more nonlethal assistance to Ukraine's military and possible coordinated sanctions with European allies.
President Obama and European allies will discuss Ukraine at next week's NATO summit, she said, but didn't outline any imminent steps Washington was considering.
U.S. officials said one concern is there has been no "Rubicon moment" at which they can point and say "Russia invaded Ukraine," beyond the Crimean invasion in March.
The Pentagon has been watching armored columns moving heavy weapons into Ukraine for weeks, as reported earlier this week by Fox News.
On Monday, the Pentagon said Russian SA-11 air defense systems like the one that brought down the Malaysian jetliner had been brought into Ukraine.
Fox News' Jennifer Griffin and The Associated Press contributed to this report.