Cuomo, Paladino Play It Straight in 7-Candidate Free-for-All Debate in New York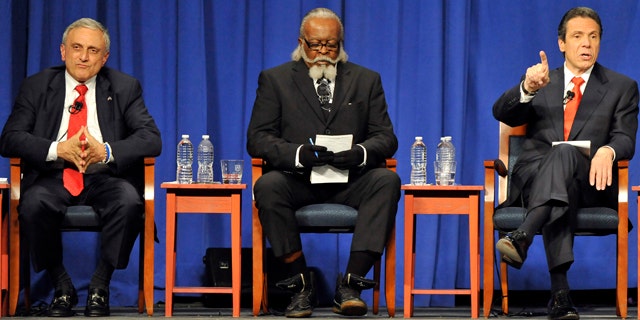 After weeks of verbal sparring in New York's gubernatorial race, Republican Carl Paladino and Democratic Andrew Cuomo met face to face in a televised debate -- that also featured five minor-party candidates.
Despite the free-for-all nature of the seven-candidate debate, Cuomo and Paladino appeared to be on their best behavior, avoiding personal attacks and focusing on the issues, including property taxes, government waste and corruption. Paladino, who earlier in the campaign threatened to expose Cuomo for alleged marital infidelity, didn't even mention his opponent by name.
"Jobs are the No. 1 concern of the people of the State of New York today," Paladino told the live audience at Hofstra University in New York, adding, "our jobs have gone away because of high taxes and debilitating rules and regulations."
Cuomo, who is currently New York's attorney general, tried to present himself as a reformer of the troubled state government. Cuomo described himself as spending "four years in the belly of the beast." He said a top priority is halting waste and fraud, stressing that government "can't make taxpayers pay for it any longer."
Larry Levy, a longtime observer of New York State politics as dean of Hofstra University's National Center for Suburban Studies, said the debate likely would do little to change Cuomo's commanding lead in the polls. According to Levy, Cuomo didn't make any significant mistakes and Paladino failed to deliver anything close to a knockout punch. At best, Levy said Paladino may have won back some of his base.
Although the debate was a somewhat lengthy 90 minutes, Cuomo and Paladino had to share the stage with the five minor-party candidates, including Kristin Davis, who says she ran a prostitution service that provided women to disgraced former New York Gov. Eliot Spitzer.

"Career politicians are the biggest whores in this state," Davis said. "I might be the only person in this state to deal with that."
Retired postal worker Jimmy McMillan also won laughs as the gubernatorial candidate for the single-issue The Rent Is Too Damn High Party. When asked about gay marriage, a topic that almost torpedoed Paladino's candidacy, McMillan said, "If you want to marry a shoe, I'd marry you." Paladino reiterated his opposition to gay marriage, while Cuomo said he strongly supports it.
McMillan, while short on specifics on how he would implement his policies, nevertheless stuck to his platform, repeatedly calling for lower rents in public and private housing. At one point near the end of the debate, Cuomo, the double-digit front-runner who had taken a serious tone throughout, drew laughter when he quipped: "I agree with Jimmy. The rent IS too damn high."
The other participants were Charles Barron of the Freedom Party; Howie Hawkins of the Green Party and Warren Redlich of the Libertarian Party.
Barron, an outspoken New York City councilman, called for a progressive tax system that would target the wealthy. "How about taking it out on the rich?" he asked. "They have more money, they should pay more."
Redlich railed about the size of state government and groused that 110,000 state employees earn more than $100,000 a year. "We have to stop wasting money," he said. "If you stop wasting money, you will have more money in your pockets."
Hawkins called for public financing of elections as a solution to corruption in state government. He also urged a progressive tax system.
The Associated Press contributed to this report.