Cuba's Raul Castro at UN: Relations can't truly resume until U.S. lifts embargo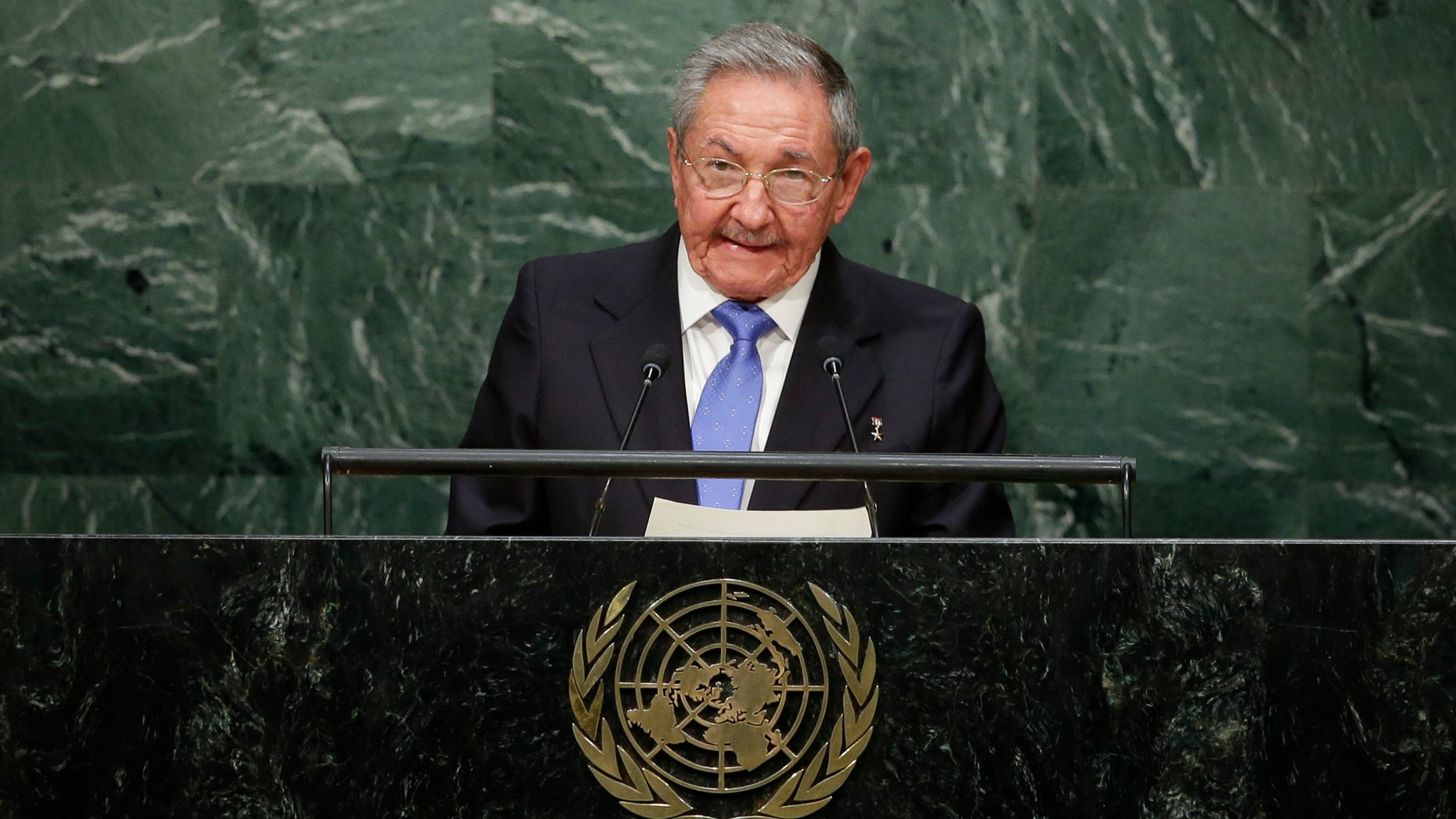 In his speech at the U.N. General Assembly, Cuban President Raul Castro called for an end to the U.S. embargo on Cuba, and demanded the U.S. take several other steps before relations between the decades-old adversaries could be fully restored.
Castro said that diplomatic relations could not truly resume until the U.S. gives back the Guantanamo Naval Base, and compensates Cuba for the negative impact on the Cuban people of the decades of trade and travel restrictions.
In a forceful and pointed speech that often took aim at the United States without specifically naming it, Castro – in a rare moment in the spotlight before Americans watching him on TV or online – assailed "imperialism and colonizers" that, in his words, do not respect some nations' sovereignty.
"The wars of aggression and intervention of countries' affairs have been persistent," Castro said.
He condemned nations that take high-profile stances in favor of the "protection of human rights in a selective way [in order] to impose political decisions" on other nations.
Of the decision announced in December by both Castro and President Barack Obama to normalize relations, he said: "Now we are beginning a long process toward the normalization of relations that will be reached when the embargo is ended, and the illegally occupied Guantanamo is returned to Cuba, and subversive [TV and radio] programs are ended, and there is compensation to our nation for the human and economic damages that it continues to suffer."
This is Castro first trip to the United States as president. On Tuesday, he is scheduled to meet with Obama, who also addressed the General Assembly on Monday.
Diplomats for the two countries last week formally launched the process of normalizing the U.S.-Cuba relationship, one of the top foreign policy achievements of Obama's presidency.
In April, Obama and Castro sat down together in the first formal meeting of the two country's leaders in a half-century.
Castro took over Cuba's presidency from his brother Fidel, who stepped down in 2008 after decades in power.
Castro played host to Pope Francis when he visited Cuba from Sept. 19-22, ahead of Francis' own first trip to the United States.
More than 160 heads of state and government were said to be attending this month's U.N. meeting, including Chinese President Xi Jinping for the first time.
In other remarks on Monday, Castro also called for Palestinians to have a state, and for Jerusalem to be its capital. He pledged continued solidarity with Venezuela, and his support for its president, Nicolas Maduro.
He also used his address to the U.N. General Assembly to criticize the "militarization of cyberspace and the covert and illegal use of information and communications technologies to attack other states."
In a veiled swipe at the United States and other rich countries, Castro slammed their outsized impact on the global climate change.
He said those countries waste "national and human resources to an irrational and unsustainable consumerism."
Many of Monday's remarks by Castro echoed those he made on Saturday in a speech at the Sustainable Development Summit  held at the United Nations.
In that speech, Castro said the embargo "causes harm and hardship to the Cuban people," affects other nations and also hurts American companies and citizens.
As it has done every year for more than 20 years, Cuba is urging the U.N. General Assembly to pass a resolution critical of the embargo, a text that normally obtains majority backing, but which, for the first time, could pass without a U.S. vote against it.
According to Cuba, since the U.S. embargo was implemented in 1962, it has cost the island a total of $833.7 billion.
This story contains material from EFE and the AP.