Cuban Dissident Yoani Sánchez Meets With Rubio & Menendez in Washington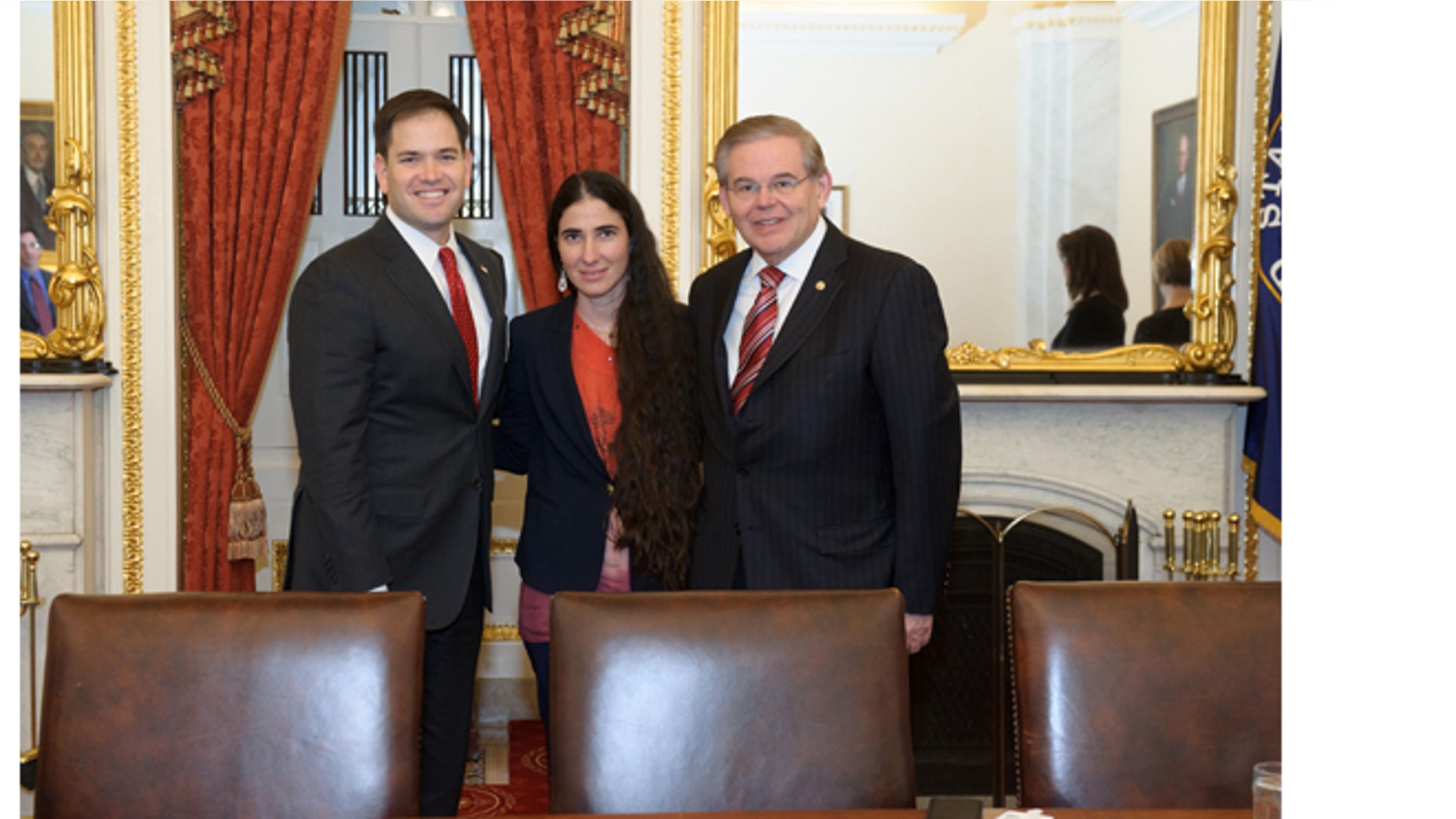 Washington – One of Cuba's best-known dissidents visited Washington D.C. Wednesday after trying for nearly a decade to obtain government permission to travel outside the communist island.
Blogger Yoani Sánchez met with White House officials to discuss free speech issues in Cuba as well as Cuban-American senators Marco Rubio of Florida and Robert Menendez of New Jersey.
During her meeting with the two lawmakers, Sánchez discussed expanding Internet access in Cuba, recently announced changes in Cuban travel and property policies, the future of Cuba's government, foreign tourism to Cuba, the U.S. embargo, the Helms-Burton law, the Cuban Adjustment Act and what her life in Cuba is like.
"Through her Generación Y blog, Yoani has given the rest of the world valuable insights into daily life in Cuba and, more importantly, given us a glimpse of what brave, Cuban democracy advocates like her can do with a little bit of Internet access," said Rubio, a Republican, following the meeting. "I believe expanding Internet access to Cuba is an important foreign policy goal we should work towards, so that many more can follow Yoani's lead and help expose the reality of the regime's inept and repressive nature."
Both Rubio and Menendez, a Democrat, have been major opponents of the Cuban government under the Castro brothers and supportive of both the 50-plus year old embargo against trade with the country and pro-democracy efforts in the island nation.
"Ms. Sánchez is a dissident, but also a patriotic Cuban committed to the future of her country as a free and democratic nation," Menendez said in a statement. "She is a role-model for the a new generation of Cubans who are looking for a way to join the global community through technology and access to information  and ultimately to enjoy the freedoms of self-expression, political choice and economic opportunity in their own nation."
The Cuban government has remained quiet on Sánchez's travels and that of other dissidents currently abroad, including Berta Soler, the spokeswoman of the Ladies in White, and Eliécer Avila, both on a tour through Europe.
Sánchez is on an 80-day tour of about a dozen nations, including Brazil, Italy and Switzerland. Her authorization to leave Cuba was seen as a test of a new law announced in October that eliminated the exit permit required of islanders for five decades.
She will return Thursday to New York to complete her calendar of events. Sánchez spoke to Fox News Latino about technological oppression under the Castro regime.
"Under Raul Castro, it's done more under the radar, it involves cutting off technology – for example, shutting down cell phone service for dissidents when the pope visited," she said.
Sánchez then heads to Europe before returning to Florida on April 1, where she will be part of a program hosted by Miami-Dade College with students and community leaders.
The State Department honored Sánchez in 2011 with the International Women of Courage Award.
White House spokeswoman Caitlin Hayden says the U.S. wants Cubans to be able to express themselves without fear.
Time Magazine called Sánchez one of the world's 100 most influential people, and she has received numerous human rights and freedom of speech awards — though she has been unable to personally accept them because Cuba had refused to authorize her travel outside the island.
Sánchez said she has asked for permission to travel no less than 20 times in the last five years — only to be denied every time.
The Associated Press contributed to this report.
Follow us on twitter.com/foxnewslatino
Like us at facebook.com/foxnewslatino